Dear Medical College of Georgia Friends,
Dr. Ryan Harris is the only representative from the U.S. on an international panel on exercise for people with cystic fibrosis
One of the many amazing things about being part of a medical school, as I love to say, is the privilege of helping educate the next generation of physicians and physician scientists. But, as we often also cover in these biweekly writings, the opportunity each day to directly make a difference in the lives of patients is truly phenomenal as well. It is hard to express how proud I am of the contributions each of you make on this important front, both in better understanding and treating major causes of sickness and death like heart disease and cancer as well as less common maladies like cystic fibrosis. That kind of commitment has moved the life expectancy of individuals with this genetic condition from about 15 years in the 1960s to the mid-40s and increasing today, according to the Cystic Fibrosis Foundation. We and Emory University are home to the only two centers in Georgia accredited by this group, with about 130 nationally, and we both provide care to adults and children, which reflects the improving life expectancy. Dr. Caralee Forseen is the adult program director, and Dr. Katie McKie, a 2001 MCG graduate, is the pediatric program director, and this dynamic duo codirect our Cystic Fibrosis Care Center.
Consensus indicates that exercise can help CF patients live longer, healthier lives
About a dozen years ago, Dr. Ryan Harris, clinical exercise and vascular physiologist and associate director of the Georgia Prevention Institute, dove in head first as well. Nobody knows any better than Dr. Harris that exercise is essential to helping us all live longer and better, and he began collaborative studies to see how individuals with CF could benefit. Today I am happy to share that our Dr. Harris is the lone representative from the United States on a 39-member international, interdisciplinary panel from 43 institutions that has developed a consensus on physical activity and exercise for people with CF, based on increasing evidence provided by individuals like our Dr. Harris, in collaboration with Drs. Forseen and McKie. Dr. Craig Williams, professor of pediatric physiology at the University of Exeter in the United Kingdom (one of my new favorite places) is the lead investigator on this tremendous endeavor. One of the important bottom lines was that: An individualized and comprehensive training program, undertaken at a moderate intensity or higher, as part of the ongoing therapeutic routine is recommended in people with cystic fibrosis. Please join me in thanking Dr. Harris as well as our entire CF team for taking such great care of patients today with the ever-present goal of helping them live optimally. Great work with a message for us all: Keep moving.
Medical students Samantha Schoenl, Syed Hyder present at the AHA Hypertension Scientific Session
Speaking of making an impact and headlines, fourth-year students Samantha Schoenl and Syed Hyder at our Athens campus are killing it. If you check out the homepage of the American Heart Association, you will find each of their presentations at the recent American Heart Association Hypertension Scientific Sessions featured. Congratulations to you both and fascinating work in hypertension, one of our state and nation's most common chronic diseases, which is linked to many of the other most common conditions like heart disease and stroke. First, more about our young investigators. Samantha grew up in Atlanta, and is now applying (Sept. 7 was the day you could start submitting applications, Match Day is March 17) for a combined pediatric/medicine residency with the goal of becoming an adult congenital cardiologist. Much like the advances we just talked about with cystic fibrosis, congenital heart disease already has become a condition that most children live with thanks again to tremendous advances in care like we offer at our Children's Hospital of Georgia. Syed is from Lawrenceville, is applying for an internal medicine residency and also has his eye on becoming an adult congenital cardiologist. Their chosen subspecialty is only about a decade old and directly resulted from the increasing lifespan of children born with heart problems. As you hear often at CHOG, children are not little adults, and the heart problems they are born with and may need some degree of care for lifelong, are vastly different as well.
The students' findings indicate those in more urban areas, as well as gay/bisexual adults are less compliant with taking their blood pressure medicine
Hypertension, on the other hand, is a condition that started as an adult disease and has unfortunately migrated downward toward children with an estimated 1 in 25 individuals ages 12 to 19 being hypertensive and about 1 in 10 being prehypertensive. Before I go further, please note that this is another problem that groups like our Georgia Prevention Institute also have long taken on. Now back to our students' work. Samantha's findings surprised me and probably a lot of people. Her dataset was the 2020 National Health Interview Survey conducted by the Centers for Disease Control and Prevention. She looked at a sample size representing about 71 million adults with hypertension. It's worth noting here that hypertension affects about half of us and often is not well controlled. She found interestingly that large urban populations in our country have more compliance problems with taking their blood pressure medication, and they also are least likely to have a primary care provider. Overall, those living in the Northeast were more likely to take their blood pressure meds and better than 98 percent have access to a primary care doctor, and she found that those of us down South were next in line in terms of compliance and slightly higher in terms of access to a primary care doc. Access to a primary care doc correlated with compliance and, like most of us, Samantha was surprised to find access was not as good in more urban areas. That is something we all definitely need to look at closer since a much smaller percentage of physicians and people live in rural areas. Samantha wisely noted that income was not something they looked at, and that those who live in cities tend to move more, which could affect their continuity of care. She suggests several next steps, including analyzing smaller areas, like states instead of big regions. With evidence of inequalities in the incidence and outcome of chronic conditions like hypertension in the LGBTQ+ community, Syed looked at five-year trends in compliance with blood pressure treatment regiments also using information from the National Health Interview Survey. He found that overall gay or bisexual males and lesbian or bisexual females had lower adherence rates than their straight counterparts. That trend is unfortunately increasing while other studies show that these individuals also are at an increased risk for hypertension and other cardiovascular problems. Now, like all great investigators, Syed wants to know why. Congratulations and thank you Syed and Samantha.
Dr. Graydon Gonsalvez receives $1.9 million grant to study the fundamentals of what the motor proteins in our cells are transporting
To explore a far earlier point in how disease happens, literally a handful of our scientists are funded by the National Institute of General Medical Sciences to learn more about basic biological systems that will ultimately help us better diagnose, treat and ideally prevent disease. Dr. Graydon Gonsalvez, cell biologist in our Department of Cellular Biology and Anatomy, is one of those scientists and he is looking at the fascinating continuous work of motor proteins (he equates them to little cars) that start traveling the roadways in our cells during our development and never stop. These roadways are on our cytoskeletons, basically the skeleton or framework of our cells. Motor proteins carry a cargo of proteins and of RNA, which makes protein, to share with other like cells as well as different cell types. He is focused on a family of these motor proteins called dynein, which is associated with a group of debilitating genetic neurological diseases like Charcot-Marie-Tooth, a progressive nerve disease that typically starts in the toes and fingers and progresses inward. Dr. Gonsalvez recently received a $1.9 million grant from the NIGMS to better understand what cargo the dynein family typically carries and what is different in disease states. His goals include one day enabling delivery of whatever it takes to restore healthy cell function. Congratulations Dr. Gonsalvez and safe driving.
Dr. Imran Gani is the new medical director of the Carlos and Marguerite Mason Solid Organ Transplant Center
Finally today, we congratulate Dr. Imran Gani as the new medical director of our Carlos and Marguerite Mason Solid Organ Transplant Center. Dr. Gani joined our Division of Nephrology in 2017 and was named interim director of our kidney and pancreas transplant program in March 2021. He has worked relentlessly to improve the efficiency of the program including implementing a process that provides our patients greater access to receiving an organ. He has also helped expand a clinical outreach program we have to serve rural residents in the Greenville/Spartanburg area. And, he has participated in innovative research during his short time with us, like working with Dr. Laura Mulloy, Nephrology Division chief, and immunologist Dr. Anatolij Horuzsko on Dr. Horuzsko's humanized mouse model, which holds great potential to further fine-tune selection of a living organ donor. The other great news is that Dr. Jim Wynn, a 1980 MCG graduate and longtime transplant surgeon and leader here, is back here part-time as the interim surgical director of the transplant center. Dr. Wynn had relocated to the University of Mississippi Medical Center in Jackson, Mississippi in 2014, but returned to his alma mater May 1 to work with Dr. Ahmad Mirza, at least until we recruit another surgeon. An important history note here, Dr. Arthur Humphries performed our first kidney transplant in 1968 and was here to celebrate the opening of the beautiful transplant center in Professional Office Building 1, at the corner of Laney-Walker Boulevard and 15th Street, in 2018. Dr. Humphries died later that year.
All my very best to you,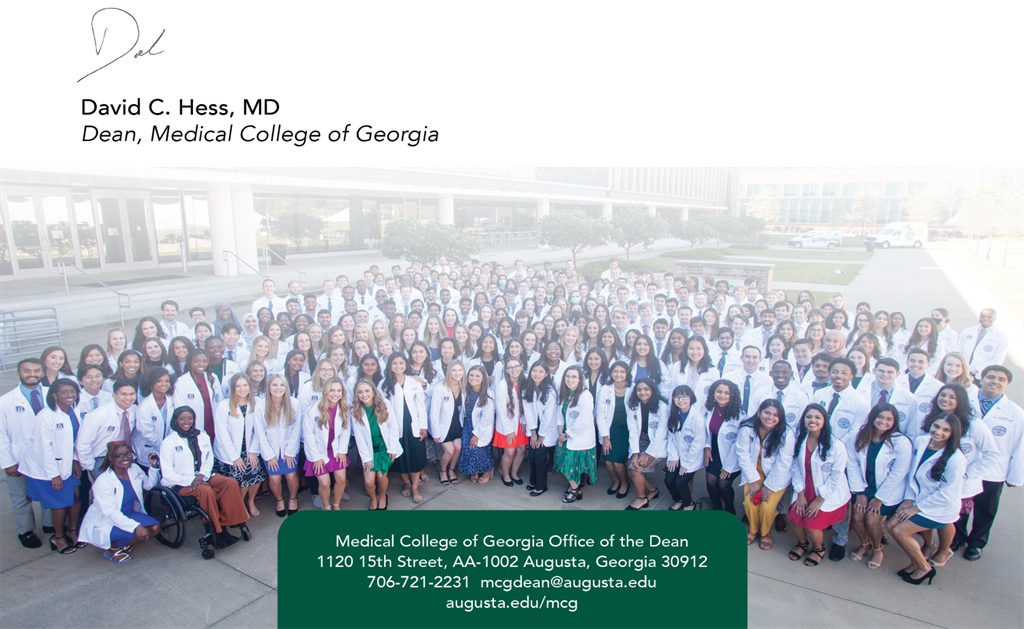 Upcoming Events
Oct 16 – PaceDay 2022, Georgia Cancer Center Paceline Ride
Oct 21 – MCG Faculty Senate Meeting, noon, Natalie and Lansing B. Lee Jr. Auditorium
Oct 21 – Raft Debate, 6 p.m., J. Harold Harrison, MD Education Commons
Oct 22 – White Coat Ceremony, 2 p.m., Bell Auditorium
Nov 11 – Annual Body Donor Memorial Service, 1 p.m., Natalie and Lansing B. Lee Jr. Auditorium