Dear Medical College of Georgia Friends,
HERSA grant enables simulation equipment for our regional campuses
We have talked about our new and evolving "tailor-made" medical education here at Georgia's public medical school, which is a unique package of specific purpose and flexibility that directly addresses the primary care physician needs of the more rural areas of our state as it enables our students to fine-tune their learning experience whatever their specialty choice. Simulation in medical education also provides purpose and flexibility because it enables us, essentially on demand, to be able to simulate a specific situation our students need to be prepared to see in real life, like a woman having a heart attack and or child with severe asthma presenting at the emergency room. We have a great simulation center in the J. Harold Harrison MD Education Commons that very accurately simulates these kinds of problems and the settings where our students will eventually practice, like exam rooms, labor and delivery and the operating room. I am happy to share that our great regional campus network will soon be getting some state of the art simulation equipment in their own neighborhoods that will enable our students living and learning there — as well as physicians practicing in those areas, many of whom are invaluable educators for these students — to more directly benefit from some of these realistic and dynamic learning opportunities. This is thanks to the leadership of individuals like Denise Kornegay, executive director of our Area Health Education Centers, or AHEC, which for decades have provided community based learning opportunities and inspiration for taking care of people throughout our state. Denise just enabled us to secure a $378,000 grant from the Health Resources and Services Administration to enable the equipment purchases and I want to thank her for her support of this and all things MCG. The equipment will live at the Blue Ridge AHEC in Rome, the SOWEGA AHEC in Albany and Magnolia Coastlands AHEC in Statesboro, our great partners and neighbors for our Northwest, Southwest and Southeast campuses respectively. Key to this is Dr. A.J. Kleinheksel, who is director of research and evaluation for our Educational Simulation programs and is also serving as interim assistant dean for MCG Educational Simulation. She tells us the simulation team here can remotely facilitate learning at these other sites and those sites can call into simulations here as well, but now they will have at their backdoor these realistic hands-on learning opportunities. A major benefit of this experiential learning approach is that it's 100% safe for learner, educator and patient alike and we can literally try until we get it 100% correct.
Dr. Wendy Bollag finds scientific evidence behind patient reports that glycerin helps psoriasis
A big part of getting it right is diligence, and diligence is in the DNA of you, MCG's secret sauce. Dr. Wendy Bollag, cell physiologist and skin researcher in our Department of Physiology, definitely has high expression of her diligence gene(s). Her family moved to the North Wales/Lansdale area, northwest of Philadelphia, when she was about 4, and where her early expression of hard work included being valedictorian of North Penn High School. Another example of her clear brilliance is the fact that she roots for the Philadelphia Eagles and is a huge Penn State fan. Dr. Bollag made her way to us in 1993, became director of our Office of Postdoctoral Affairs in 2014 and research director for the Adrenal Center in 2018. She is a research career scientist, who has been honored by us and by the VA time and again for her teaching, her science and many other contributions. She has chaired our Graduate Research Day Committee, served more than once as an ad hoc member of our Admissions Committee, been director or co-director for umpteen courses like Cell Signaling and Molecular Medicine and Grant Writing. She has been a thesis committee member for pages of students and postdocs here and at other institutions. She was elected a senator-at-large for our Faculty Senate Executive Committee in 2006, secretary of the Faculty Senate and chair of the Faculty Recognition Committee in 2007; reelected to both those positions in 2009, to vice president of the Faculty Senate in 2011 and president in 2015 … you are getting the idea about her leadership with the Faculty Senate where her current responsibilities include serving on the Promotion and Tenure Committee. She is a forthright voice who is a leader in science here and in the broader scientific community. She recently completed a term as an editorial consultant for the Journal of Investigative Dermatology and is currently a member of the editorial board of Molecular Pharmacology and senior editor for Journal of Endocrinology and Journal of Molecular Endocrinology.
Dr. Bollag's work has provided key insight into how healthy skin happens
I say all this about Dr. Bollag not just to make you appreciative (and tired) but to say like so many of you, as a scientist she has doggedly pursued improving understanding of skin problems, like psoriasis, with her eye on the prize of helping patients. Her latest paper provides evidence that glycerin, which is inexpensive, can be bought at the grocery store, has no apparent side effects and is a top ingredient in many skin lotions you use, can help resolve the classic problems of psoriasis, which include raised, red, itchy patches on the skin. It's an immune-mediated disease with inflammation as a hallmark, and the biologics often needed for these patients are costly and impact the immune response, potentially with some significant side effects. The work of Dr. Bollag and her colleagues first published back in 2003, indicated that glycerin, a natural alcohol, could help skin cells mature through their usual four stages until they reach the skin surface we see. With psoriasis, skin cells multiply too rapidly and stack up. Her early reports had patients trying the readily available product, which our bodies also naturally make, and reporting that it was helping. That inspired her to explore further whether there was scientific evidence to support what patients were reporting. As she looked she would find that glycerin travels through specific channels where it hooks up with an enzyme, phospholipase-D-2, which converts glycerin to the lipid phosphatidylglycerol, which actually does the work of normalizing skin cell maturation. It has the added and needed benefit of suppressing inflammation in the skin. As we all know, more work to come on this but she is hoping for clinical trials soon to objectively look at this in patients. The potential is that this benign drug can help keep mild psoriasis under control and/or be used to keep it in check after the biologics in more severe cases. Great work that you can read more about probably next week. Thanks for your tenacity and service, Dr. Bollag. I know you will keep it up.
Dr. Brian Miller gets NIMH grant to look for a signal that patients with schizophrenia are headed toward metabolic syndrome
Dr. Brian Miller, psychiatrist specializing in schizophrenia, is another one digging for better answers for patients. This time he is looking in the extensive database called the Open Translational Science in Schizophrenia, or OPTICS, project at information on some 20,000 patients who have participated in about 50 clinical trials over time. Among the information in this joint open science initiative of the National Institute of Mental Health and Janssen pharmaceutical company, he is looking for a sign or signal that a person with schizophrenia is also headed toward metabolic syndrome, which we have talked about puts patients at risk for a huge variety of already too common problems like heart attack and stroke. Unfortunately the medication for their brain disorder can increase their risk for these troubles. A common bottom line between their brain disorder and metabolic syndrome is inflammation, a factor again in almost every condition that plagues us. Dr. Miller came to MCG in 2005 as a psychiatry resident to work with our former dean and psychiatry chair Dr. Peter Buckley, a long-time expert in schizophrenia. Dr. Miller was already looking then at the impact of the immune system in schizophrenia and whether that role also held clues about predicting both disease relapse and objectively monitoring treatment efficacy. He has been steadfast, including the new RO3 grant from the NIMH to do this deep dive for answers. Thank you Dr. Miller for sticking with our patients in your calm, reassuring way.
Sept. 23 conference supports those that support our community
We all find ourselves and those we care about in need of some kind(s) of help sometimes. Our friends at the MCG Foundation, led by Ian Mercier, and the Pittulloch Foundation are working with Dr. Kim Loomer, associate dean for learner wellbeing at MCG, and Dr. Melissa Bemiller, assistant professor in the Department of Social Sciences at the Pamplin College of Arts, Humanities and Social Sciences to — like Drs. Bollag and Miller — take on some persistent problems, in this case things like violence, child abuse, substance abuse and poverty. Their free Sept. 23 community conference is to help people and organizations who help people, like first responders, school and business leaders, parents and other caregivers, as well as health care providers, deal with those problems. The bottom lines of the Transforming our Community: From Trauma to Resilience conference include building better partnerships with the many individuals who serve our community and hopefully helping them be even more resilient so our community will be stronger and more resilient as well. Please let me thank our other partners in this which include the Georgia Family Connection, Community Foundation for the CSRA, Resilient Augusta and Resilient Georgia. We are all stronger standing together.
OB/GYN educator Dr. Manish Jain honored with resident teaching award
Dr. Manish Jain is helping keep the frontline strong in training the next generation of OB/GYNs. He has been called "indispensable" by our residents who nominated him for a 2021 Council on Resident Education in Obstetrics and Gynecology National Resident Teaching Award. He also has been called the kind of doctor and teacher they want to be. Higher praise is hard to come by. Dr. Jain came to us in 2015 from Wayne State University School of Medicine where he had been a resident and became associate program director there. We are very fortunate that he did. Congratulations and thank you Dr. Jain.
Thank you for taking on disease and taking up for patients
Let me close today by thanking each of you — fighting in the lab, at the patient's bedside and in the classroom — in the frontline war against COVID and all diseases and for patients.
Please get vaccinated and wear a mask when you are in a confined space so we can get this pandemic behind us.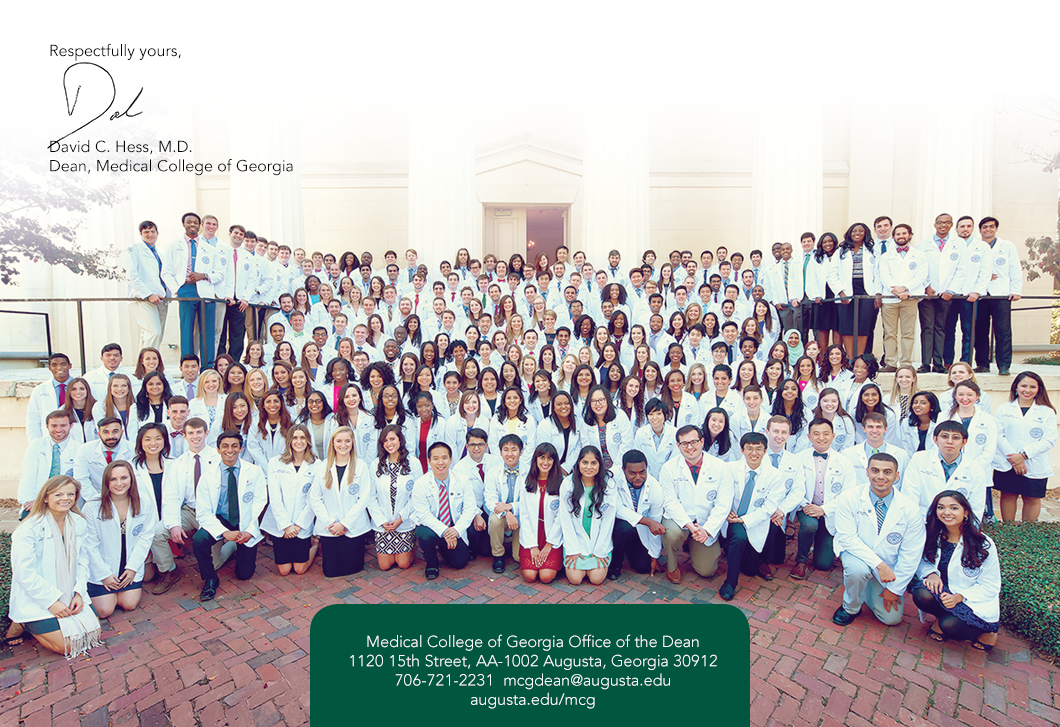 Upcoming Events
September 23 – MCG Faculty Senate Meeting, noon, Natalie and Lansing B. Lee Jr. Auditorium
October 15 – MCG Faculty Senate Meeting, noon, Natalie and Lansing B. Lee Jr. Auditorium
November 12 – Annual Body Donor Memorial Service, 1 p.m., Natalie and Lansing B. Lee Jr. Auditorium
November 19 – MCG Faculty Senate Meeting, noon, Natalie and Lansing B. Lee Jr. Auditorium