Dear Medical College of Georgia Friends,
AlexStrong Foundation enables one child with cancer to help many
We talk often about the awesomeness of you, the individuals who are the Medical College of Georgia. How the extra you give every day enables our medical school to punch well beyond its fighting weight. How so many of you go those extra miles not just here but in every aspect of your lives. Dr. Erin Dexter, forensic psychiatrist, exemplifies this. She is a hard worker here who, like so many of you, took up an extremely challenging subspecialty. She is a graduate of the University of Kansas School of Medicine who did her psychiatry training with us and her forensic psychiatry fellowship at the University of South Carolina School of Medicine in Columbia before coming back to us. She and her husband Chris Dexter have had six children. Diane and I have four children, and my hat is off to the Dexters for that significant accomplishment alone. Their fifth child Alex came into their clearly busy, productive lives three years ago next week. A few weeks shy of his first birthday, Alex was diagnosed with neuroblastoma, a condition he and his family would fight with the courage of a lion and the help of our Children's Hospital of Georgia. The family had hoped a bone marrow transplant might be an answer, but Alex ultimately was not able to get a transplant because other therapies could not get the cancer under control long enough to make it happen. Out of their love and respect for their son and hope for other children, the young family established the AlexStrong Foundation, to help families and children make the journey through childhood cancer. If he could have had a transplant, Alex would have had go somewhere other than CHOG to get it. So, the Dexters and their foundation have decided to also support establishment of the bone marrow transplant program at CHOG, which Dr. Amir Mian was brought here to start and direct. I hope you will take a few minutes to read more about their inspiring story, which Tom Corwin at The Augusta Chronicle, just helped share, and which was picked up by other media outlets across the country. Thank you Dexter family for your generosity and courage and thank you, our children's hospital staff and faculty for decades of caring for children.
Paceline event to raise awareness, support for Georgia Cancer Center set for Oct. 16
Saturday, Oct. 16, many of us will be strapping on helmets and getting on bikes to support the fight against cancer, the number two killer in our state and nation. Psychiatrist and third-year Class Associate Dean Dr. Eric Lewkowiez, who you probably see peddling around campus, is loaning me one of his seven bikes, a gray, 1984 specialized expedition touring bike (more pressure to stay upright), for this community Paceline event to raise awareness and support for the Georgia Cancer Center. This is not about competing with each other (although I am certain there will be some friendly rivalry) but a show of support. This year we want to raise $500,000 or more. As of midweek we had 616 individuals and 69 teams who have joined forces to make that happen and to have fun in the process. The routes vary depending on your skill level and desire and range from 25 to 100 miles. I am sticking with 25 miles this year and am on team "MCG Fights Cancer" along with more accomplished bicyclists like Dr. Lewkowiez who is our team captain and is doing the 50-mile route. Go Team MCG! Here's another great team name: Ride Like the Winded. This team, led by Anna Ellice Bowman, marketing specialist who was one of the first employees at Paceline and now works at the local marketing agency Ocozzio, has already raised about half of their $10,000 goal. There are a lot of good organizations, businesses and individuals taking to the streets for this important cause. Please find and support one or two.
Dr. Vinata Lokeshwar receives national award for urologic research
Here's one of our star cancer scientists with her eye on the spread of prostate, bladder and kidney cancer. Any of you who know Dr. Vinata Lokeshwar, chair of our Department of Biochemistry and Molecular Biology, know she does not take "No" for an answer, or at least she won't take it without a (typically not short) discussion. That tenacity and her resulting success as a scientist have earned her the Society of Women in Urology/Society for Basic Urologic Research 2021 Award for Excellence in Urologic Research. For a quarter century, Dr. Lokeshwar has earned external funding for her studies, focusing on improving the diagnosis and treatment of these common cancers, including a current $2.3 million National Cancer Institute grant looking for novel biomarkers for bladder cancer. She also has a Department of Defense grant looking for novel, noninvasive tests to give a more accurate prognosis to those with bladder cancer. Each year in our country about 56,000 men and 17,500 women get bladder cancer, and about 12,000 men and 4,700 women die from it, according to the Centers for Disease Control and Prevention. She has led national initiatives against prostate cancer, the most common cancer in men other than non-melanoma skin cancer, like chairing the U.S. Congressionally Directed Medical Research Program Translational Science Award's Peer Review Panel for the 2020 Prostate Cancer Research Program. That long name, like Dr. Lokeshwar, translates to a very significant fight against this cancer whose risk increases with age. She is a prolific and enthusiastic educator and writer/editor as well. Congratulations Dr. Lokeshwar. Many jobs well done.
Georgia Prevention Institute becomes freestanding unit within MCG
The Georgia Prevention Institute has been a longtime opponent of our state and nation's top killer, cardiovascular disease. Established 40 years ago by the greats Dr. Bill Strong, Charbonnier Professor Emeritus of Pediatrics and Section Chief Emeritus of Pediatric Cardiology, and educator Dr. Maurice Levy, this institute was an early force in work to help children grow up to be healthy adults. Today, as most of you know, the GPI is a thriving institute with 10 faculty and a focus on diverse health concerns like hypertension, obesity, inactivity, adverse childhood events, heart failure and lung disease like cystic fibrosis. They have data on hundreds of individuals they have followed since 1989 and are continuing to follow, looking at key health indicators including reactivity to stress, and producing a goldmine of insight into how life and genetics impact our wellbeing over time. Dr. Frank Treiber, one of the original faculty members in the GPI who would become its director in 1999 and serve in that position until 2005 when he was named the university's vice president for research, started this invaluable cohort. Dr. Shaoyong Su, genetic epidemiologist, has taken up its continuation. I say all this to say that I have decided to make the GPI a freestanding unit in MCG, much like the Vascular Biology Center, with each faculty member having as their academic home whichever department is most logical for their expertise. The new status is effective today. Dr. Yanbin Dong, a great collaborator and long-successful scientist who we talked about recently, has agreed to serve as interim director as we move forward. I want to thank and congratulate this productive, unique clustering of investigators who have worked so long at the forefront of human studies that provide exhaustive amounts of insight into how our bodies work and how we can help them continue to work better.
Dr. Robert McClowry is the new assistant dean for diversity, inclusion at the Athens campus
I am happy to also share that Dr. Robert McClowry, a family and community medicine physician who has served as assistant dean for diversity and inclusion and assistant dean for career advisor programing and student advisement at Oakland University William Beaumont School of Medicine in Rochester, has just joined our Athens campus as assistant dean for diversity and inclusion. He has served the LGBTQ+ community as a physician and taught others how best to do the same. He has helped educate faculty about racism and bias, helped new medical students learn more about diversity and inclusion and is an experienced career advisor. Associate Dean for Student and Multicultural Affairs at the Athens campus, Dr. John Francis, says Dr. McClowry was the frontrunner in the national search for this new position. With sadness, I also share that in the next few days we will be losing Dr. Francis, an infectious disease physician who has served as our associate dean at the AU/UGA Medical Partnership since 2014. I guess the good news here is that this tremendous advocate for students and for his profession is going back home in a sense. Dr. Francis has been named associate dean for student affairs at Yale School of Medicine, where he completed his internal medicine training before going to Johns Hopkins for a fellowship, then back to Yale as a faculty member before coming to us. Even on the virtual meetings, we have lived with for too long now, Dr. Francis' smiling countenance came through and his insight and presence will be missed. Thank you for your service Dr. Francis and welcome Dr. McClowry.
Alumni Weekend, White Coat set for Oct. 23
Finally today, our Alumni Weekend and White Coat Ceremony are almost upon us. Like pretty much everything else still, this celebration has been whittled a bit with most of our events being held on Saturday, Oct. 23, including our White Coat ceremony for the Class of 2025 at 2 p.m. at the Bell Auditorium downtown. Our guest speaker this year is the calm, collected, insightful and busy Dr. Rodger MacArthur, infectious disease physician by training and educator by birth. Our alumni Reunion Reception starts at 6 pm at the Augusta Marriott on the Savannah River and honors our classes of 1956, 1961, 1966, 1971, 1976, 1981, 1986, 1991, 1996, 2001, 2006 and 2011. But, all our graduates are welcome. The reception event will be outdoors, but I encourage everyone to wear a mask at these large gatherings, and promise they will still be memorable. Just like talking with each of you, these opportunities to talk with our graduates and future graduates help reinforce the mission, importance and impact of our medical school.
Please get vaccinated and wear a mask whenever you are in a confined space so we can get this pandemic behind us.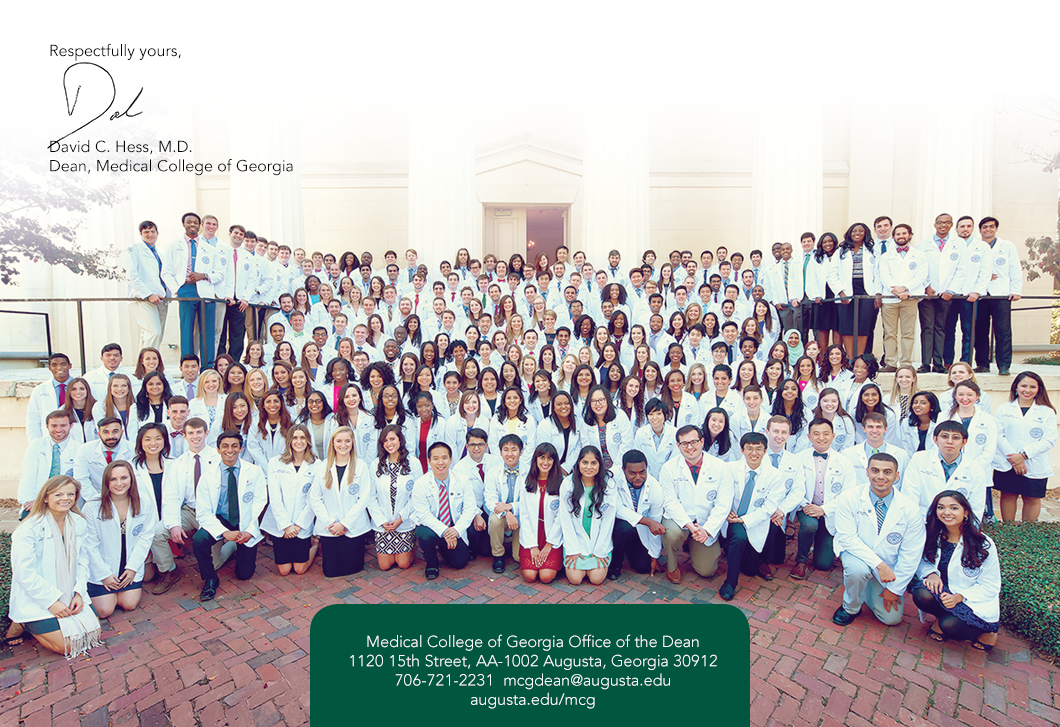 Upcoming Events
October 5 – MCG Dean's Lectureship featuring Dr. Klaus Ley: The autoimmune response to apolipopprotein B in health and disease, noon, Robert B. Greenblatt, MD Library, AB 1005
October 6 – Dr. G. Lombard Kelly Lectureship in Cellular Biology and Anatomy Dedication and Naming Celebration, 1 p.m., Carl T. Sanders Research and Education Building, CB 1801
October 15 – MCG Faculty Senate Meeting, noon, Natalie and Lansing B. Lee Jr. Auditorium
October 15 – Georgia Cancer Center Bash and Splash supporting Paceline, 3 p.m., Knox Room Front Lawn
October 16 – Georgia Cancer Center Paceline Event, Schedule of Events
October 23 – President's Cookout, noon, Health Sciences Quad
October 23 – MCG White Coat Ceremony, 2 p.m., Bell Auditorium
October 23 – MCG Alumni and Reunion Reception, 6 p.m., Augusta Marriott
November 12 – Annual Body Donor Memorial Service, 1 p.m., Natalie and Lansing B. Lee Jr. Auditorium
November 19 – MCG Faculty Senate Meeting, noon, Natalie and Lansing B. Lee Jr. Auditorium