Dear Medical College of Georgia Friends,
Dr. McIndoe named director of the Center for Biotechnology and Genomic Medicine
One of the toughest and best jobs as dean is identifying leadership. Individuals who have the integrity, the collaborative spirit and the enthusiasm for the important work we are privileged to do here at Georgia's pubic medical school. Dr. Rick McIndoe pretty much has that trifecta nailed. This calm, collected bioinformatics expert came to us in 2002 as associate director of the Center for Biotechnology and Genomic Medicine. It was a new, cool place examining the collision of our genetics and our lives with a great starting point being type 1 diabetes, which typically surfaces in children ages 4 to 6 or at least by puberty. Like business manager Debbie Ellison and research manager Diane Hopkins, Dr. McIndoe has been a steady presence throughout the life of this center which today includes 37 scientists, staff, administrators and students and growing. In fact, we just signed a new recruit this week. On the national scene Dr. McIndoe also has been a leader, heading up national collaboratives like the bioinformatics unit for the Diabetic Complications Consortium of the National Institute of Diabetes and Digestive and Kidney Diseases, which provides different types of support, including funding, needed to move science and knowledge forward in a condition that affects more than 34 million Americans, according to the American Diabetes Association, including increasing their risk for other major conditions like heart disease and stroke. And, as we talked about this summer, Dr. McIndoe is now leading another cool, multimillion major national initiative called ISAC, also from the NIDDK, to help scientists with high-risk but also high-reward science ideas in diseases of the kidneys; the urinary tract in both sexes as well as the male reproductive organs; and the blood and bone marrow, find out if their ideas might really improve lives. It is my pleasure to share that Dr. McIndoe has now been named director of the center which he helped establish and lead. Please join me in congratulating him.
Drs. Pam Martin and Ravi Jadeja secure small business technology transfer grant to examine an innovative treatment for diabetic retinopathy
Innovation and science seem inextricable and this project definitely fits that bill. You know you think danger when you think carbon monoxide, but Drs. Pam Martin and Ravi Jadeja in our Department of Biochemistry and Molecular Biology tell us that many of our cells actually produce tiny amounts of carbon monoxide to help keep us safe from oxidative stress and too much inflammation, both contributors to so many diseases including diabetes and its consequences. Hillhurst Biopharmaceuticals, experts in converting a gas to a liquid, have produced HBI-002, a compound already in the earliest phase of clinical trials for sickle cell disease. Now Drs. Martin and Jadeja have received the first phase of an innovative R41/R42, Small Business Technology Transfer Grant from the National Institutes of Health that is supporting their preclinical studies to see if HBI-002 also works for diabetic retinopathy, a potentially blinding consequence of the too-pervasive diabetes. As you can imagine, trying to use the natural gas form of carbon monoxide could be problematic on many fronts for patients who need to use it daily. HBI-002 enables a very small, controlled amount of carbon monoxide to be ingested, and in our intestines it resumes its gaseous state, where it hooks up with our hemoglobin — the part of our blood that carries oxygen — and eventually reaches our retinas where it can put its benefits to use in protecting our vision. If all goes well with this one-year study, it will lead to additional funding that will lead us even closer to helping patients. Please let me thank Hillhurst, Dr. Martin and Dr. Jadeja for their innovation and partnership in making this work happen. More to come.
Dr. Kelly Homlar elected president of the Georgia Orthopaedic Society
Dr. Kelly Homlar, orthopaedic oncologist and associate professor in our Department of Orthopaedic Surgery, is the new president of the Georgia Orthopaedic Society. Dr. Homlar, a 2006 MCG graduate who completed her orthopaedic surgery residency and orthopaedic oncology fellowship at Vanderbilt University, was officially elected at the society's 75th annual meeting that just wrapped up. Dr. Homlar also has served as public relations chair and membership chair for this group. She is also on the Membership Committee of the Musculoskeletal Tumor Society for this select group of orthopaedic surgeons with expertise in cancers that originate from the bone and that spread to the bone and cartilage. Like so many of you, she helps set standards for her subspecialty, including serving on the voting panel for appropriate use criteria for surveillance for bone and soft tissue sarcomas of the American Academy of Orthopaedic Surgeons/Musculoskeletal Tumor Society, a collaborative which was started to capture data, things like demographics and outcomes, on patients having orthopaedic oncology bone tumor procedures with an ultimate bottom line of providing even better patient care. She is a great colleague who leads by example, a hardworking patient advocate who enjoys her life and work and directs our orthopaedic surgery residency program. One of my favorite superlatives about her is that she wanted to come back to her alma mater to share her very specialized expertise and work with the other skilled professionals in our Department of Orthopaedic Surgery and beyond. I am very glad you did, Dr. Homlar and thank you for your service to your patients, to MCG and to your field.
Dr. Renee Hilton co-chairs national Access to Care Committee
Speaking of leadership and amazing MCG graduates, Dr. Renee Hilton, a 2011 graduate who also wanted to come back to her home state and her alma mater to direct our bariatric and metabolic surgery program, is one powerful patient advocate. She also is chief of the Section of Minimally Invasive and Bariatric Surgery in our Department of Surgery. Dr. Hilton grew up in Edison, Georgia on her family farm and grew into quite a force. She calls obesity the disease it is, and has worked hard for years to ensure that surgery to help, often immediately, curtail its horrific health impacts like high blood pressure and blood glucose, is covered by insurance plans in our state, including for state workers like ourselves. It's considered elective or cosmetic surgery by some insurance providers, she tells us. Dr. Hilton's hard work as the state access to care representative for the Georgia Chapter of the American Society for Metabolic and Bariatric Surgery has helped ensure that access, effective this new year. Guess what? Her hard work and success have also resulted in her appointment as co-chair of the society's national Access to Care Committee. It's cool that Dr. Aaron Bolduc, her medical school classmate, is also a member of this specialized surgical team whose most recent addition is Dr. Jake Greenberg, who also is director of the Comprehensive Hernia Center. Thank you for your determination and success Dr. Hilton. I may call you for advice when I have another uphill battle to win.
Drs. Phillip Roberts, Sam Richwine and Koosh Desai to be honored at Alumni Weekend
We told you last time that Alumni Weekend is coming Oct. 23, but we didn't tell you the three greats who will be honored there. Let me add they should have been honored in the Spring of 2020, but just like COVID whittled the upcoming event, it totally preempted that typically big, fun celebration. But COVID cannot preempt the contributions of these individuals. Back in 1980, Dr. Phillip Roberts, a 1962 alum, became the first cancer doctor in Albany, where he used the proceeds from a personal real estate sale to buy equipment and rent a 900-square foot office space. He and his wife Priscilla ran the practice solo for years, a practice that ultimately was the genesis for the Phoebe Cancer Center at Phoebe Putney Health System, our great partners in medical education, which Dr. Roberts would direct. He retired just last year from caring for patients with cancer, but continues to run a medical clinic for adults with a variety of ailments and often no good options for obtaining medical care out of the Dougherty County Public Health Department. Dr. Roberts is the Alumni Association's Distinguished Alumnus for Professional Achievement recipient. Dr. Sam Richwine is a very familiar name and face around these parts. Dr. Richwine, a 1977 graduate, also did his surgery and plastic surgery training here then set up practice in Gainesville, Georgia. But his love of medicine and MCG meant that many nights you would find him driving back to Augusta to help longtime plastic surgery chief Dr. Kenna Given teach the unique skill set to others. He has served as president of our Alumni Association and board chair for our MCG Foundation. This 2020 Distinguished Alumnus for Loyalty recipient says he found at MCG a family; in fact this family man shared his daughter, Dr. Elizabeth "Betsy" Richwine, with us for medical school and dermatology training. Dr. Betsy Richwine, who practices in Marietta, would later establish a lectureship in the Department of Surgery to honor her dad. Dr. Koosh Desai, is a much more recent graduate — 2016 — who also did his internal medicine training with us. Dr. Desai opted to spend his third and fourth years of medical school learning in Albany and is now on the faculty of our Southwest Campus there helping ensure that other great students will want to follow his trail. While doing his residency with us, Dr. Desai cofounded the Georgia Colon Cancer Prevention Project to improve colorectal screening and patient outcomes. His project partners with Federally Qualified Health Centers to help ensure even more individuals have access to effective colorectal cancer screening and eventually helped secure a $3.9 million grant from the Centers for Disease Control and Prevention to further increase screening across the state. He is this program's regional medical director for the part of the state this Distinguished Young Alum recipient now calls home. Please read more here about these amazing individuals and physicians.
Dr. G. Lombard Kelly, 1924 graduate, honored by naming of seminar room
As we close today I have one more recent moment to share about another amazing MCG graduate and MCG faculty member. Even though we are all privileged to work at one of the nation's first medical schools, I get that everyone does not love history like I do, but we do have some awesome history here. You must have seen the name Dr. G. Lombard Kelly on the Administration Building for the university where our office is and his portrait hangs in our Dean's Suite in the somewhat famous "Hall of Deans." He is a 1924 MCG graduate, an early physician-scientist in the field of reproductive physiology, whose personal perseverance was clear when serious illness forced him out of medical school twice. He was a natural leader who 10 years after graduating would be named interim dean, and eventually dean, of our medical school and in 1950 the first president (this was before the other health sciences colleges were established here.) While I think I have some tough days, Dr. Kelly would shepherd his medical school through some if its darkest days. Some of the hardest started before he did, in 1911 when the Flexner Report was challenging our quality along with that of many medical schools, so the leadership of our school was transitioned to the University of Georgia.
Dr. Sylvia Smith and her husband Ken honor Dr. Kelly
Twenty years later, the Great Recession and other factors prompted serious discussion of closure. Really long, painful story short, with the support of our alumni and state, our medical school would again become an independent unit in 1950, and Dr. Kelly its first president. A more recent great MCG leader, Dr. Sylvia Smith, and her Department of Cellular Biology and Anatomy also are big fans of Dr. Kelly, who had chaired the Anatomy Department and who loved and supported research never mind pretty much saved us. This department and Dr. Smith love and support research as well and established the Kelly Lectureship, which has already attracted two Nobel Laureates to speak. Now Dr. Smith and her husband Ken have decided to provide the support needed to name the G. Lombard Kelly Seminar Room in the department, where, as she says, "science and education happen." More amazing evidence of why I love MCG, its nearly 200 year old past and its boundless future driven by people the likes of which we have talked about today. Thank you all for your hard work and support for our medical school. Dr. Kelly would be proud.
Please get vaccinated and wear a mask whenever you are in a confined space so we can get this pandemic behind us.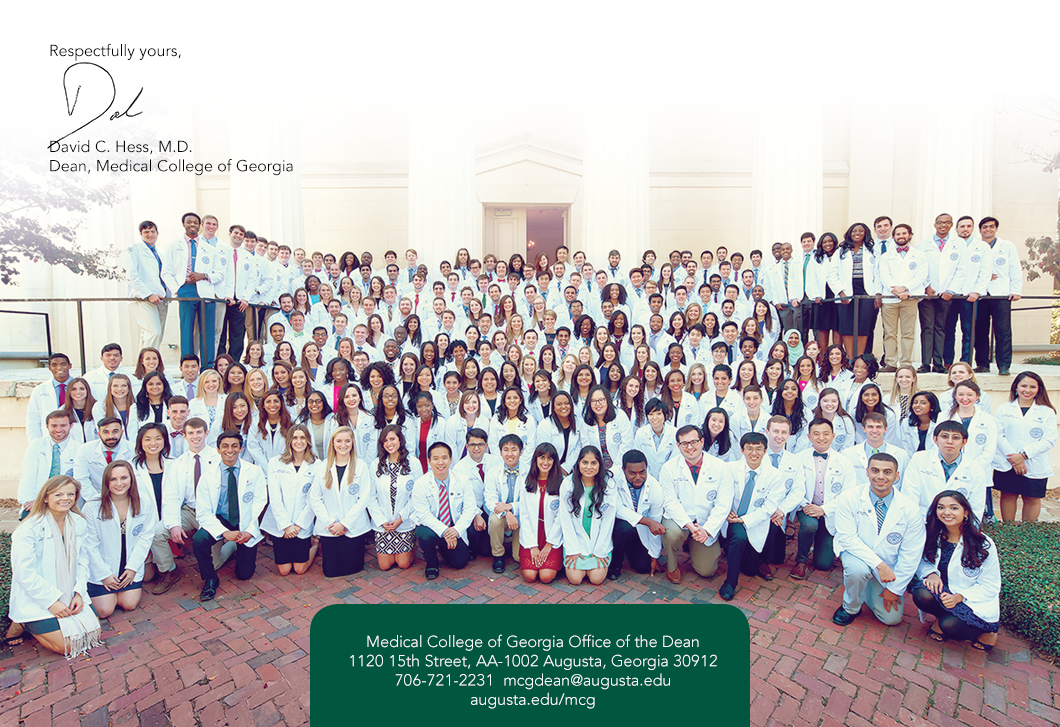 Upcoming Events
October 15 – Georgia Cancer Center Bash and Splash supporting Paceline, 3 p.m., Knox Room Front Lawn
October 16 – Georgia Cancer Center Paceline Event, Schedule of Events
October 23 – President's Cookout, noon, Health Sciences Quad
October 23 – MCG White Coat Ceremony, 2 p.m., Bell Auditorium
October 23 – MCG Alumni and Reunion Reception, 6 p.m., Augusta Marriott
November 12 – Annual Body Donor Memorial Service, 1 p.m., Natalie and Lansing B. Lee Jr. Auditorium
November 19 – MCG Faculty Senate Meeting, noon, Natalie and Lansing B. Lee Jr. Auditorium