Dear Medical College of Georgia Friends,
Drs. Lynn Hedrick, Klaus Ley to lead new Center for Immunology
Talk about a great gift, it was just a few days before Christmas when I found out for sure that two renowned immunologists and vascular biologists, Drs. Lynn Hedrick and Klaus Ley from La Jolla Institute for Immunology, would be joining the exceptional faculty of the Medical College of Georgia later this year to co-direct an expanded initiative in immunology we are calling the Immunology Center of Georgia. They are both leaders in better understanding how our immune system, which is there to protect us, also contributes to major killers like heart disease and cancer. It is work that impacts really all of us and will translate to better care for us against these major killers. I am very excited that they will join us and can assure you that while they have not technically "hit the ground" here they are already making great strides in identifying 20 other scientists who, along with the greats already here like Drs. David Munn and Gang Zhou, will build a world class immunology center. It really took a village to make this happen and leaders of this village include Drs. David Stepp, Joe Miano, David Fulton, Jennifer Sullivan, David Mattson, Brian Annex, Rick McIndoe, Jorgé Cortes, Xiaochun Long (and too many more to name) as well as the vibrant, straight-shooting, get things done Leslie Bedenbaugh, who I am happy to say is my executive assistant. The support of President Keel, Chief of Staff Russell Keen and Provost Neil MacKinnon clearly were invaluable here.
The Georgia Research Alliance awards an unprecedented three Eminent Scholar positions at one time at one institution
One of the most amazing pieces was the contribution of the Georgia Research Alliance and GRA President Susan Shows, who took the unprecedented step of naming three GRA Eminent Scholars at MCG at AU at one time, a first for the GRA. The GRA named Drs. Hendrick and Ley both GRA Eminent Scholars along with the amazing Dr. Qin Wang, an expert in molecular neuropharmacology and signaling research in the brain, who is coming to us April 1 from the University of Alabama at Birmingham to lead a new Program for Alzheimer's Therapeutics Discovery here. The village this time included Dr. Xin-Yun Lu (also a GRA Eminent Scholar), Dr. Mark Hamrick, the Provost and again President Keel. Dr. Wang's recruitment was enabled through the targeted, exceptional Transdisciplinary Research Initiative in Inflammaging and Brain Aging, or TRIBA, announced by the president last Spring that will enable a deepening of the talent pool in inflammaging and brain aging at our university. What an honor for us, what a commitment from the GRA and AU and what an incredible way to start out the new year! To put the icing on top, all the details worked out for all these great recruits so that we could announce this at our State of the College address. It can't get much better.
Drs. Paul Brock, G. Waldon Garriss honored as community advocates
Speaking of tremendous support, our medical school which has one of the nation's largest class sizes with 260 students per class, simply could not educate so many students so well without the exemplary support of Georgia's physicians and hospitals. As we like to say: Georgia is our campus. And we are fortunate as a result. Each year during the State of the College I have the distinct honor of recognizing particularly remarkable contributions in community advocacy. It is actually a tough job when we have so many incredible individuals and institutions to choose from. This year we picked Dr. Paul Brock, a general surgeon with the famed Harbin Clinic in Rome, home base of our Northwest Campus, and Dr. G. Waldon Garriss III, an internist and pediatrician who leads the internal medicine program he started at WellStar Kennestone. Our students consistently vote Dr. Brock a favorite educator who is known for his 6 a.m. "coffee and cases" where he goes over patient cases with them and they love it. And he has plenty of cases, averaging about 15 patients per day. The love is mutual: Dr. Brock shared at the State of the College that teaching students is really what makes him keep working. "This has extended my career," he said. On his own time and dime, Dr. Garriss travels our state to teach our students about heart sounds. How is that for amazing commitment? As you can imagine, our students regularly select him as a top educator and the Georgia Chapter of the American College of Physicians has done the same. He also has really helped build graduate medical education at Wellstar, a longtime amazing educational partner for our medical school.
Dr. Rodger MacArthur honored with Professionalism Award
Our Professionalism Award this year went to Dr. Rodger MacArthur, infectious disease physician and educator extraordinaire right here at home. Dr. MacArthur has literally been a lifesaver, particularly during this pandemic. He has been a calm, educated voice about COVID-19 for the public and for our students alike. Early on, he gave his cell phone number to our students and told them to call him 24 hours a day with any concerns they might have about personal COVID exposure, and he has been an advisor to the students who are frontline in the community talking about vaccine hesitancy. He has been essential to the evolving Pandemic Medicine Elective, which was stood up in the early days of the pandemic as COVID pushed students out of the classroom and we pushed back with innovations to keep learning happening. It speaks volumes that Dr. MacArthur was surprised and humbled by the honor.
Dr. Yanbin Dong named director of GPI, Dr. Ryan Harris named associate director
Speaking of humble people, I also want to make sure you know that Dr. Yanbin Dong has been named director of our 40-year-old Georgia Prevention Institute. Dr. Dong, a geneticist and cardiologist exploring more about what hurts and helps our cardiovascular system as we age, is great at bringing people with different strengths together to take on complex topics like cardiovascular disease. He has been at MCG for 20 years and now is a great time for him to take on this leadership role to help this institute, which has such an innovative history, find its strongest future. I've also named Dr. Ryan Harris, clinical exercise and vascular physiologist who came to us from sunny San Diego in 2009, associate director of the GPI. Dr. Harris is a terrific collaborator who brings his unique skill set to many important scientific endeavors here including the new American Heart Association-funded center driving a focus on the intersection of cardiovascular and disease and cancer we announced this past summer and feature on the cover of the newest issue of MCG Medicine magazine. (The print version should be here Valentine's Day). I think Drs. Dong and Harris along with other greats at the GPI like the National Institutes of Health-funded Drs. Haidong Zhu, Xiaoling Wang and Shaoyong Su will enable the GPI to thrive. Stay tuned.
Dr. Sumit Fogla is new vice chair for clinical operations in family medicine
It's also my pleasure to share that Dr. Sumit Fogla, a family medicine physician with expertise in obesity medicine, is the new vice chair for clinical operations for our Department of Family Medicine. He comes to us from the William Beaumont School of Medicine in (really cold) Michigan, where he was medical director of the Beaumont Weight Control Center. He's a graduate of the University of Mumbai K.J. Somaiya Medical College and Research Center. He studied family medicine at Wayne State and has an MBA in health care from Oakland University in (also cold) Rochester. His expertise includes chronic disease management, preventive care and inpatient family medicine and he's overseeing the care provided at our Family Medicine Center with the strong help of Dr. Carla Duffie, nurse manager who is responsible for the day-to-day clinical operations. Dr. Duffie has been in our family medicine department since 2000, moved into her current role managing the practice site in 2006 and is pretty much home grown, earning both her undergraduate and doctorate in nursing at our AU College of Nursing. Sounds like another winning team.
Dr. William Healy appointed to American Academy of Sleep Medicine's Quality Measures Task Force
Few things are better than a good night's sleep and Dr. William Healy is one of our experts in helping people get one. He is a native of Statesboro, Georgia, a 2010 MCG graduate who came back to us in September 2020 as a faculty member in our Division of Pulmonary, Critical Care and Sleep Medicine. In between he had quite a run at The Ohio State University in (cold) Columbus, where he completed his internal medicine residency, pulmonary/critical care fellowship and sleep medicine fellowship. He then joined the faculty of the University of South Carolina School of Medicine, Greenville, in 2017 before coming back home. He's currently associate director of the Sleep Disorders Center at our hospitals, the AU Health System. It is my pleasure to share that he also is now a member of the Quality Measures Task Force of the American Academy of Sleep Medicine, a select group whose jobs include supporting the development, maintenance and implementation of good measures of sleep quality and a registry that will ultimately help track and improve quality of care for sleep problems nationally. It was his work here as director of sleep quality improvement from when he first arrived in September 2020 to July 2021 that helped him prepare for this new national appointment. He's been a member of the American Thoracic Society Sleep and Respiratory Network Early Career Workgroup since May 2021. Thank you for your commitment to your alma mater and to sleep Dr. Healy.
All my best.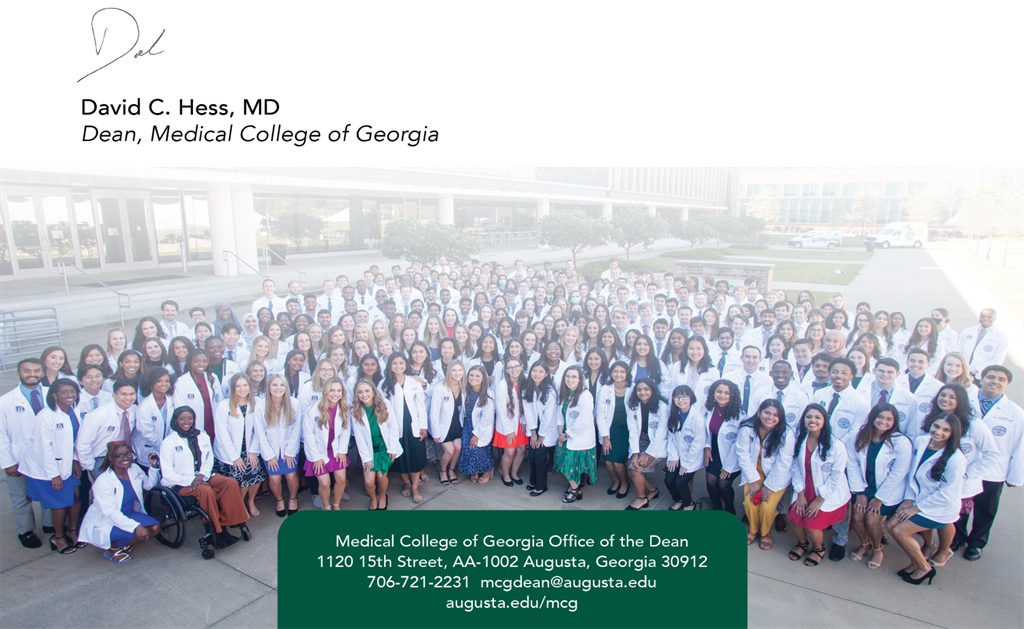 Upcoming Events
February 18 – MCG Faculty Senate Meeting, noon, Natalie and Lansing B. Lee Jr. Auditorium
March 17 – MCG Faculty Senate Meeting, noon, Natalie and Lansing B. Lee Jr. Auditorium
March 18 – Match Day, more details to come
April 15 – MCG Faculty Senate Meeting, noon, Natalie and Lansing B. Lee Jr. Auditorium
April 15 – MCG Raft Debate, sponsored by the MCG Alumni Association, 6pm, J. Harold Harrison
MD Education Commons
May 12 – MCG Hooding, more details to come
May 26 – MCG Faculty Awards, 5pm, Natalie and Lansing B. Lee Jr. Auditorium