Dr. Lynne Abruzzo named chair of Department of Pathology
Being dean for about five years now has given me perspective on this medical school as well as the privilege of having some impact on how things turn out. Today it is my pleasure to share that Dr. Lynne Abruzzo , an MD/PhD who is a hematopathologist and clinical cytogeneticist and has codirected the Cytogenetics Laboratory at The James Cancer Center at The Ohio State University Wexner Medical Center since 2014, will be part of MCG's bright future as the new chair of our Department of Pathology. We also have been fortunate to recruit her spouse, Dr. Kevin R. Coombes, a renowned bioinformatician using his expertise in analyzing high-throughput data to better predict and improve the outcome of patients with problems like chronic lymphocytic leukemia, to our Georgia Cancer Center and Department of Population Health Sciences. They join us in June.
The new chair joins MCG in June
Our new pathology chair, also an accomplished educator, served for six years as specialty program director for the clinical molecular genetics and clinical cytogenetics laboratory fellowship program in Ohio. She has previously served on the faculty of the University of Texas MD Anderson Cancer Center where she was section chief of the Clinical Cytogenetics Laboratory and fellowship program director for the Department of Hematopathology. In fact, Dr. Abruzzo went back to do a clinical cytogenetics fellowship at Baylor College of Medicine in the early 2000s because she likes cancer cytogenetics, which includes looking for chromosomal changes that may indicate a genetic disease or cancer and helping gauge the efficacy of treatment, and MD Anderson was having a tough time finding someone to run the lab there. Her research focuses on the genetics and pathogenesis of chronic lymphocytic leukemia and other leukemia and lymphomas and looking for better diagnostic and prognostic markers. One of the things I liked best about her is that she was not someone whose career plan included being in charge, but her experience in directing a busy cytogenetics laboratory and in working with other leaders made her seek the position of department chair here as a way to help others and MCG succeed. I believe Dr. Abruzzo will fit right into our service-driven, productive pathology department and medical school.
Mary Jonah, operational manager of Clinical Pathology Core Lab, retires after 47 years
Mary Jonah has fit right in for 47 years. This living Pathology Department legend is a 1976 graduate of the medical technology program in the AU College of Allied Health Sciences. Right after graduation, she became a supervisory medical technologist in our Hematology Laboratory and would stay there 24 years. She was then named supervisor and a year later manager of Hematology, Coagulation and Flow Cytometry. Five years ago she was named operational manager of our consolidated Clinical Pathology Core Laboratory, which provides all kinds of fundamental information like how our liver and kidneys are functioning, platelet counts as well as lymphoma and leukemia workups and more. Like the best among us, Mary is a stickler for ensuring that this important information is provided accurately and promptly. She holds herself and her staff accountable, and their results meet or exceed College of American Pathologists standards. She has helped inspire the next generation of medical technologists to strive for excellence as well by working closely with countless students who have come through her labs. She has helped physicians like me get accurate answers about specific patients, and enabled clinical research study information to be handled optimally. Mary is the kind of individual and employee anyone would want, and we are fortunate that she called MCG and AU Health home. When I was a young faculty member, she helped me with a research project and taught me everything I needed to know out of her vast experience. Her contributions here are incalculable. She retires at the end of this month, and I know you join me in wishing Mary the well-deserved best.
Dr. Dennis Ownby honored by American Academy of Allergy, Asthma and Immunology
We talk often about what a privilege it is to, like Mary, make a difference in so many lives. Allergist-Immunologist Dr. Dennis Ownby has made a difference and caused quite a stir in the process. He was first author on a groundbreaking study published 20 years ago — and still referenced today — in the Journal of the American Medical Association, that showed that, contrary to what many of us as physicians and parents believed, children who grow up around dogs and cats have significantly less chance of developing common allergies. The prevailing thought at the time was that repeated exposure, like from having a dog in the house, actually increased the child's risk of having allergies. But his study, done in conjunction with Henry Ford Health System in Detroit, where he directed the Allergy-Immunology Laboratory before coming to us, showed that in reality the more pets the better. I second that emotion, and so do our current dogs Zeus and Winston. Also super impactful was a follow-up study two years later that showed parental smoking overrides that benefit. Dr. Ownby, who served as chief of our Division of Allergy and Immunology for a dozen years and remains a part-time faculty member to date, is definitely a major player in his field who I am proud to say is the recipient of the 2022 Distinguished Clinician Recognition Award from the American Academy of Allergy, Asthma and Immunology. He'll be officially honored for his contributions to his field and to the academy during the academy's annual meeting that gets underway next weekend in Phoenix. His service to the academy includes chairing eight committees, including the Latex Allergy Committee, the Abstract Committee and the Annual Meeting Program Committee. He has made many other national contributions as well, like serving as chair of the American Board of Allergy and Immunology and co-chairing the Board Review Course for the American College of Asthma, Allergy and Immunology. Congratulations and thank you, Dr. Ownby.
First Left Ventricular Assist Device, or LVAD, procedure performed successfully
Speaking of changing lives, please let me also congratulate our heart surgeons, cardiologists and entire Cardiovascular ICU team for the first implantation of a left ventricular assist device, or LVAD, that supports the pumping function of the heart for people in heart failure. These devices are intended to keep patients in heart failure out of the hospital and enable them to resume much of their lives, which is what taking care of patients is about. I particularly want to thank Cardiovascular Surgeon Dr. Vijay Patel, who has worked long and hard to make this program happen, is surgical director of the Mechanical Circulatory Program, medical director of the adult EMCO program and the primary surgeon who implanted the device. He has been a stalwart around MCG for many years and always seems to have a cup of coffee in his hands in those few moments when he isn't working. Let me also thank cardiologist Dr. Stephanie Dunlap, medical director of the new LVAD program; and LVAD Coordinator Kianna Curtis, R.N. for their significant contributions to this initiative. The Health System unveiled the beautiful new patient and family friendly 18-bed Cardiovascular ICU late last year where our first LVAD patient, Erik Schreiber was cared for, and which also was critical to this program and ongoing efforts to further strengthen our care of patients with heart disease, Georgia's number one killer. The first LVAD was implanted by famed heart surgeon Dr. Michael DeBakey in 1966 until the patient could get a heart transplant 10 days later, which was its original purpose. Today these much smaller, more efficient devices can also offer an alternative to an organ transplant for patients like Mr. Schreiber.
MCG students work to improve insight on value-based care
It always renews my confidence that the contributions of MCG will remain outstanding when I talk with our students and our graduates. As Georgia's only public medical school, we have so very many important bottom lines but none more important than educating more great physicians and physician-scientists. Here's another example of how you are hitting that mark. No doubt our students already are busy but their brains always seem to be thinking about what else can they do, from serving the underserved to doing research to becoming an accomplished musician. This time a group of Class of 2023 students, including Daniel Adamkiewicz, Nishtha Ahuja, Anjeli Patel and Darsani Reddy worked with Dr. Pascha Schafer, cardiologist and chief quality officer for our Health System (and MCG graduate) to develop a case competition based on the situations of real patients that would help medical students learn more about value-based health care. It's called MCG Value-Based Care Competition. Value-based health care is a model in which hospitals and physicians get paid based on how their patients do, including successes such as avoiding chronic diseases like diabetes and heart disease. The traditional fee for service system also means what it says, which is payment is based on the amount of care provided. Per their doing more usual, last year Class of 2024 students, including Madeline Snipes and Disha Patel, continued the competition in collaboration with Dr. Schafer and the added help of Julie Moretz, AVP for patient and family centered care and Lean Six Sigma expert Megan Furno, both at our Health System. Students Nikhil Gangasani and James Alin also expanded the competition nationally. Other participating medical schools included Baylor, Penn State and Florida State and MCG had six teams competing. The MCG winning team includes Class of 2025 students Madison Wood, Loretta Ngoe, Joyce Kim, Kali Malham and Aditya Yadav who developed a program called ACTION to decrease readmission rates for strokes. Winning teams like ours are implementing their proposals as we speak and our winners are meeting with our Stroke Center team this week. Timely, as we are up for recertification of our joint commission Advanced Comprehensive Stroke Center next week. Special thanks to Roslyn Marshall, Kim Deufel, Dr. Jeff Switzer, Dr. Fernando Vale and Stroke Center co-directors Drs. Scott Rahimi (an MCG graduate) and Dan-Victor Giurgiutiu on that front. Stay tuned and I want to thank all these students for going the extra mile for patients.
Medical Illustrator Keri Jones now available to help bring new life to your academic presentations
Finally today, here is a winning opportunity for you all. Keri Jones, a board-certified medical illustrator, is on board and ready to help you with accurate and beautiful illustrations for your presentations and publications, animations that can really help bring complex topics to life, 3D models and interactive learning modules. Keri is a 2020 graduate of the Medical Illustration Graduate Program at AU, one of a handful of these programs in the country, and still does some teaching for them. She officially joined MCG this year but has already worked as an anatomy tutor for our students. We are glad you are with us Keri.
All my best,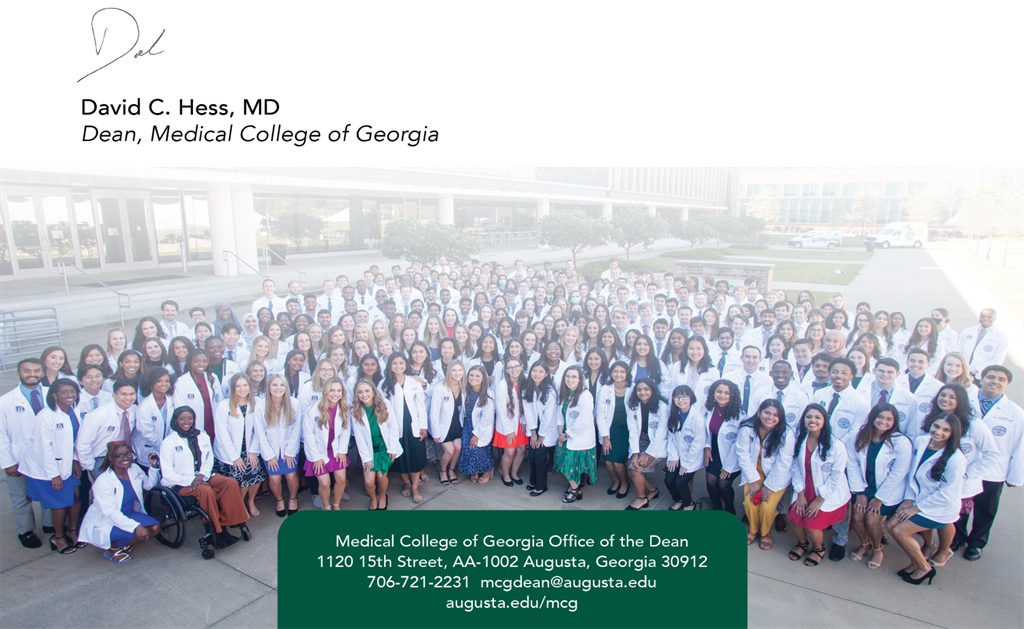 Upcoming Events
February 21-26 – Inaugural Resident Appreciation Week, co-sponsored by the MCG Offices of Graduate Medical Education and Learner Well-being. https://www.augusta.edu/mcg/academic-affairs/wellness/mcg-resident-appreciation-week-2022.pdf
March 10 – PFCC Conference, 10:30am – 12:30pm, PFCC Always…In All Ways, register at http://augusta.edu/PFCC2022
March 17 – MCG Faculty Senate Meeting, noon, Natalie and Lansing B. Lee Jr. Auditorium
March 18 – Match Day, more details to come
April 15 – MCG Faculty Senate Meeting, noon, Natalie and Lansing B. Lee Jr. Auditorium
April 15 – MCG Raft Debate, sponsored by the MCG Alumni Association, 6pm, J. Harold Harrison MD Education Commons
May 12 – MCG Hooding, more details to come
May 26 – MCG Faculty Awards, 5pm, Natalie and Lansing B. Lee Jr. Auditorium