Dear Medical College of Georgia Friends,
Individuals like Dr. Chris Watson in Academic Affairs help ensure student success at Georgia's only public medical school
We talked last time about the amazing Admissions Office and Admissions Committee that serve as the front door for the Medical College of Georgia. Today I wanted to talk about Academic Affairs, the people and office that, like each of you, help ensure the success of our students once they arrive. This is another great group of people and professionals who have students at their heart and Georgia on their mind. Among the newest additions to this great team is Dr. Chris Watson, a 2003 graduate of Georgetown University, who did his pediatric residency at the National Capital Consortium in Bethesda and a year as chief resident at this institution, which sponsors all the military graduate medical education programs in Maryland, Northern Virginia and Washington D.C. He completed his pediatric critical care medicine fellowship at Johns Hopkins University School of Medicine in Baltimore in 2010. He also completed a master of public health degree focusing on humanitarian assistance and disaster response at Johns Hopkins' Bloomberg School of Public Health. Before Dr. Watson came to us in 2016, he served our country in the Navy for 13 years, reaching the rank of Lieutenant Commander. In his time with the Navy, he was honored four times with a commendation medal, and he was deployed as a trauma intensivist as part of a multinational medical unit to Afghanistan in 2012. He was named medical director of the Pediatric Intensive Care Unit at Walter Reed National Military Medical Center in Bethesda soon after his return. He was also associate program director for Walter Reed's pediatric residency. Dr. Watson was named our first-year class dean just last month. He had served as our pediatric critical care medicine fellowship program director for four years before stepping down to take this new job in education. When asked why he took this job, Dr. Watson tells us: "For many years, I've had the chance to work with 3rd and 4th year students in the clinical setting, as well as trainees at all levels of graduate medical education. The chance to meet and work with students as they set out beginning this lifelong journey of learning is an extremely special and unique opportunity that brings great personal fulfillment and hope of inspiring our students to continue to do great things!" Clearly this is an individual who serves, and we are fortunate to have Dr. Watson here to serve as a mentor and role model for our students and to help take care of critically ill children at our Children's Hospital of Georgia.
Dr. Michael Brands selected as our new Vice Dean for Academic Affairs
Now it is my pleasure to also introduce to you the newest member of the tremendous Office of Academic Affairs: Our new Vice Dean Dr. Michael Brands. Like Dr. Watson and so many of you, Dr. Brands has a heart and a head for students and for our medical school and we are very fortunate to have him in this new role. As you may remember, he stepped up as interim vice dean mid-May and this was one of those situations where he was just a natural fit. Dr. Brands came to us in 2000 as a professor in our Department of Physiology. He's a cardiovascular and renal physiologist and an honored educator, who also has served for years on the Phase 1 and 2 Curriculum Committee as well as the Curriculum Oversight Committee and has chaired the Student Academic Promotions and Professionalism Committee. He started his teaching career in 1984 with undergraduate physiology at the University of Missouri in Columbia, Missouri, which is his PhD alma mater, and he hit the ground here teaching physiology to our students. He has served as course director numerous times at MCG and The Graduate School, most recently at MCG for the preclinical Cardiopulmonary-Heme Module and Medical Physiology Component. Last time in these writings, we talked about Dr. Wendy Bollag being given the distinction of being named a Regents' Professor. Dr. Brands, an established, federally funded investigator who studies hypertension, also received that honor in 2016. He is a standout who listens well but is also a decisive individual and leader who never missed a beat from his first day as interim vice dean. Dr. Brands is a native of Kansas City, Missouri (home of the Kansas City Chiefs) who went to church with his wife of 39 years Kelley but the two never met until they ran into each other at Kelso's Pizza, a favorite hangout for those of a certain age, which at the time was 19 for them. (The themes were baseball and pizza so how could you go wrong?) They have four children, which includes three daughters, a set of twins and two MCG graduates. Dr. Tricia Brands, Class of 2014, is an OB/GYN at Piedmont Augusta. And Dr. Susan Brands, a 2021 graduate who was president of her class and who we have often talked about in these writings, is now a second-year emergency medicine resident at MCG and our health system. The twins are Andy and Erin Brands. Andy is a University of Georgia graduate who has taught middle school and high school and is now in restaurant management in Atlanta. Erin is an AU graduate who works in leasing management right here in Augusta. I am confident Dr. Brands will do a terrific job in his expanded role. Nationally about 14 percent of medical schools have a PhD rather than an MD at this important academic helm. But the majority of medical schools are not fortunate enough to have this unique individual who, despite being a successful scientist, calls teaching his first love (next to family of course). Please join me in thanking and congratulating Dr. Brands for what he has done and will do surrounded by a strong team in Academic Affairs and the legacy of one of the nation's first medical schools.
Generosity, service the backbone of the 3+ Primary Care Pathway Program
While we are on an academic roll, please let me also congratulate here our newest Peach State Scholars. This is a diverse, committed group of seven students who have made a commitment to complete medical school in just three years, specialize in primary care and to serve the citizens of Georgia who need it most. We have talked often about this innovative program that directly addresses the physician shortages in the underserved areas of our state and has garnered support from a growing number of amazing organizations and individuals. The first group of Peach State Scholars started last year and was enabled by a generous $5.2 million gift from our colleagues at Centene/Peach State Health Plan, an HMO that serves Medicaid and PeachCare for Kids participants in partnership with the Georgia Families Program, that was generously matched by the state. More recently the MCG Foundation provided $8.7 million to support the 3+ Primary Care Pathway Program, this time to match the state's additional appropriation. Other donors who have recognized and chosen to support this fundamental need of our state, which currently ranks 38th in the number of physicians per capita, include the Hearst Foundations; the Georgia Community Foundation; Augusta Psychiatrist Dr. Yekeen Aderibigbe; Emory University Orthopaedic Surgeon Dr. Tom Bradbury, a 2001 MCG graduate, and his wife Julie Bradbury; and Dr. James Callaway, a 2008 MCG graduate and gastroenterologist at the University of Alabama, and his wife Amelia Callaway. Also, Gainesville, Georgia general surgeon and 1971 MCG graduate Dr. John Darden; 1952 graduate and six-term Congressman, the late Dr. J. Roy Rowland Jr.; Atlanta Anesthesiologist Dr. George Sessions, a 1955 graduate, and his wife Martha Sessions; Retired Augusta Dentist and Philanthropist Dr. George Snelling; and Alabama Urologist and 2006 graduate Dr. Matthew Thom and Brooklyn Thom. Thank you all again for your vision, leadership and philanthropy.
New group of seven Peach State Scholars sign up to take up improving health in underserved Georgia
I am proud to announce our newest Peach State Scholars. Reginald D. Benson Jr., hails from Douglasville, Georgia. He is an AU graduate and the son of two nurses who wants to be an emergency medicine physician. His mission work in Haiti raised his awareness about the underserved, needs which he recognizes in his home state and wants to help address. Sarah K. Chappell from Alpharetta is a graduate of Vanderbilt who has an interest in pediatrics. She too has taken mission trips to Haiti as well as Honduras, where she saw the diseases children could avoid with better access to health care. During her work in Georgia communities during the pandemic she saw similar issues in her own state. M. Raine Foulkes is from Macon, and is interested in women's health and OB/GYN. She worked with women living in rural areas of Georgia during her time at Georgia College and State University in Milledgeville. Selvaganesh "Ganesh" Maduraiveeran, is a graduate of Emory University from Cumming, Georgia who is interested in internal medicine. He has volunteered in an understaffed primary care clinic in his own hometown and so understands the needs out there. Adir Mohaban is from Hahira and also is interested in emergency medicine. He is a UGA graduate who also has a masters in biomedical sciences from Mercer University. He too had his eyes opened about the underserved in the Macon Volunteer Clinic. While working there he also provided patients education about use of items like glucometers and blood pressure monitors. Edil Nour is from Lawrenceville and her passion for the importance of mental health to overall health has her interested in pursuing psychiatry. She wants to help change the statistic that some 80 Georgia counties don't have a psychiatrist. Finally, Bailey Rodgers, who hails most recently from Marietta, wants to be an OB/GYN. She is a graduate of Emory University whose parents had to help her think about female sexual health in a nonjudgemental way after growing up in a small community where there was rampant stigma regarding sexuality and sexual health. Now Bailey wants to help empower other women and feels humbled by the opportunity to do this. How is that for a terrific lineup of future physicians to help us take on this important challenge of improving the wellbeing of underserved Georgians. To each of you, please know that your medical school is proud of you for taking up this important charge. Together we will accomplish plenty.
All my very best to you,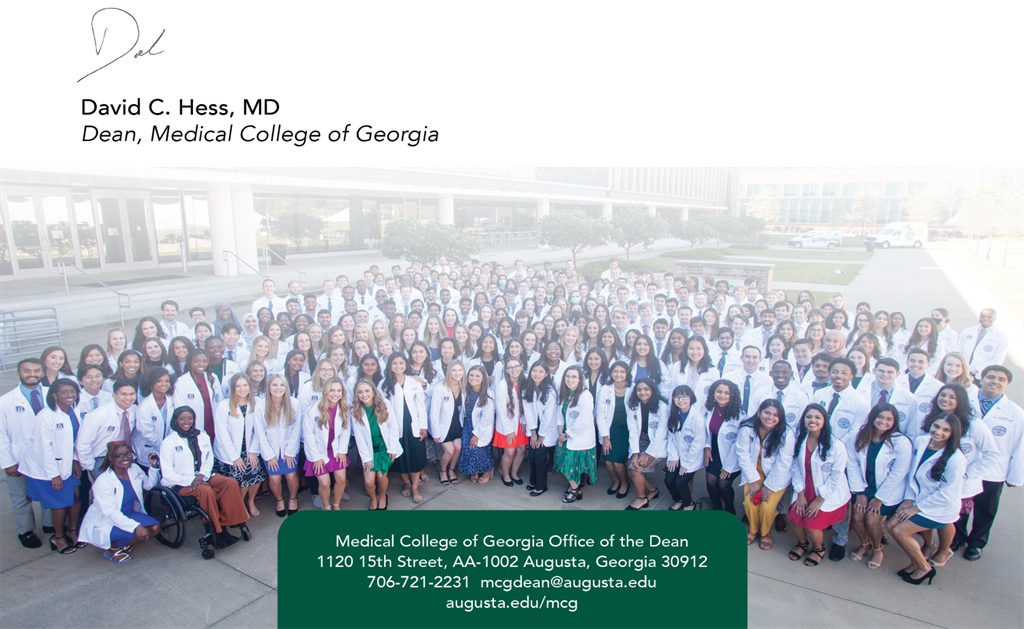 Upcoming Events
Sept 16 – MCG Faculty Senate Meeting, noon, Natalie and Lansing B. Lee Jr. Auditorium
Oct 16 – PaceDay 2022, Georgia Cancer Center Paceline Ride
Oct 21 – MCG Faculty Senate Meeting, noon, Natalie and Lansing B. Lee Jr. Auditorium
Oct 21 – Raft Debate, 6 p.m., J. Harold Harrison, MD Education Commons
Oct 22 – White Coat Ceremony, 2 p.m., Bell Auditorium
Nov 11 – Annual Body Donor Memorial Service, 1 p.m., Natalie and Lansing B. Lee Jr. Auditorium