Dear Medical College of Georgia Friends,
MCG's largest class size ever is here
Sometimes in the day-to-day business of running a medical school it's easy to get caught up in finances and planning and worrying, but then you remember the reason we are here: To educate the next generation of physicians and physician scientists. There is nothing like the first day of class, last week here and this week at our Athens campus, to put that joyous privilege front and center where it belongs. As we have discussed, this year we welcome the largest ever 264-member class to one of the already largest medical school classes in the nation. This class hails from 53 colleges and 56 Georgia counties. This year we also welcome 12 students from places like New York and Texas. Hopefully, most of you already know that as Georgia's public medical school, 95% of our class must be from Georgia. The instate-commitment means that, while we had a record number of applicants — 3,563 for our 264 positions this year — our total applicant numbers are not as large as many of our fellow medical schools, even those with smaller class sizes, our associate dean for admissions, Dr. Kelli Braun, who graduated from MCG in 2004 with honors and has been maintaining that pace since, reminds us. The brand-new Class of 2026 includes 140 women and 124 men and has an average MCAT of 513, which is just above the national average.
The Admissions Committee has final say on who is selected
The Admissions Committee is as amazing as the class they select. As Dr. Braun reminded the educational leaders of our medical school at the Dean's Staff meeting this week, our accrediting body, the Liaison Committee on Medical Education, says the Admissions Committee has "final responsibility" for accepting a student to MCG. That objective bottom line ensures that politics and finances are not factors for admission, rather the totality of the individual, including their academic record of course, but also attributes like empathy, leadership, emotional resilience, capacity for growth and what they would bring to their potential class and to medicine. Our self-identified admissions diversity initiatives, which are in place to help ensure our public medical school always works to reflect and to benefit all of our state, help as well. The initiatives include recruiting and retaining more Black and Hispanic students, as well as students from underserved areas of Georgia, including from the some 21% of our population who live in rural counties. The math means that 79% live in urban counties, primarily those in the Atlanta area, and right now that also means that a similar percentage of our students come from those urban counties, Dr. Braun tells us, a statistic which we are working increasingly hard to modify to better serve our state. More to come on that soon.
The 22-member Admissions Committee has 10 new members
Factoring in so many critical pieces is a tough, important job for the 22-member Admissions Committee, whose diversity also reflects MCG, the medical profession and the community. There is no doubt that membership on this committee is the definition of community service because it is a big, tough job. In fact, one of our committee members must represent the community. Let me thank here 1974 MCG graduate and internist Dr. Charlie Green, who is just stepping down from serving in that key spot for an amazing 15 years. But note that Dr. Green just stepped up as chair of the MCG Foundation Board so he is not going far and we are grateful. Let me welcome Dr. Terri Lockhart, a 1988 MCG graduate and internist at the Charlie Norwood VA Medical Center for almost 30 years, who is taking up the important post representing our graduates and our community on the Admissions Committee. We have a total of 10 new committee members this year which include, in addition to Dr. Lockhart, Dr. Uzondu Agochukwu, spine surgeon and director of our Spine Surgery Fellowship in our Department of Orthopaedic Surgery; Dr. J. Arden Conway, pediatric intensivist and 2013 MCG graduate; Dr. Sumit Fogla, vice chair of clinical operations and quality for our Department of Family Medicine and medical director of the clinic; and Dr. Dixon Freeman, who we just talked about in June, an OB/GYN, recently named campus assistant dean of our Northwest Campus, based in Rome, who also just had a birthday this week. Also, Dr. Richard Sams, another faculty member in the Department of Family Medicine who went to medical school at Boston University and is medical director of the terrific Georgia War Veterans Nursing Home; and the dynamic Dr. David Stepp, vascular biologist in our renowned Vascular Biology Center, who was recently named director of the MD/PhD program. Two of our M2 students also just joined, Ivie Uwaifo, from Atlanta, who did her undergraduate studies at Emory University in neuroscience and behavioral biology, and who now lives in beautiful North Augusta and is based at our main campus right here in Augusta. And, from our second four-year campus in Athens, the AU/University of Georgia Medical Partnership, Talia Sisroe, an M2 from Albany, Georgia, who studied biology at Emory University. Finally, Dr. Mike Petzar, an associate professor of pathology at the Athens campus who is a graduate of The Albany Medical College and who has done fellowships in infectious diseases, blood banking/transfusion medicine and hematopathology and an anatomic/clinical pathology residency (talk about prepared for anything). Please let me thank and welcome all our new Admissions Committee members. Again, your service on this committee is a great service to the future wellbeing of our state and beyond.
New director, associate director named for admissions
One more note on some new faces in the MCG Admissions office. Lonzo W. Smith II joined us just this week as the new director of admissions and recruitment operations. Lonzo comes to us from Georgia Military College/Eastern Region where he was campus director of the Extension Center, supervisor of the Financial Aid/Business Office and senior admissions counselor. His duties included detail-focused work like ensuring compliance with accrediting bodies and people-focused work like supervising, training and helping develop faculty and staff. He is a graduate of Virginia State University and Southern Wesleyan University. Macy K. Rice started in May as our associate director of admissions. She earned her undergraduate and master's degree from AU and had previously worked in the AU College of Education, where her responsibilities included helping increase graduate enrollment. Before that, she was an admissions counselor for the AU Office of Academic Admissions. As most of you likely know, MCG as well as the Dental College of Georgia each have their own admissions office. Great work everyone. So glad you all are with us.
Dr. Wendy Bollag named Regents' professor by University System of Georgia
There is no doubt that it's a hard-working group that makes up the Medical College of Georgia. One of the highest honors awarded to our faculty by the University System of Georgia for outstanding scholarship and creative activity is a Regents' professorship. I am pleased to share with you that Dr. Wendy Bollag, cell physiologist here and at the Charlie Norwood VA Medical Center, who directs the Office of Postdoctoral Affairs and is research director of the Adrenal Center, has earned that distinction. Dr. Bollag, an enthusiastic pioneer in better understanding how our largest organ, our skin, protects us and what we can do to protect it from disease, has been with us nearly 30 years. She has taught tons of courses here, particularly in Essentials of Clinical Medicine, served as a thesis committee member and advisor for a ton more individual students, postdocs, research associates and more. Dr. Bollag has been an active member and leader of our Faculty Senate, is a member of our Promotion and Tenure Committee (another tough job), and on and on. Check out more here. Congratulations and well-earned Dr. Bollag.
Check out "MCG's Got Talent" 7 p.m., Friday, August 12
Finally today, another amazing thing about you, the students, residents, fellows, postdocs, faculty and staff who are the Medical College of Georgia, is that you still find time and talent for other things and for other people. If you want to check out some of that talent, mark your calendars for MCG's Got Talent, set for 7 p.m., next Friday, Aug. 12 at the Maxwell Theatre on the Summerville Campus. Class of 2025 student Loretta Ngoe, who hails from the Atlanta area, is executive director of this fourth annual show and the first in-person show since 2020. She tells us the members of the Executive Board have been working hard to put this together for you and for children. Other board members include fellow M2s James Mansfield, co-director of talent; Luke Scanlan, co-director of talent; Chetana Lagisetti, director of art; Tommy Bui, director of philanthropy; Afnan Khan, director of fundraising; Apurva Nemala, director of media; and Anusha Gadipudi, director of marketing. Most of these multitaskers also will be performing. More than a dozen acts are lined up to sing, dance and perform comedic acts and there will also be an art gallery. The fun and beauty will benefit The Jessye Norman School of the Arts, named after the famous opera singer and Augustan, whose many offerings include free arts education to children in our community. As Loretta said: We think the school's mission aligns perfectly with our goal of celebrating talent. I think so too Loretta. It also aligns with the compassion and quality of you, our students. Thank you all.
All my very best to you,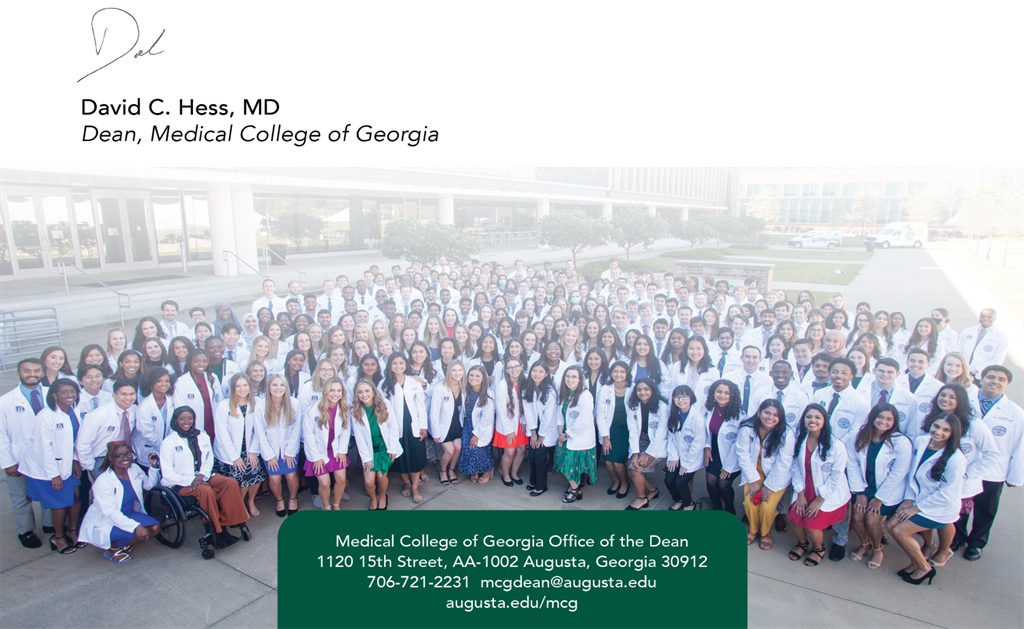 Upcoming Events
Aug 19 – MCG Faculty Senate Meeting, noon, Natalie and Lansing B. Lee Jr. Auditorium
Nov 11 – Annual Body Donor Memorial Service, 1 p.m., Natalie and Lansing B. Lee Jr. Auditorium