Dear Medical College of Georgia Friends,
Vision Discovery Institute number 1 in Georgia in NIH-funded vision research
There are few fears greater than losing our vision, and efforts to prevent visual loss and restore vision are a high priority at MCG and our health system. The Vision Discovery Institute was established when Dr. Doug Miller, our vice dean for academic affairs, was dean here from 2006-10. In 2008 he announced the formation of several discovery institutes that were the: "Horizontal integration of scientists and scientific thought," that reflected the health needs of Georgians. Dr. Sylvia Smith, now chair of our Department of Cellular Biology and Anatomy, and Dr. Julian Nussbaum, former chair of ophthalmology, were original co-directors of the institute who enabled it to do just what Dr. Miller intended, which was to strategically grow this area of our research. Wednesday, I attended the opening of the annual Vison Discovery Institute's retreat and witnessed a packed room of excited ophthalmologists, basic and clinical vision researchers and a host of posters from medical students, graduate students and undergraduates all with faculty mentors. Today, I am proud to share that the institute, which continues to be co-led by Dr. Smith and now Dr. Steven Brooks, chair of our Department of Ophthalmology, has nearly $7 million in National Eye Institute funding this year, more than any other university in our state. That is an accomplishment we can all be proud of. Congratulations to the entire Vision Discovery Institute team.
Drs. Sylvia Smith, Kathryn Bollinger's glaucoma studies make the cover of high-rated vision journal
You don't have to look any further than the cover of the current issue of Investigative Ophthalmology and Visual Science to understand the kind of determination that drives such success. You will find the work of Dr. Smith, a retinal cell biologist, and Dr. Kathryn Bollinger, glaucoma specialist who also is a retinal cell biologist, and their colleagues who are hammering away at the damage that glaucoma causes with, like so many of you, the goal of finding better ways to help patients. A key point of destruction for the high eye pressure from glaucoma is the retinal ganglion cells in the back of the eye that help connect the eye and brain. We've talked before about star-shaped brain cells called astrocytes that help nourish and otherwise support neurons like these. They have found that the sigma 1 receptor, a protein that is also key to cell protection, in the astrocytes that watch over retinal ganglion cells is key to their survival. Dr. Smith is a longtime leader in examining the neuroprotective benefits of the sigma 1 receptor as well as whether drugs like the pain reliever (+) – pentazocine can help. Dr. Bollinger was inspired by Dr. Smith's work, which was primarily in diabetic retinopathy, and by the increasing number of compounds being developed that, like pentazocine, activate the sigma 1 receptor. These compounds are being developed for a wide range of problems from cancer to Alzheimer's to the severe lung problems that can occur with COVID-19.
Department of Neuroscience and Regenerative Medicine hosts brain aging, neurodegeneration symposium
There is no doubt that we need new therapies for major conditions like Alzheimer's. An estimated 6.2 million Americans age 65 and older are living with Alzheimer's already, a number that is expected to more than double by 2060, without better treatment strategies. Like the Vision Discovery Institute, we have a concerted plan to take these kinds of inflammation and age-related problems on as well. We talked back in December 2020 about all the great new recruits in our Department of Neuroscience and Regenerative Medicine, which you can still read about here, and last Spring about the major university-wide initiative President Keel is supporting in inflammaging, a chronic state of inflammation that can happen as we age, which transforms a good thing, the short-term inflammation that helps us heal, into a major contributor to problems like Alzheimer's. And we talked just last month about the recruitment of Dr. Qin Wang from the University of Alabama at Birmingham to lead a new Program for Alzheimer's Therapeutics Discovery with the great help of the Georgia Research Alliance.
March 18 symposium will feature top investigators from MCG and beyond
On March 18, our Department of Neuroscience and Regenerative Medicine, under the dynamic leadership of Dr. Xin-Yun Lu, is bringing all these pieces together with the inaugural Augusta Brain Aging & Neurodegeneration Symposium which highlights some of our own great, new scientists including Dr. Wang as well as other leaders from across the country in this growing field like Dr. Riqiang Yan, chair of the Department of Neuroscience at the University of Connecticut in Farmington, who moved to Connecticut five years ago from the Cleveland Clinic to expand that university's translational, scientific work in Alzheimer's. It will also feature some of our long-time faculty like Dr. David Blake, neuroscientist, who is on a multi-PI grant with Dr. Christos Constantinidis, a professor at the Vanderbilt Brain Institute in Nashville, exploring the potential of deep brain stimulation to improve executive function. They are focusing on the nucleus basalis of Meynert, an area that tends to experience significant loss of neurons in Alzheimer's and other neurodegenerative diseases. Dr. Blake, who has been on our faculty for 16 years, has led development of these techniques. There will be time for questions for presenters and I encourage you to consider being part of this gathering at the Georgia Cyber Center downtown. (Please make sure you register first). Brain aging and neurodegeneration already are common realities for families that our medical school and university are taking on with increased vigor.
Match Day 2022 also set for March 18
March 18 will be a great day at MCG because it's also Match Day, that annual ritual where our amazing seniors and those at other medical schools across the country learn where they will be doing residency training in their chosen specialty. The Match Day celebration at our main campus will again be at SRP Park, just across the Savannah River in North Augusta, with gates opening at 10:15 a.m. and the ceremony kicking off at 10:45 a.m. At our Athens campus, students will gather in George Hall about 11:20 a.m. Students at our second four-year campus, the AU/University of Georgia Medical Partnership, are encouraged to dress up as what they might have been if they weren't physicians. Playing in the infield for the Philadelphia Phillies was a dream of mine as a child, but I am glad our students and I picked medicine. Match Day reminds me of the amazing reports about our students that I always get from residency programs across the country: that our students are among the best prepared medical students they see. The objective numbers always show the same, as our students consistently match at top programs in their chosen specialty and at a rate above the national average.
Record number of applicants for the MCG Class of 2026
In the unremitting, important cycle that is medical student education, I am also proud to share that we had a record 3,563 applicants this year for our next freshman class. For some additional perspective, our Board of Regents requires that 95% of our students be Georgia residents, so a comparatively lower number of out of state applicants apply to MCG than to some other medical schools in our state and beyond, but we continue to have one of the largest medical school classes — and some of the best students — anywhere with the support of the BOR, our university and the state. Our Admissions Committee and Admissions Office under the leadership of Dr. Kelli Braun, a 2004 MCG graduate and honored educator, interviewed 593 applicants for the 264 first-year positions — 204 in Augusta and 60 in Athens — we will have with the start of the new academic year. 204 was not a typo. Starting with the Class of 2026 we will have four more students per class here at our home base in Augusta as part of our ongoing initiative to educate more physicians for Georgia. Some of our accepted students will be taking one more look later this month with our goal being that they will continue to like what they find. The totally virtual Second Look for underrepresented in medicine students is set for March 25 and sponsored by the Office of Learner Diversity, Equity and Inclusion and the MCG Chapters of the Student National Medical Association and the Latino Medical Student Association. Revisit Day for all accepted students is the next day. My also unremitting appreciation to our Admissions Committee and Admissions Office for ensuring MCG's legacy by ensuring the next generation of strong students.
MCG graduates gather in Macon, Alumni Association votes to provide more scholarship support
Finally today, I had the pleasure of being with some of our former students, our alumni, at the beautiful Idle Hour Golf and Country Club in Macon last week. As I have said, one of the very best parts of my job as dean is getting out on the road with AVP for Alumni Engagement Scott Henson, who knows and cares about our alumni as if he were one of them, to visit with individuals like Dr. Billy Jarrard and his wife Cindy, our hosts for the Macon meeting. Dr. Jarrard is a 1985 MCG graduate who also did his ophthalmology residency with us and their son Dr. William Howell Jarrard also is an MCG graduate (2017) and a neurologist up in Pittsburgh. This year's MCG Alumni Association Distinguished Alum for Loyalty, Dr. Bill Brooks was also in this fun group of about 65. Dr. Brooks has been a primary care physician in Macon for decades, one of those individuals you feel like you have known forever pretty much when you meet him, who loves to work a joke or two into the conversation. He always helps us stir up a great crowd, like we had last week, where 100% of the people who said they would come actually did. You will hear more about him in the months ahead, but Dr. Brooks is a past president of our Alumni Association and a solid financial supporter of his alma mater. In addition to telling jokes, he's an avid skier. I remember going to see him one time at his house after he took a fall on the slopes and coming in his back door was his lifelong friend USG Regent Allen Gudenrath. Regent Gudenrath also lives in Macon where he is a senior vice president with Morgan Stanley's Wealth Management Division. His son, Field, is in practice with Regent Gudenrath who has served his state in many ways, like also being a founding board member of the Georgia Public Policy Foundation and a trustee for the Georgia Forestry Foundation who was a co-recipient of the Frederick B. Kerr Service Award from Leadership Georgia. We were fortunate that he joined us last week as well. I so appreciate the support of these busy, accomplished individuals for MCG. There was more good news from the business meeting of the Alumni Association earlier that day, where Dr. Mark Ellison, chair of the MCG Alumni Association Scholarship Committee, presented a plan he developed to increase funding for scholarships for our great students. Thank you all.
All my best,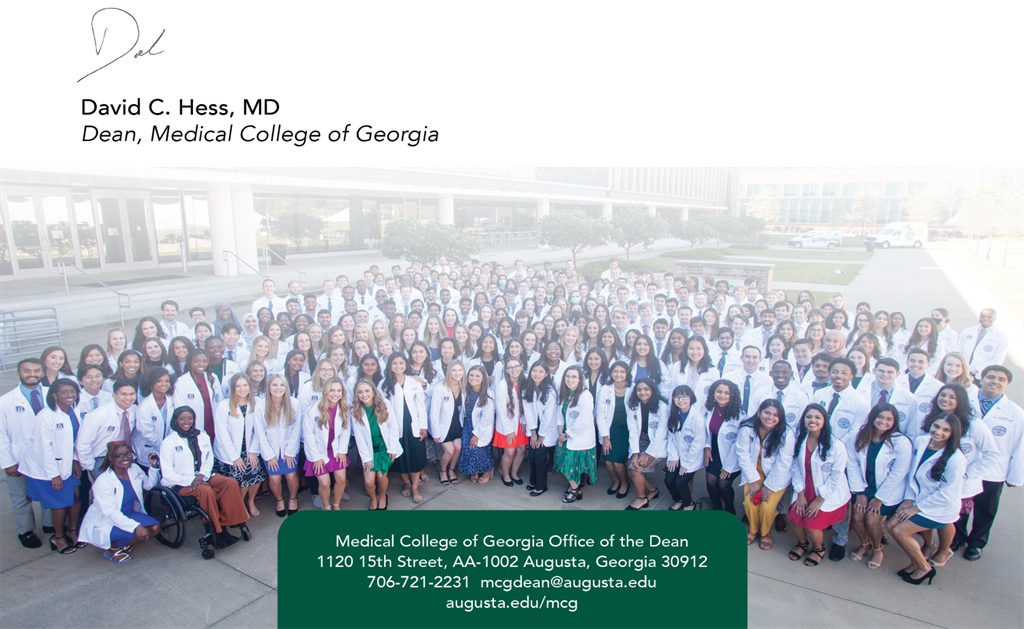 Upcoming Events
March 1-18 – Faculty regalia rental ordering for MCG Hooding:
March 10 – PFCC Conference, 10:30am – 12:30pm, PFCC Always…In All Ways, register at augusta.edu/PFCC2022
March 17 – MCG Faculty Senate Meeting, noon, Natalie and Lansing B. Lee Jr. Auditorium
March 18 – Match Day, 10:45am, SRP Park, gates open at 10:15am
April 15 – MCG Faculty Senate Meeting, noon, Natalie and Lansing B. Lee Jr. Auditorium
April 15 – MCG Raft Debate, sponsored by the MCG Alumni Association, 6pm, J. Harold Harrison MD Education Commons
May 12 – MCG Hooding, 2pm, Bell Auditorium
May 26 – MCG Faculty Awards, 5pm, Natalie and Lansing B. Lee Jr. Auditorium