Dear Medical College of Georgia Friends,
98 percent of MCG students secure residency positions in Match Day 2022
You, our students and our educators, have done it again. In our increasingly competitive world where the number of medical students seeking residency positions regularly outnumbers the number of residency positions out there, 98 percent of our Class of 2022 matched, a match rate once again above the national average. And our seniors matched well in some of the most fiercely competitive training programs like orthopaedic surgery and dermatology. All told the students matched in 28 states in 29 specialties with 57 percent matching into a primary care training program like internal medicine, pediatrics and family medicine, specialties in which there is some of the greatest need for physicians in our state and beyond. Of the 221 students participating in Match 2022, the largest group, 58 students, matched in Georgia, 24 of those at one of the 52 training programs we offer in partnership with our Health System or at MCG- affiliated training programs at the AU/University of Georgia Medical Partnership (our second four-year campus in Athens in partnership with UGA) as well as those at WellstarKennestone Hospital in Marietta. As we like to say: Georgia really is our campus. If you want to dive deeper into the caliber of the students in this class, please check out this story Tom Corwin ran this week in The Augusta Chronicle. I promise you will be even prouder. There are so very many people to congratulate here in addition to those seniors and their families. They include Dr. Jennifer Tucker, an MCG graduate, who is our enthusiastic fourth-year class dean in Augusta, Dr. Robert McClowry, interim associate dean of student affairs, diversity and inclusion at the Athens campus and Dr. Nancy Havas, associate dean for learner affairs here at home base. You all make our/your medical school proud. Thank you and congratulations Class of 2022.
Dr. Dave Mattson drives support for master's program in medical physiology
We talk often about the mission and purpose of Georgia's only public medical school and how educating the next generation of great physicians and physician-scientists like the members of our Class of 2022 is the core of what we do here. Why we do that so well is because of each of you, of course, and the knowledge and commitment you bring to our students and to MCG. Part of your magic is your diligence in identifying a need in the classroom, the laboratory and for our patients, then finding a solution. Calm, collected and accomplished Dr. Dave Mattson, chair of our Department of Physiology, for example saw that among the many things that we do have he did not find a masters program in medical physiology that would help improve the competitive edge for students who want to go to medical or dental school. In fact, there was really nothing like that in the state. So he worked to help start one, which will be available to students this coming fall and will live in our fabulous Physiology Department in partnership with The Graduate School, led by the also fabulous physiologist Dr. Jennifer Sullivan. The one-year program will focus on human physiology, anatomy and histology and helping students solidify their academic excellence so at some Friday in the future they could be learning where they matched. Good going Dr. Mattson.
Drs. Masuko Ushio-Fukai and Tohru Fukai discover key step in how we make new blood vessels
We have so many accomplished physicians and scientists to learn from here, individuals like Drs. Masuko Ushio-Fukai and her collaborator in science and life Dr. Tohru Fukai. These two laser-focused faculty members in our celebrated Vascular Biology Center set their sights on a problem and also on a solution. In their case, one goal is finding somewhat natural solutions to common problems in our country like heart disease, diabetes and peripheral artery disease. These conditions have in common risk factors like high blood pressure and an unhealthy diet. One result, is that the passageway for our blood can become diseased and narrowed, resulting in hypoxia, a state in which tissue like your heart, legs and brain need more oxygen. The body has a natural response to hypoxia called angiogenesis, which is growing new blood vessels to improve this painful, damaging situation, and the Fukais are uncovering some key steps it takes to make it happen. They recently reported a previously unknown step in Nature Cell Biology. In a (big) nutshell, hypoxia triggers vascular endothelial growth factor, or VEGF, which is essential to new blood vessel growth, which then activates a family of enzymes that generate reactive oxygen species, or ROS. Most of us have heard mainly bad things about ROS, which at high levels contributes to the diseases the Fukais are trying to address. But at low levels, ROS is a key cell signal that in this case modifies the calcium receptor on the surface of the endothelial cells that line our existing blood vessels and make new blood vessels. This modification of the calcium transporter, called CTR1, causes it to bind with VEGF's receptor, also on the cell surface, and together they move inside the endothelial cell to enable the kind of signaling that enables new blood vessels to grow. The Fukais know this unlikely union made possible by ROS modifying the calcium transporter is key because when they knock out the transporter, it hinders angiogenesis. This finding generated a lot of interest.
Dr. Ushio-Fukai awarded $2 million National Heart, Lung and Blood Institute grant to identify another step
Now Dr. Ushio-Fukai has gotten a $2 million grant from the National Heart, Lung and Blood Institute to take it from there. She has evidence that a protein called Drp1 also gets modified by ROS and also takes on another important job. Drp1 more typically is found in the fluid portion of the cell waiting to trim up the cell powerhouses to keep them running smoothly and/or causing them to split and make more of themselves. But in this scenario, Drp1, which is modified by ROS, in turn produces more ROS, which triggers the rapid production of energy by directly using the glucose in our blood, in a process called glycolysis, to help the endothelial cells do the movement and other heavy lifting that angiogenesis requires. They have a CRISPR generated mouse that indicates when Drp1 does not get modified, angiogenesis and glycolysis are blocked. Now she wants to answer questions like is it the same ROS modifying the calcium transporter and Drp1. And, what happens to this process when ROS is high, as it is in conditions like heart disease, where patients would likely most benefit from angiogenesis. The dynamic duo think both the calcium transporter and Drp1 are natural targets to help make angiogenesis happen when needed and to block it when cancer, which also wants to grow and migrate, starts using angiogenesis for its purposes. Thank you Fukais for your focus on delineating this important path. The Fukais are both vascular biologists and Dr. Fukai is also a cardiologist who went to Kyushu University School of Medicine for his medical degree and training in his native Japan. The Fukais came to us in 2017 from the University of Illinois at Chicago. Dr. Fukai is the Barbara A. Schnuck Chair in Translational Medicine and co-director of the Redox Signaling Program in the VBC. Dr. Ushio-Fukai is director of the Redox Signaling Program.
U.S. Sens. Raphael Warnock and Jon Ossoff announce federal funding for 3+, new MRIs
Great support like Dr. Ushio-Fukai's new grant, is essential to the work that we do here. We got more terrific news late last week from U.S. Sens. Raphael Warnock and Jon Ossoff who announced federal support for our 3+ Primary Care Pathway and $3.5 million to replace two of our MRI machines at the Health System. Sen. Warnock announced the $2.1 million to support our innovative curriculum to train more primary care physicians for our state. Sen. Osoff announced the significant funding for the MRI machines which will significantly increase the scanning capacity of our health system. The funds were part of the 2022 Omnibus Appropriations bill which President Biden has now signed and includes funds for major initiatives like expanding broadband internet to rural and underserved areas and new funds through the Centers for Disease Control and Prevention to bolster public health infrastructure and capacity across the country. These federal dollars to MCG will help support our now year-old initiative, which also has received generous support from the state of Georgia and Peach State Health Plan to provide scholarship support to these students. We thank these Georgia Senators for their support of 3+ and for their overall work on behalf of our home state and community. More good news coming soon on this program, which we consider the most innovative curriculum change in our long, proud history.
Phoebe Putney in Albany, a hotspot for COVID, closes specialized units set up for the pandemic
Finally today, as we pass the two-year mark of COVID-19 in our state and nation, it is so nice to have good news to share. Back in March 2020 we had a Special Edition of this biweekly communication to tell the story of how our longtime partner in medical education, Phoebe Putney Memorial Hospital and its home base in Albany, had surprisingly become a hotspot for the COVID pandemic. Like you, the many fine individuals at Phoebe saw a need and stepped way up to meet it. 1985 MCG graduate Dr. Steven Kitchen, then CMO of Phoebe, helped lead the important charge. He retired the first of 2021, and 1998 MCG graduate Dr. Kathy Hudson took on that leadership role. These two are living proof of what we mean when we say MCG's mission is to educate great physicians for our state. As March 2022 came around, Phoebe was reporting an 87 percent decrease in patients since the Omicron surge peak in January and that they were able to close the last of the many specialized acute and intensive care units they had set up at their North Campus, a 248-bed facility where they provided most of their inpatient care to these patients. Like us, they still have patients with COVID, but they can now accommodate them within the hospital's main campus. Please let me thank again everyone at Phoebe, at our own Health System and beyond for their extraordinary efforts during this pandemic and ask again that we all remain diligent against this virus.
All my best,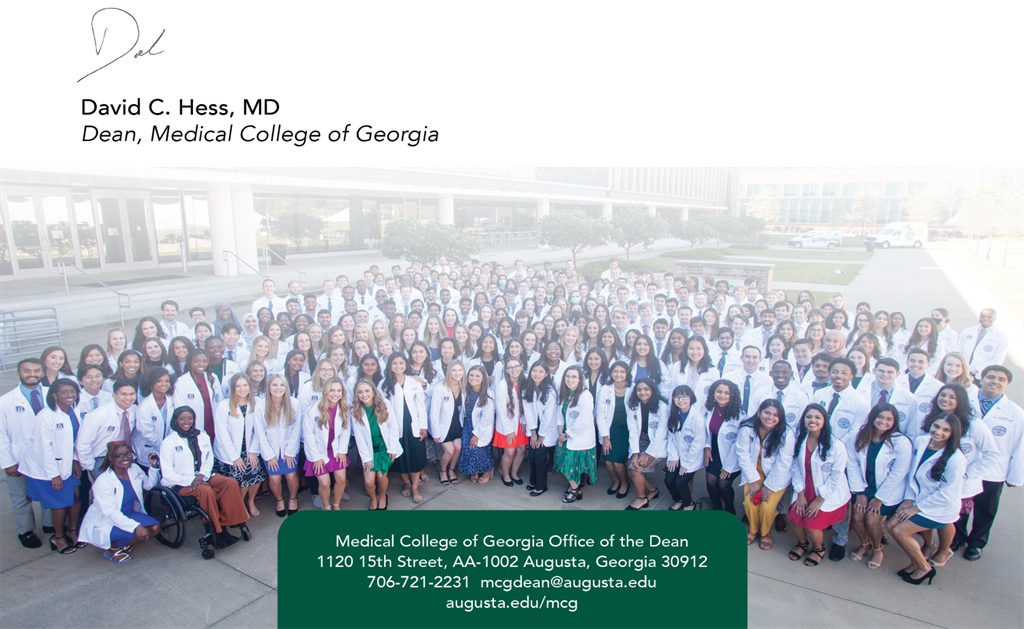 Upcoming Events
April 15 – MCG Faculty Senate Meeting, noon, Natalie and Lansing B. Lee Jr. Auditorium
April 15 – MCG Raft Debate, sponsored by the MCG Alumni Association, 6pm, J. Harold Harrison MD Education Commons
May 12 – MCG Hooding, 2pm, Bell Auditorium
May 26 – MCG Faculty Awards, 5pm, Natalie and Lansing B. Lee Jr. Auditorium