Dear Medical College of Georgia Friends,
Graduating MD/PhD students provide more evidence of MCG's education excellence
We talked last time about the amazing matches our Class of 2022 made in the great tradition of MCG. You can check out more specifics on who is doing what where here along with great photos of the fun by Mike Holahan, AU photographer extraordinaire, and the short spot that senior video producer Tim (AKA Zeffirelli) Johnson weaved. The 221 soon-to-be MDs who participated in Match this year, included seven MD/PhD students who have great stories to tell and futures ahead. For those of you not real familiar with this program, these students go medical school here and can pursue their PhD here or at Georgia State University, the University of Georgia or Georgia Tech in a collaborative offering of the University System of Georgia, co-directed by our Dr. Larry Layman and Dr. Richard Cameron. These students all matched in top 20 medical school residency programs and include: Martin Halicek, from Peachtree, Georgia, who will be studying diagnostic radiology at Emory; John Klement from Evans, who is starting off in the internal medicine/translational investigator program at Stanford; Rodney Littlejohn from Hiram, Georgia, who is headed to the Children's Hospital of Philadelphia to study pediatrics; Najeah Okashah from beautiful Panama City, Florida, who will be pursuing the psychiatry/research track also at Emory; and Sam Spellicy, from Lanham, Maryland, who will be studying neurological surgery at Duke. Another clear example of the greatness of this group is that Najeah and Sam are among the 5% of students from outside Georgia we can accept each year.
Sam Spellicy further inspired to help patients with brain disease by her grandfather
Sam is one of the students I have been fortunate enough to get to know and work with because of our common interest in the brain and stroke. Sam earned her PhD in neuroscience at UGA with famed stem cell scientist Dr. Steven Stice, a Georgia Research Alliance Eminent Scholar who directs UGA's Regenerative Bioscience Center, where they are working on innovative, restorative therapies for difficult neurological diseases like Alzheimer's and stroke. Sam's focus and passion for the brain were no doubt solidified by the grandfather she adored but in whom, even with hundreds of miles between them, she picked up changes in personality, memory and stability during regular video conversations with him. It turned out to be small strokes that were resulting in vascular dementia. I am confident that Sam will continue to be an innovative thinker, and soon become an inspired physician and enthusiastic patient advocate as well, who makes a tremendous difference in many lives like that of her grandfather's.
Twins Lynn and Paul Tran, who started medical school at 17, are going to Baylor and Yale, respectively
Also among this small but powerful group of MD/PhD students are Lynn and Paul Tran, twins from the Atlanta area. These two are amazing together and individually. They both went to high school in Cumming, Georgia and to college in also beautiful Dahlonega at the University of North Georgia. At 17, they became the youngest students to be admitted to our medical school. They would also opt to do their PhD work here in genomic medicine, largely with Dr. Jin-Xiong She, the retired founding director of the Center for Biotechnology and Genomic Medicine, who led innovative studies in type 1 diabetes and increasingly in cancer. In fact, Lynn and Dr. She have a patent on a novel gene expression signature that could be used to better diagnose and treat a rare, aggressive uterine cancer. Lynn just matched in urology at Baylor and is considering a urologic oncology fellowship when she wraps that up. Paul matched in the internal medicine/physician scientist research pathway at Yale with his eye still on type 1 diabetes and endocrinology and continuing his already significant studies like development of a genetic risk score that is very good on telling parents whether their child is at significant risk for type 1 diabetes. You know how they say the busiest people get the most done, well Lynn and Paul have even found time to make some melodious music as members of the SeroTONEins acapella group during their time with us. Paul did a lot of additional volunteer work like serving on the Volunteer and Retreat committees of our MD/PhD program and coordinating groups for medical students to learn more about urology, psychiatry and wilderness medicine. In the great tradition of MCG, there are magnificent things ahead for all these students and, as I am proud to say, nothing centers me better than our students and alumni.
MCG Alumni making their mark in Savannah/Brunswick and beyond
That includes being on the road to visit with our alumni with the super AVP for alumni engagement Scott Henson. This time we were fortunate to spend time in Savannah, which is also always a good thing. We first met with Dr. Dan DeLoach, 1974 graduate and retired plastic surgeon whose contributions include serving as president of the MCG Alumni Association and the Medical Association of Georgia. Next, we went out to visit with 1971 graduate Dr. Melvin Haysman and Roberta Kamine-Haysman at their beautiful home on the Vernon River surrounded by majestic live oaks covered with Spanish moss. Dr. Haysman, an allergist immunologist, is a past Alumni Association president as well and strong supporter of the stethoscope program for our first-year students. After those two great visits, we headed down to Saint Simons to an Alumni Reception at the iconic King and Prince Beach and Golf Resort overlooking the ocean. We would like to thank our wonderful hosts for the evening, MCG Alumni Association President Dr. Wayne Rentz, a 1972 MCG graduate who is associate dean for our Southeast Campus, and his wife Mary. It was a fun group, that included Dr. Pat Godbey a 1979 graduate who did his training with us as well, and who is a past president of the College of American Pathologists. Also, Dr. Stephen Chitty, 1999 grad, a pulmonologist who is medical director of critical care at the Brunswick Campus of the Southeast Georgia Health System, who like so many of you has been on the frontline of fighting COVID-19. Dr. Chitty also teaches our medical students at our Southeast Campus and is currently on our Alumni Association Board. It is always great to see the father and son team Dr. Wade Strickland, cardiologist and 1964 graduate, and his son Dr. Darrin Strickland, OB/GYN and 1992 graduate, who also serves as one of our clerkship directors for the campus. Last but never least, we had a group of about 10 students who are living and learning at our Southeast Campus including Sam Spellicy, who has spent the past two years there among strong professionals like these. A lineup like that in the beautiful setting of the Georgia coast is tough to beat.
Athens campus partners with Clarke County School District to open new school-based clinic
Up north a bit, at our second four-year campus, the AU/UGA Medical Partnership, our future MCG alumni also are doing us proud. They are joining faculty and staff at the Athens campus and the Clarke County School District to provide a new school-based clinic that provides ready service for students, their families and school staff in the central and western portions of Athens. The new clinic is set to open this fall at Clarke Middle School on Baxter Street. The school district already has a stationary clinic like this in partnership with the Athens Neighborhood Health Center at Hilsman Middle School, on Gaines School Road, which has provided wonderful, convenient service. Our Athens campus also has long helped provide convenient, good care through the mobile Athens Free Clinic under the leadership of Dr. Suzanne Lester, a family medicine physician who is also course director for community health and is helping with this new effort as well. There are few greater services than making health care accessible and affordable. My appreciation to everyone who has had a role in driving these initiatives.
Tom Corwin, science and medicine reporter for The Augusta Chronicle for 25 years, takes leave
Finally today, we say goodbye to a bit of an icon around our campus who has long provided the also invaluable service of accurate, timely information. Tom Corwin is a University of Missouri School of Journalism graduate whose first jobs were as a police and general assignment reporter for The Joplin Globe in Missouri and as the legislative, education and health care reporter for The Jackson Sun. We were fortunate that Tom came to The Augusta Chronicle in 1997 where he has covered the science and medicine beat for 25 years. It's hard to find that kind of commitment these days, particularly in his ever-changing field. I've always thought it was neat the way Tom comes to an interview well informed on whatever the topic, no matter its complexity, and have always enjoyed our conversations. Tom is lucky as well I would say, because he clearly loves to learn about and report on science and medical news and he has done a great job as a result. He probably came by his interest inherently. His father, the late Dr. Louis Corwin, in addition to being the father of nine children with his wife Shirley, was a veterinary radiologist, a professor of radiology at the University of Missouri School of Veterinary Medicine for nearly 30 years who continued to work in his field until his death in 2019. I want to thank Tom for his distinct style, for his insight and interest that never wavered and wish him the best as he moves to Charleston, S.C. and new opportunities at the newspaper there. He and his work will be missed.
All my best,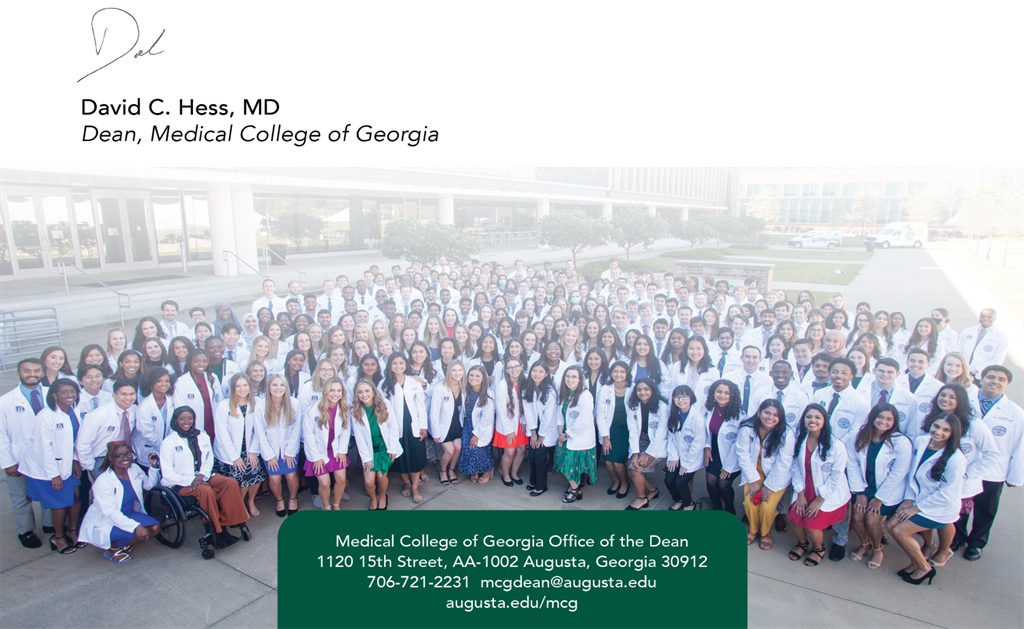 Upcoming Events
April 15 – MCG Faculty Senate Meeting, noon, Natalie and Lansing B. Lee Jr. Auditorium
April 15 – MCG Raft Debate, sponsored by the MCG Alumni Association, 6pm, J. Harold Harrison MD Education Commons
April 22-24 – AU Alumni Weekend, registration and more information
May 12 – MCG Hooding, 2pm, Bell Auditorium
May 26 – MCG Faculty Awards, 5pm, Natalie and Lansing B. Lee Jr. Auditorium