Dear Medical College of Georgia Friends,
$17.4 million in new scholarship support planned with matching funds from the state and MCG Foundation
The past two weeks at Georgia's public medical school have been particularly awesome. Georgia's 2022 Legislative Session ended last week and included in the proposed $30.2 billion budget for the upcoming fiscal year is $8.7 million in matching funds from the state to provide more scholarship support for our 3+ Primary Care Program for medical students who are committed to practicing one of the primary care specialties in rural areas of our state. That amazing "matching" gift will be paired with the $8.7 million our own MCG Foundation has made available for those scholarships through the generous unrestricted gifts of many donors for the tremendous total of $17.4 million in new scholarship dollars for this important initiative that will help better populate our expansive and largely rural state with more dedicated physicians. As you may remember this program enables these medical students to finish medical school in three years and move on to the primary care specialty of their choice, including a pretty wide range of needed specialties from family medicine to general surgery and psychiatry. Last March, we also were privileged to announce a $5.2 million gift for this same select group of students from Peach State Health Plan that was also matched by our state. This is amazing synergy from our state for our state and I cannot thank everyone enough. Scholarships are a win-win because they enable our students to wrap up their education with little debt and us to continue to attract the best possible students. The appropriations bill awaits Gov. Kemp's final approval, but we feel grateful and thankful about what is included for us. My special thanks to our governor, our legislators, our AU leadership particularly President Keel and EVP for Administration Russell Keen, our University System of Georgia leadership, including our new Chancellor Sonny Perdue, for supporting our innovative efforts in medical education and to AVP for Government Relations Margie Miller and Assistant Director Ashton Blackwood for their diligent, direct work with our state leadership.
MCG graduate Dr. Thomas Bradbury and his wife commit to scholarship as well
The clear need for this initiative and the amazing support for it continues. Dr. Thomas Bradbury Jr. is a 2001 MCG graduate who did his orthopaedic residency at Vanderbilt University Medical Center and fellowship at Presbyterian Orthopaedic Hospital and today is on the faculty of the Emory University School of Medicine. Dr. Bradbury sees in his own practice patients who cannot yet get the definitive orthopaedic surgery they need because they have other unaddressed health issues. So when he and his wife Julie heard about 3+ Primary Care, they decided to donate $50,000 to support this important rural health-focused program and to help alleviate student debt at the same time. Wow. Please let me thank them both publicly for their clear commitment and contribution to a healthier Georgia.
$6.7 million in additional funding for medical education also is included in the new state budget
And there is more great news in the budget this year, including $6.7 million in additional funding for medical education overall. As you all know so well, educating physicians, is a rigorous, expensive endeavor (and one that we love) and this is the third year and last year our USG and state have generously given us these funds in acknowledgement and support of those significant costs. Thank you again seems inadequate so let me also assure our leaders that these dollars will be put to strategic use in continuing to grow our class size and recruit the best faculty with a steady eye on the physician needs of our state and the illnesses that impact its citizens. There are great days ahead for MCG and I cannot thank everyone enough for their support.
Additional support will enable new rural health fellowship in family medicine
And I am not done, and neither is the synergy of what we all are working so hard to accomplish here in our state. There is also funding this year to support our emerging rural health fellowship in family medicine – a one-year fellowship that trains family medicine physicians to practice more independently in rural areas, when great subspecialists are not just down the hall like we fortunately have here at MCG and our Health System. Under the leadership of Dr. Julie Dahl-Smith, vice chair of education for our Department of Family Medicine who will serve as director of the new program, our faculty have taken a look at the most common complaints family medicine physicians see/refer to other specialists – things like musculoskeletal, dermatologic and behavioral health issues – and are designing an innovative and dynamic fellowship that provides extra training in those areas. They also will train in point of care ultrasound — which we have talked about and are leaders in teaching to our students and residents as well as practicing physicians — that provides painless, increasing insight into what is happening inside our bodies. These fellows also will spend time in more rural areas of our state where they will practice and learn. We hope to get started no later than next summer with this initiative that resulted in large part from the innovative leadership and thinking of Family Medicine Chair Dr. Dean Seehusen and our Vice Dean for Academic Affairs Dr. Doug Miller.
The gynecologic oncology fellowship also will get a one-time boost
There is new money included as well to help fund an additional slot in our three-year gynecologic oncology fellowship, the only Accreditation Council on Graduate Medical Education-approved gynecologic oncology fellowship in Georgia. The fellowship was started in 2017 under the leadership of OB/GYN Chair Dr. Sharad Ghamande and Dr. Bunja Rungruang, director of our Division of Gynecologic Oncology and fellowship director. I think most of you know that Dr. Ghamande also is a gynecologic oncologist and was long-time division chief who helped bring great innovation to the care we provide these patients. Our three-year fellowship has one position per year so these dollars will enable adding an additional fellow for at least one year to help produce more of this much-need subspecialist. I am glad to share our new and fourth fellow starting in July is Dr. David Mysona, a 2018 MCG grad finishing up his OB/GYN residency at the University of North Carolina at Chapel Hill School of Medicine. Dr. Mysona grew up in Augusta and is planning to stay in practice in the state of Georgia (we anticipate him joining our terrific group). I first met Dr. Mysona in Albany, Georgia when he was a bright, energetic student at our Southwest Campus. We will be glad to welcome him back home and to keep him on our faculty for a long time.
Alumni Weekend starts next Friday, distinguished MCG alums to be honored
Starting next Friday, we will be welcoming a lot of MCG graduates back for Alumni Weekend. While I do love traveling to see our graduates where they live, I also enjoy when they come back to see us, visits that I believe strengthen their connection to and their pride in their medical school. It's also an opportunity to honor some of our esteemed colleagues like 1967 graduate Dr. William Brooks, a family medicine physician who moved to Macon in 1975 to serve one of Macon's most underserved areas. Dr. Brooks is this year's Distinguished Alumnus for Loyalty. He has served in numerous leadership roles with the Medical Association of Georgia and Bibb County Medical Society and has been honored by both, including with the Joseph P. Bailey Jr. MD Physician Distinguished Service Award, which in turn honors the late Dr. Bailey, a 1955 MCG graduate and longtime chief of our Division of Rheumatology. Like Dr. Stephen Clements, a 1966 MCG graduate, a cardiologist who did his graduate medical education at Emory University and is a longtime faculty member and educator there. The Georgia Chapter of the American College of Cardiology has honored Dr. Clements with its Lifetime Achievement Award and he has served as president of the Georgia Chapter of the American Heart Association. A chair in cardiovascular disease prevention at Emory's Rollins School of Public Health bears his name, and now we honor Dr. Clements as our Distinguished Alumnus for Professional Achievement. Most of you already know Dr. Natasha Savage, a 2007 MCG graduate who is vice chair for academic affairs in our Department of Pathology and MCG's senior associate dean of graduate medical education. She also took on another big job as chief of staff-elect at our Health System. For what she has done, how she has done it and what she will do, Dr. Savage is our Outstanding Young Alumna. 1965 graduate, the late Dr. Leslie Lamar Wilkes, who practiced orthopaedic surgery in Savannah for more than 40 years, will be honored posthumously as a distinguished alumnus. In his accomplished lifetime, Dr. Wilkes performed Savannah's first modern hip replacement and was honored by the Georgia Medical Society with their Lifetime Achievement Award. More to come on the MCG home page soon about these great individuals, but as I love to say, I have to look no further than our students and our graduates to understand MCG's impact.
Scott Henson, AVP for alumni engagement, retires
Of course, when I think about our alumni, I think of Scott Henson, our AVP for alumni engagement. I have mentioned often in these writings how I enjoy traveling Georgia's roadways with Scott to visit our alumni. How this is an individual who we cannot call an MCG graduate, but who I truly believe loves MCG as much as anyone. How he came to us about 21 years ago and flourished among our graduates, getting to know them, their families, what they do and what they wanted to accomplish. How he has helped smooth ruffled feathers and inspire donations to our medical school. How he has donated himself to our stethoscope program, which provides our first-year students with one of these iconic instruments engraved with the beautiful MCG seal. Scott has made us laugh, and now he makes us cry as well because he is retiring at the end of this month. But, like the best among you, I think and hope that Scott, who I count among my best friends, will never really be gone from us. Stay tuned for the next chapter, and Scott, whatever comes next, please accept our immeasurable gratitude for what you already have done for MCG. If you can, please join us in celebrating Scott from 4-7 p.m. Thursday, April 28 at the Maxwell Alumni House on the Summerville Campus.
American Heart Association Cardio-Oncology Strategically Focused Research Network meets here next week
Monday and Tuesday of next week, another prestigious group gathers on our campus for the American Heart Association Cardio-Oncology Strategically Focused Research Network Semiannual Meeting. It was last summer when the AHA announced this new network on disparities in cardio-oncology that is pursuing the intersection of heart disease and cancer, common conditions that share common risks like obesity and chronic inflammation, with the goal of better understanding the dynamics and how to better identify and address this intersection which disproportionately affects underrepresented populations. MCG, Boston University School of Medicine, the Medical College of Wisconsin and the University of Pennsylvania are the institutions selected for this important initiative. I want to thank the American Heart Association again for selecting us to be a part of this work and thank Dr. Neal Weintraub, chief of our Division of Cardiology and associate director of the Vascular Biology Center, for his leadership in making it happen. Please let me also welcome our guests to Augusta and to MCG.
Dr. Maurice Levy, co-founder of the Georgia Prevention Institute, passes
It is fitting as we embark on such innovative research in the emerging field of cardio-oncology, that we pay homage to a pioneer in what was then the emerging field of health promotion and disease prevention across our lives. Dr. Maurice Levy, an enthusiastic and accomplished medical educator and his longtime friend and colleague Dr. Bill Strong, a renowned pediatric cardiologist and longtime chief of our division, cofounded the Georgia Prevention Institute in 1981. As this dynamic duo would help put together a group of investigators who would — and do — gain translational insight into problems like hypertension, diabetes and obesity with their pioneering studies in humans, they would build a personal bond that comes from doing something that matters together. Dr. Strong speaks of his friend's endless positivity and big thinking. How he was a natural teacher who loved to help those who were not. How he was a court jester and a runner and biker into his 80s. Dr. Levy passed April 2 but again, like the best among us, what he did and how he did it will never be gone.
Augusta Gives and we hope you will too
Next week is a busy one here, and finally today I wanted to note that includes Augusta Gives day Wednesday, April 20. When I think about everything each of you already do for MCG, I hesitate to ask you to do even more. But we all know, that like the good news we started with today, the important work we do here also requires good financial support. I had a pretty good time this week working on a short video with producers Tim Johnson and Andrew Everett about supporting MCG on Augusta Gives day and every day. It reminded me again of how what you do cuts to the heart of what needs to be done. Our funding priorities for this campaign are our 3+ program, our Vascular Biology Center and our emerging Immunology Center of Georgia. Again, I cannot thank you enough for what you already do and for considering doing even more.
All my best,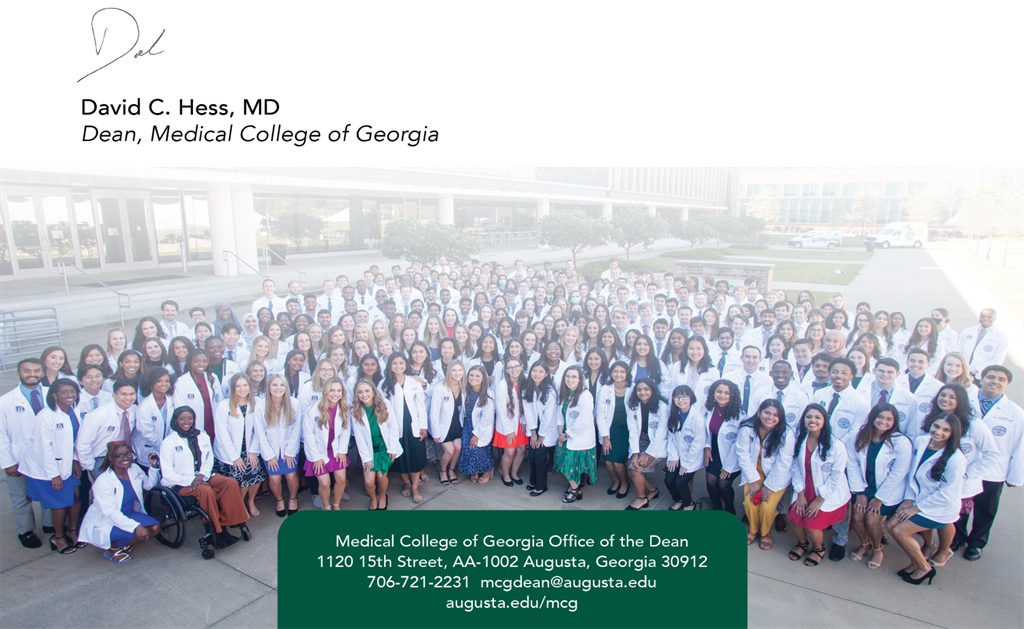 Upcoming Events
April 15 – MCG Raft Debate, sponsored by the MCG Alumni Association, 6pm, J. Harold Harrison MD Education Commons
April 22-24 – AU Alumni Weekend, more information
May 12 – MCG Hooding, 2pm, Bell Auditorium
May 26 – MCG Faculty Awards, 5pm, Natalie and Lansing B. Lee Jr. Auditorium