Dear Medical College of Georgia Friends,
A change of leadership in the MD/PhD Program
We talked recently about our latest amazing group of MD/PhD students who just finished up their extensive dual degree studies and are on to even more training in areas like neurosurgery, medicine, and urology at top programs like Duke, Yale, Stanford and Baylor. This is such an outstanding collaboration that started in 1995 with our University System of Georgia and fellow public research universities across our state to educate the next generation of physician-scientists. Like the program itself, which pairs medical education at MCG with research programs here, at Georgia State University, Georgia Tech and the University of Georgia, program leadership reflects this synergy of medicine and science. Dr. Richard Cameron, professor in our Department of Neuroscience and Regenerative Medicine, and Dr. Larry Layman, chief of our Division of Reproductive Endocrinology, Infertility and Genetics, have served as leaders of this program since 2015 and 2013 respectively. Dr. Cameron, who came to us nearly 20 years ago from Yale University School of Medicine, where he was an associate research scientist and had completed his postdoctoral training, recently decided to retire. We want him to know that his calm and committed approach to enabling the success of some of our brightest students will be missed. Dr. Cameron is a tremendous educator by genetics and choice who helped plan the PhD program here in molecular medicine, served for a decade on the Biomedical Sciences Graduate Program Admissions Committee and still codirects our Medical Scholars Program that gives all our medical students the opportunity to also experience research. Most recently he chaired the student research arm of our Medical Curriculum Redesign Executive Committee, a committee which has helped us develop a new, more efficient and we believe even more effective way to educate physicians for our state and beyond. Dr. Cameron was there per his usual to help ensure that research was not lost as we made these moves. Thank you Dr. Cameron for your steadfast commitment to the next generation and to MCG.
Dr. David Stepp is the new MD/PhD program director
I am happy to share that Dr. David Stepp, federally funded vascular biologist and a 21-year faculty member in our Vascular Biology Center, is the new director of the MD/PhD program. I am glad as well that Dr. Layman will continue as program co-director. Dr. Stepp already works with the equally dynamic Dr. Jennifer Sullivan to codirect our relatively new federally funded Cardiometabolic T32 Training Program for graduate students. He co-directs the Department of Medicine's Research Residency Track and directs the Vascular Biology Graduate Program. Dr. Stepp, who rumor has it has increased turbulence in the Savannah River since he moved to the famous local waterfront, is another enthusiastic educator and student advocate who was born without a shy gene and can always be counted on to tell you what he thinks, which is (mostly) a great thing. He is a native of Gaffney, S.C., about midway between Greenville and Charlotte, which is also home to peach farms (you may have seen the giant Peachoid water tower in your travels), eight parks and a legal moonshine distiller. As Vice Dean for Academic Affairs Doug Miller says Dr. Stepp really is a perfect fit for this important job. "His energy to promote student success is palpable," Dr. Miller says and I second that emotion. Thank you and congratulations Dr. Stepp. We need people like you and Dr. Layman to support our students on this extra-long but exciting journey, which absolutely requires a tremendous dose of determination and persistence. I watched my eldest child Daniel, go through the MD/PhD program at the University of Virginia, and our daughter-in-law Muhan Hu, who is married to our son Matthew, take on this dual degree at the University of Alabama at Birmingham. I even thought about doing it myself as an undergraduate, and my hat is off to those who do it.
Dr. Bill Bornstein, MCG Alum and Emory Healthcare CMO, honored by The Graduate School
Over Alumni Weekend this past week, I had the privilege of meeting Dr. William "Bill" Bornstein who earned a PhD (1978) and MD (1976) separately here before the days of our joint program and has absolutely run with them. He is chief medical officer and chief quality and patient safety officer for Emory Healthcare, which includes 11 hospitals, and where he led the formation of the Emory Healthcare Office of Quality, now the Office of Quality and Risk, which he also directs. He has served on the University HealthSystem Consortium's Clinical Evaluative Sciences Council Steering Committee and Risk Adjustment Task Force; chaired the Steering Committee of the Association of American Medical Colleges' Integrating Quality Initiative; and served on the Joint Commission's Professional and Technical Advisory Committee for the hospital accreditation process. He chairs the Vizient University HealthSystem Consortium (for academic medical centers) Medical Leadership Network Steering Committee. He has served our state on the Governor's Special Advisory Commission on Mandated Health Insurance Benefits, Ebola Response Team and Georgia Access to Medical Cannabis Commission. He is an internist and Harvard-trained endocrinologist who still sees patients, and now he is The Graduate School at AU's 2022 Distinguished Alumnus. Congratulations Dr. Bornstein. It was great to visit with you this past weekend. You are the kind of leader health care needs and we will be inviting you back to talk with our MCG students and faculty.
Dr. J. Roy Rowland Jr., MCG graduate, congressman and gentleman passes
It is said of Abraham Lincoln that as a leader he combined the characteristics of goodness and greatness. The same can be said of the late Dr. James Roy Rowland Jr. The 96-year-old was a native of Wrightsville, Georgia, who served in World War II then came home to marry his high school sweetheart Luella Price, to whom he credited his success. He would graduate from our medical school and practice family medicine for 28 years in Dublin, Georgia. He was elected to the Georgia House of Representatives in 1976 and to the U.S. House of Representatives six years later. He would serve six terms in Congress. Dr. Rowland was considered a conservative Democrat, but he worked with all his colleagues for the betterment of our country. He would help create the National Commission on AIDS, ban Quaaludes and see that veterans received more benefits. He was hopeful that he could also help truly transform our nation's health care system. Dr. Rowland would share the story of his life, his work as a doctor and as an elected official and the failure and the politics of his hoped-for reform in the book, House Call: A Doctor's Time in Medicine and Government published in 2017. I thoroughly enjoyed reading the book and bought extra copies that we gave out as prizes at the 2017 Alumni Weekend. That weekend Dr. Rowland also was honored that by President Keel with the Vessel of Life Award for his distinguished service. This Alumni Weekend, he would slip away from us. I met Dr. Rowland when I was chair of neurology. He would come to our CME courses on stroke well into his 80s, acknowledging that we all live and work in the Stroke Belt and wanting to stay current on this common condition. He would serve on our Health System Board and lend his financial support to our innovative 3+ curriculum that is transforming how his alma mater educates physicians. I counted him as a good and valued friend and mentor. He was a plain spoken, humble country doctor even as he helped lead our nation, a true gentleman and scholar who is already missed by me and so many.
Dr. Vivian Wai Yan Lui at the Georgia Cancer Center finding precision treatment targets for head and neck cancer
It is often inspiring to see what drives the work so many of you do. Dr. Vivian Wai Yan Lui took an early interest in head and neck cancer because it was so common and deadly in her native Hong Kong, an unfortunate result of genetics and lifestyle. She would earn her undergraduate degree in her homeland, but come to the University of California, Los Angeles, and the University of Pittsburgh to pursue her PhD and stay in this country to do her postdoc work at Pittsburgh and Duke. At Pittsburgh she would be further inspired by Dr. Jennifer R. Grandis, who led the head and neck cancer program there then and is now at the University of California, San Francisco. Like so many of our patients, in Pittsburgh Drs. Lui and Grandis would come across a young man who would further heighten their passion for their work. He was in his 30s, with metastatic head and neck cancer. He went to Pittsburgh for surgery but would be fortunate to qualify first for a "window of opportunity" trial for a drug that didn't seem likely to help him significantly, but after the 13 days of treatment, there was no sign of the tumor. There was also no sign of it two years later when they published his case report in JAMA Oncology. Very complex story very much abbreviated (read more here), that case would set Dr. Lui, who joined the faculty of MCG and the Georgia Cancer Center in October of last year, on a mission to identify gene mutations in the cell signaling pathway MAPK, that enable these cancers but that also make the cancer vulnerable with the right medication, which this young man was fortunate enough to receive essentially by chance. Dr. Lui, a molecular pharmacologist, is working hard to base those choices on science and we are glad she is here doing that.
Advances in care at our Children's Hospital of Georgia
Finally today, I wanted to share some great news about the care we provide to children. We talked last year about the bone marrow transplant program for children that Dr. Amir Mian, chief of the Division of Pediatric Hematology/Oncology, would start and direct. Last week that took a big step forward when local high school student Brianna Chitty was the first to have her own stem cells harvested with the idea that if she needs a stem cell transplant later, her own cells will be ready to help make that happen. While we hope her current treatment will tackle the cancer, we are very thankful that Dr. Mian and the other faculty and staff at CHOG and pediatric hematology/oncology are ensuring that this potentially lifesaving option is there for Brianna and her family. The distinctive voices of our children are probably among the things we parents cherish most. This week, members of our terrific team in pediatric otolaryngology were on the Jennie Montgomery Show talking about World Voice Day. Dr. Heather Koehn, pediatric ENT, facial plastic surgeon and director of our Pediatric Speech and Swallowing Center, and pediatric speech and language pathologist Mandi Hutter joined Layla Rahimi and her mom Renee, to talk about the voice problems they experienced and which our amazing faculty and staff have helped resolve. These children and these providers of care at our Children's Hospital of Georgia are the definition of inspiring, and a source of pride and hope for us all.
All my best,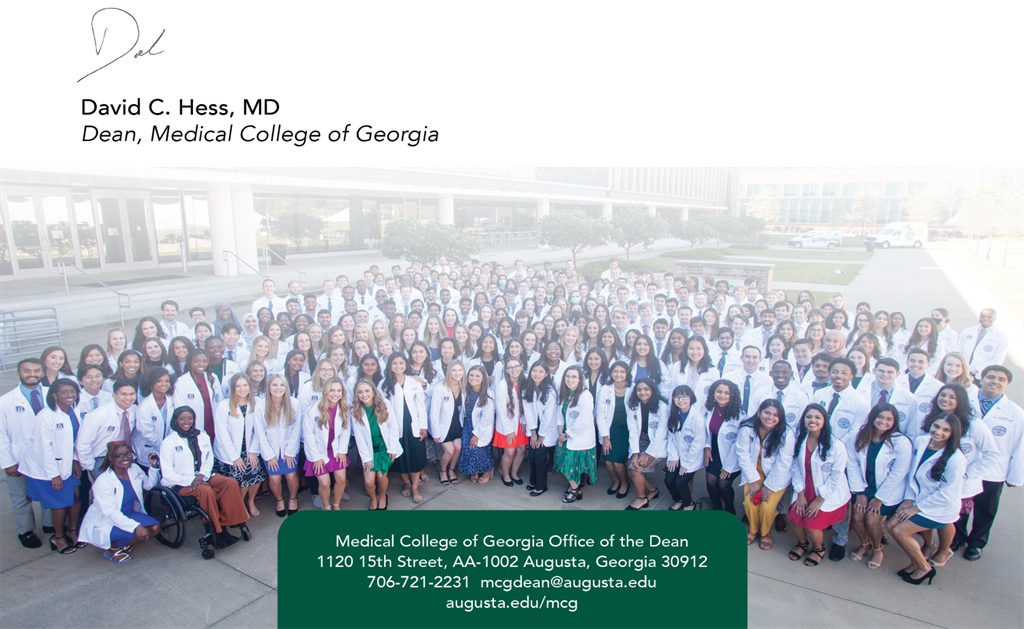 Upcoming Events
May 12 – MCG Hooding, 2pm, Bell Auditorium
May 26 – MCG Faculty Awards, 5pm, Natalie and Lansing B. Lee Jr. Auditorium