Dear Medical College of Georgia Friends,
Congratulations to the MCG Class of 2022
This is a glorious week at the Medical College of Georgia, Georgia's only public medical school, where the incredible work of our students, faculty and staff is realized in our important bottom line of graduating another class of outstanding young physicians. As many of you know I do love history, significant traditions and MCG, and yesterday's Hooding ceremony was a wonderful display of them all. One night this week, I was looking at a historical marker about MCG, one of the nation's first medical schools, on also historic Laney Walker Boulevard. It notes how we are Georgia's oldest medical school, and how our first leader, Dr. Milton Antony, along with individuals like Drs. Lewis D. Ford and Ignatius P. Garvin, founded the Medical Academy of Georgia, whose name was changed to our Medical College of Georgia in 1833. How in the early 1900s we moved to this campus from the iconic Greek revival style building on Telfair Street, where Dr. Antony's remains are buried and where yesterday the Class of 2022 had their photo taken on the beautiful stone front steps. It's a lot to think about, those early brave souls who founded this great place because it was needed and those of us today who carry on MCG's mission that is still very much needed. Let me take this proud week as another opportunity to thank each of you for being the Medical College of Georgia. You stand on solid, historic ground and I believe those who came before would be very proud of you. I know I am.
Hamzah Ali, who hails from Columbus, Georgia is the Beard Award recipient
Yesterday at Hooding, we would learn that one of our own, Hamzah Ali, is this year's recipient of the John F. Beard Award for Compassionate Care. This $40,000 award is given annually to an MCG graduate or other health sciences graduate at AU who exemplifies the best among us. It is given by William Porter "Billy" Payne and his wife Martha, who established the award in 1998 in memory of Mrs. Payne's father, who died of cancer in 1997. It honors our President Emeritus Francis J. Tedesco, a historic figure in his own right who led our university with a strong, steadfast hand and a good heart, and Mr. Beard's physician here, Dr. Mark F. Williams, a 1988 MCG graduate. Dr. Williams, an otolaryngologist, is now residency program director at Greater Baltimore Medical Center in Maryland. Dr. Robert J. McClowry, interim campus associate dean for student affairs, diversity and inclusion at our Athens campus, says he came to the AU/University of Georgia Medical Partnership last year from Oakland University William Beaumont School of Medicine in Rochester, because of students like Hamzah. He was "astounded" to learn how students like Hamzah, in collaboration with Dr. Suzanne Lester, family medicine site clerkship director at the Athens campus, had established a free multidisciplinary mobile clinic to serve the Athens community. In fact, while still a UGA undergrad, Hamzah had worked with Dr. Lester to assess the clinic's feasibility. Dr. McClowry rightly says health care is in a crisis in this country and it will take the compassion, kindness and altruism for patients, their families and communities of individuals like Hamzah, to help it recover. Hamzah also cofounded the free Shifa Clinic near the UGA Health Sciences Campus and volunteered hundreds of hours at yet another free clinic as well as community events like Red Cross Blood drives. He is now headed west for an internal medicine residency at the Dell Medical School at the University of Texas at Austin. Please let me congratulate Hamzah again and thank him for choosing MCG as his medical school and for his tremendous service to our Athens community. There are no doubt many days of outstanding service ahead for him.
Students Bharat Sanders and Shantelle Griffith illustrate the Class of 2022's mettle
If you want to learn more about our amazing Class of 2022, check out these pieces by our colleagues in university communications on Bharat Sanders, who did his clinical work at our Southwest Campus based in Albany and is now headed to a combined residency in pediatrics, adult psychiatry and child and adolescent psychiatry at the University of Utah Health and Primary Children's Hospital, so he help can help children live better lives now and as adults. And this piece on Shantelle Griffith, a mother of two with husband Kenny, who Class President Christian Cullen called an honorary classmate in his Hooding talk. Shantelle won her class' Most Inspiring Classmate Award for her also extraordinary effort that included homeschooling her children during COVID while she was a student herself. She will be doing her first year of training at Wellstar Kennestone Hospital, near her home in Acworth, Georgia, before heading off to Penn State Health Milton S. Hershey Medical Center to study dermatology.
Regent Tommy Hopkins reminds our graduates that Georgia needs them
At Hooding, Regent C. Thomas Hopkins Jr., an orthopaedic surgeon and orthopaedic sports medicine specialist, brought greetings to our graduating seniors from the Board of Regents. "Georgia also is proud of you and so is the Board of Regents," he said. Regent Hopkins reminded our newest graduates that while our state is a popular place to live —with a current population of nearly 11 million, we typically rank in the top 10 in terms of the most populous states in the nation — we tend to rank near the bottom of the 50 states in physicians per capita. "Georgia truly needs you," he told our students, and he's absolutely correct. We, in turn, need and appreciate the support of the Board of Regents. Regent Hopkins has served on the Board for a dozen years. We were fortunate as well to have with us this week one of the newer members of the board, C. Everett Kennedy III, who hails from Bulloch County. We all broke bread together, toured the Simulation Center and the Harrison Commons and talked with some of our students in their Academic House. It was a great visit.
Dr. Robyn Hatley shares sage advice with our Class of 2022
Plenty more sweet inspiration came toward our students from their chosen Hooding Speaker, pediatric surgeon, father, husband, honored educator and mentor and general good man (permit me to add former football star) Dr. Robyn Hatley. He told our graduates, who are headed to training in 29 specialties in 28 states, the truth that residency is not fun, that like with most things that matter in our lives, there will be times of change, frustration and challenge as well as happiness, deep satisfaction and profound stimulation. He challenged them to show gusto in both the big and small things in their career; to love what they do and how they are doing it. To recognize if the specialty they have chosen does not work and do something about it. "If you change your mind, change your direction," he told our graduates. He reminded them that residency is teamwork and to respect every team member the same. That some days they will be the leader and other days a follower. He told them to seek that hard-to-find balance in their life, to spend time with their family and friends, to take care of their bodies, which will help them take care of their brains. To rest, to exercise and to eat well (most of the time). "Setting priorities is not a compromise, but a choice," he said. To not let anyone or anything break their spirit. To look at their patients when they are with them and to touch their shoulder when it feels like the right time. To never stop asking questions, learning or dreaming. To imagine the impossible then do it. Good advice for all of us Dr. Hatley. I want to thank you for being you and for being here.
Drs. Ashok and Shruti Sharma develop method to examine the proteins in the tear fluid
We've all heard the saying: The eyes are the window to the soul. Drs. Ashok and Shruti Sharma are adding to the evidence that they also provide valuable, noninvasive insight into our physical health. They have developed a painless technique where tissue paper, called a Schirmer strip, which is already placed in the inner corner of the eye to measure tear volume in patients with concerns about dry eyes, is placed at the far corner of the eye, where it can collect a tiny amount of tear fluid, which holds thousands of proteins that are clues about our physical health. The Sharmas note that our emotional tears are diluted and not as insightful about our overall health. But there is growing evidence that the tear film, the protective outermost layer of our eyes which also helps gives our eyes that shine, holds proteins that may be biomarkers for a myriad of disease states like Alzheimer's and Parkinson's. Working with our Ophthalmologists Lane Ulrich (an MCG graduate who also did his training with us) and Amy Estes and Optometrist Mary Sezer, the Sharmas used mass spectrometry to analyze the tear fluid of humans. In the smidgen of fluid collected from each individual, they were able to identify 3,370 unique proteins, and the 50 most abundant proteins among them. Now that they have a way to do the analysis, their goal over the next year is to build a database that reflects a healthy protein complement that can be used by scientists everywhere wanting to identify biomarkers for a variety of disease states. The Sharmas will also focus on fleshing out biomarkers to more objectively diagnose dry eye disease, which is exceedingly common with age as well as with conditions like rheumatoid arthritis and lupus, from using contact lenses for long periods and staring at those computer screens. They anticipate that one day, much like our blood, our physicians will also look at our tear fluid for additional insight. Exciting, translational research funded by the National Eye Institute and an NEI center core grant to MCG and the James and Jean Culver Vision Discovery Institute here to support the infrastructure of vision research. Dr. Sylvia Smith, vision scientist and chair of our Department of Cellular Biology and Anatomy, is principal investigator on that critical infrastructure grant we got back in 2020. More to come on this research published in the International Journal of Molecular Sciences and which Ashok presented in Denver April 30 during the 23rd annual meeting of the International Ocular Surface Society.
The technique will provide insight into health and biomarkers for disease
As you can tell, Ashok and Shruti Sharma generate plenty of positive synergy in our Center for Biotechnology and Genomic Medicine. They married in their homeland in 1999 and both came to Augusta in 2003 so Shruti could do her postdoc fellowship here. Ashok, who has an undergraduate degree in electrical engineering, worked for a couple of years in research at the Charlie Norwood VA Medical Center before starting his PhD here in genomic medicine and bioinformatics at the Center for Biotechnology and Genomic Medicine. Today Ashok is the program director for our PhD program in genomic medicine. Both Sharmas also are now associate professors in our Center for Biotechnology and Genomic Medicine and in the James and Jean Culver Vision Discovery Institute at AU. Shruti's many other responsibilities include serving on the teaching faculty for PRIDE, Programs to Increase Diversity Among Individuals Engaged in Health-Related Research, which Dr. Betty Pace, an accomplished pediatric hematologist/oncologist, sickle cell investigator and prolific mentor brought to us a dozen years ago. Congratulations and thank you Ashok and Shruti. I appreciate what you do and your enthusiasm for it.
Dr. Rick McIndoe develops algorithm to speed up identifying synergistic cancer drugs
Finally today, more positive synergy out of our Center for Biotechnology and Genomic Medicine that also holds promise to move science forward faster and get better treatments to patients faster. Dr. Rick McIndoe, center director, is a bioinformatics whiz who, as we have discussed, has led and leads major national initiatives like the $6.2 million federally funded Innovative Science Accelerator program that expedites reviews of some of the most innovative ideas of scientists in diseases of the kidney, the urinary tract in both sexes and the male reproductive organs, and the blood and bone marrow. This calm on the outside man, really likes to move important work along. Now he has developed an algorithm to dramatically speed up the process of identifying cancer drugs, that like the Sharmas, work synergistically. It's pretty complicated stuff, but his algorithm enables scientists everywhere to use large existing databases of how one cancer drug changed gene expression in a particular cancer cell line — changes in gene expression are an important way these drugs work — then mathematically combine the results of two drugs to see how they might work together. While this won't directly put new drug combinations into use in people tomorrow, it will speed up, potentially by years, the process of identifying the drug pairs that should be logically studied and may eventually end up helping patients. That is solid synergy you can read more about here.
All my very best to you,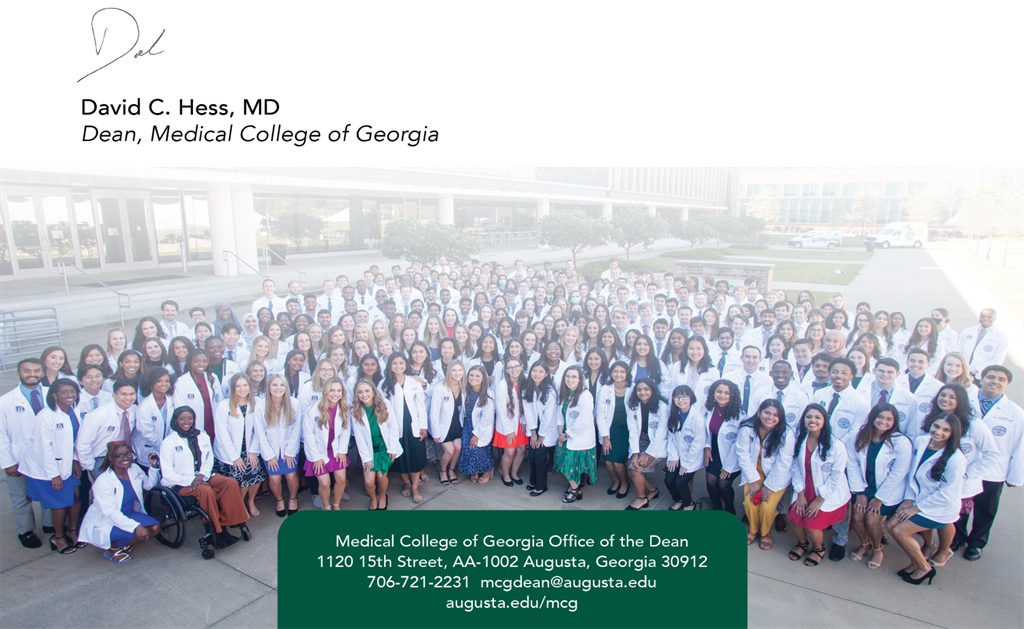 Upcoming Events
May 26 – MCG Faculty Awards, 5pm, Natalie and Lansing B. Lee Jr. Auditorium