Dear Medical College of Georgia Friends,
A time of remembrance
This long Memorial Day weekend unofficially kicks off summer when temperatures heat up and life slows down a bit. It's such a great time of year in so many ways. Daylight stretches out and we tend to linger outside longer with family and friends. But the true purpose of Memorial Day is to honor those who have fallen in war to ensure the incredible privilege of such freedoms. At 3 p.m. Monday there is an official national moment of remembrance that I hope you all will observe. The courage of our military is something that should never be forgotten or taken for granted. We have to look no further than Augusta's own Fort Gordon or the horror and incredible bravery in Ukraine to be reminded of how principled, courageous individuals raise their hands for their country. This year in particular seems somewhat more poignant, probably because of the incredible number of lives lost in Ukraine, and because Memorial Day for many of us is also a day to remember all those who have passed from us. I know you join me in sending thoughts and prayers for the 19 elementary school children and two teachers lost this week in the Uvalde, Texas school shooting and for their loved ones who must find a way forward. And to those hurt by the horror of two Saturdays ago when 10 Black people were killed as they shopped for groceries in Buffalo, New York. There is so much tragedy in this world that we struggle to understand and will never fully understand, but we must continue to work toward our goals. For those of us who have chosen to work at Georgia's public medical school, that means, somewhat like soldiers, improving and saving lives and making our community and world a better place. I deeply appreciate all of you, students, residents, faculty and importantly our staff and all that you do every day and thank each of you again for your commitment.
Dr. Robert Yu, accomplished scientist and MCG faculty member for more than 20 years, passes
In the last many days, our Medical College of Georgia also lost two great individuals, one still early in his career and the other who was still smiling and working hard after a half century. Dr. Robert Yu came to us in 2000 from the Medical College of Virginia where he was chair of the Department of Biochemistry and Molecular Biophysics, to be director of the Institute of Molecular Medicine and Genetics, a role he held for nearly a decade. Dr. Yu studied biochemistry and neurochemistry at the University of Illinois in Urbana and Albert Einstein College of Medicine in New York, respectively. He joined the faculty at Albert Einstein, moved to Yale University School of Medicine in 1973 and added a medical degree from Tokyo University to his many credentials before he left for Virginia in 1988. This truly sweet individual who was renowned in his fields of glycobiology (like the sugar coating on our cells) and neurochemistry in normal and diseased brain tissue and nerve dysfunction, died May 18. His research was funded by the National Institutes of Health for more than 45 years, including when he passed while continuing to work with us here as a professor in our Department of Neuroscience and Regenerative Medicine. Another relevant piece of MCG history here is that the Institute of Molecular Medicine and Genetics Dr. Yu directed became the Department of Neuroscience and Regenerative Medicine in 2014. Dr. Yu was an all-around good man whose contributions to understanding tough conditions like Alzheimer's and Parkinson's, are immeasurable. He was a good friend and mentor to me and I loved talking with him about brain science and who was the best candidate for a position we were working to fill. At his passing, the MCG family sends our best thoughts and prayers to his nuclear family and our appreciation as well for sharing him with us for so long.
Dr. Daniel Linder, MCG biostatistician, honored educator, passes
Dr. Daniel Linder's time with us was too short. This quiet, friendly 40-year-old biostatistician who earned his PhD with us, was director of our Master in Data Science Program when he passed unexpectedly May 20. Dr. Linder had served on the faculty of Georgia Southern University where he completed his undergraduate and master's degree before coming back to us in 2016. He loved teaching courses like case-based learning to our medical students and they loved taking them. He loved making well-ordered sense out of scientific studies. During the pandemic, he worked with many of our medical students to analyze and report how COVID-19 affected patients in our Albany Phoebe Putney-MCG Research Collaborative. He was a good colleague and friend. We join his family and many friends in mourning the loss of Dr. Linder and of the promise that he held.
Dr. Michael Brands is interim Vice Dean for Academic Affairs
Dr. Michael Brands, cardiovascular and renal physiologist, loves teaching too and the students return the respect, sending multiple educator honors his way. He also is a great citizen otherwise for our medical school. He has served on the Admissions Committee for our MD/PhD program that we have talked about recently. He served for a dozen years as organizer of Graduate Research Day. He has twice served on our Faculty Promotion and Tenure Committee and is just finishing up that second term this year. The NIH-funded investigator studying the kidney and hypertension has chaired the Institutional Animal Care and Use Committee. Perhaps one of the toughest of these roles he has taken on is chairing the Student Academic Promotions and Professionalism Committee. Now he has taken on the role of interim vice dean for academic affairs for MCG. Dr. Doug Miller, who has led Academic Affairs since 2018, is here practicing cardiology and further exploring his interest in public health and policy. Please let me thank Dr. Miller again for his service, particularly at a pivotal time when we have been growing our class size and completing a major redesign of our medical school curriculum. More great days are ahead.
Drs. Lara Stepleman, John Morgan and Tom Swift among those honored at annual Faculty Awards
Our 2022 Faculty Award winners honored late yesterday afternoon also reflect the kind of service and commitment we have talked about today. Our Spirit of MCG Award this year, for example, goes to Dr. Lara Stepleman, our inaugural associate dean for faculty success and inclusive excellence. If you have ever had a job that no one had before you, it is both good and bad because you are essentially starting from scratch so the buck starts and stops with you. Dr. Stepleman turned out to be a perfect pick for this job in which she works individually with faculty members to help ensure their professional success and with MCG leadership to help us understand and repair issues she uncovers in the process. Much like I hear rave reviews all the time from other medical schools and hospitals about how great our students are when they get to their residency programs, I hear from faculty all the time how Dr. Stepleman is just what the doctor ordered. People like Dr. John Morgan, our 2022 Outstanding Faculty Award winner and director of the Georgia Memory Net Assessment Center here who joined the faculty in 2003. Dr. Morgan, who was one of the first MD/PhD graduates at MCG, is an accomplished and compassionate physician who works with patients and families dealing with some exceedingly tough medical issues, who diligently pursues better treatments through clinical research and who has been honored time and again with our Exemplary Teaching Award and other education honors. Like Dr. Tom Swift, chair emeritus of neurology, another terrific mentor for me personally and a long list of others. Dr. Swift is a brilliant individual who also happens to have a great sense of humor and is this year's recipient of our Lifetime Achievement Award. Dr. Swift has success and longevity on his side, having been president of the American Academy of Neurology, the Society of Clinical Neurologists and the American Association of Electrodiagnostic Medicine. His long list of accomplishments also includes being a founding editorial board member of New England Journal of Medicine's Journal Watch Neurology and president-elect of the Association of University Professors of Neurology. He still chairs the Medical Advisory Board of the Georgia State Chapter of the Myasthenia Gravis Foundation. He has been a faculty member here since 1973, chaired the department from 1983 to 2000 and came back on faculty as a retiree as soon as he could. He served as president of the Faculty Senate and held numerous leadership roles with the old Physicians Practice Group (now AU Medical Associates). He delivers a famous leprosy lecture at Neurology Grand Rounds almost every year — I think I have heard it a dozen times — and his stories get better with each retelling. He has pretty much done it all and is still doing. See all our amazing winners here. And please let me thank here our 2021-22 Faculty Senate Executive Committee members Dr. Julie Dahl-Smith, president; Dr. Vishal Arora, president-elect; Dr. Eric Lewkowiez, vice president; Dr. Almira Vazdarjanova, secretary; and Dr. Vincent J.B. Robinson, immediate past president.
Dr. Theresa Rohr-Kirchgraber elected to second term as president of the American Medical Women's Association
You all are just natural servants and leaders. It is my pleasure to also share with you that Dr. Theresa Rohr-Kirchgraber, an internist and professor of medicine at the AU/UGA Medical Partnership (MCG's four-year campus in Athens), this month was elected as president of the American Medical Women's Association. This is actually her second term as president of this group she also led in 2015-16 as the first Hispanic president. She is a graduate of Cornell University College of Medicine (now Weill Cornell Medicine) who did her training at University Hospitals of Cleveland. She is also a well-honored educator and inaugural fellow of the American Medical Women's Association, who has been honored numerous times by the association including with the 2012 President's Award, a 2014 Commitment to Excellence award, a 2016 Local Hero Award, the Bertha Van Hoosen Award in 2018 and the 2020 Exceptional Mentor Award. Dr. Rohr-Kirchgraber also received an American Medical Association Inspiration Award in 2020. Just this week at the Faculty Senate Awards Ceremony, she added to her list of honors an Educator of the Year Award from the Class of 2025 at our Athens campus. Please let me thank you Dr. Rohr-Kirchgraber for your contributions to MCG, to medicine and to women in medicine.
Drs. Manuela Bartoli, Xingjun Fan elected to leadership posts with top vision research group ARVO
As we close today, just one more shout out for your contributions. Vision scientist Dr. Manuela Bartoli and aging researcher Dr. Xingjun Fan have been elected to leadership roles in ARVO, the Association for Research in Vision and Ophthalmology, the primary vision research society. Dr. Bartoli, a faculty member in the Department of Ophthalmology who studies diabetic retinopathy and other diseases of the retinal vasculature, has been elected to the Retinal Cell Biology Section. Dr. Fan, in our Department of Cellular Biology and Anatomy who is doing fascinating work using the lens as a model for aging, has been elected to the Lens Section. I wanted to also share that, thanks to the support of entrepreneur and philanthropist James Fickel, Dr. Fan also has now moved into the normal impact of aging and the abnormal impact of Alzheimer's in the brain. In fact, the next issue of MCG Medicine magazine, which we will have in hand mid-summer, features the important expansion of his studies that the generosity of Mr. Fickel has enabled. Stay tuned and stay safe.
All my very best to you,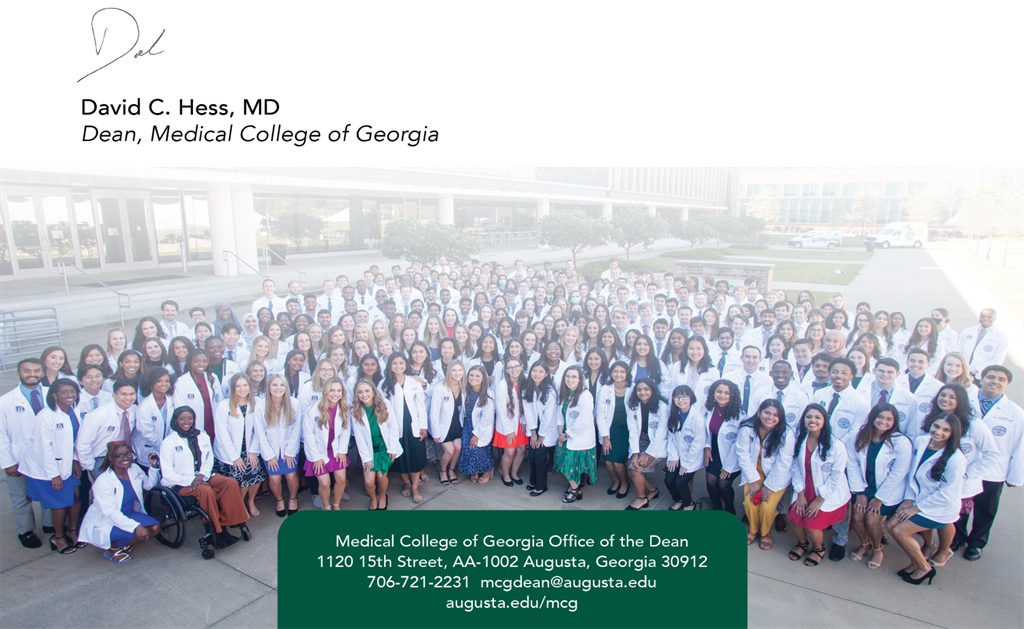 Upcoming Events
June 17 – MCG Faculty Senate Meeting, noon, Natalie and Lansing B. Lee Jr. Auditorium
Nov 11 – Annual Body Donor Memorial Service, 1 p.m., Natalie and Lansing B. Lee Jr. Auditorium