Dear Medical College of Georgia Friends,
Dr. Stu Thompson awarded new NIH grant to study common bacterium Campylobacter jejuni
As you are taking a dip in the lake to cool off and then grilling some chicken to ward off the hunger swimming often brings, Dr. Stu Thompson microbiologist, and postdoc Dr. Claudia Cox want you to also be thinking about Campylobacter jejuni. While Salmonella is likely more familiar to most of us, the bacterium Campylobacter is the number one cause of bacterial diarrheal illness in our country and the number one intestinal disease diagnosed in travelers returning to the United States, the Centers for Disease Control and Prevention tells us. Undercooked poultry is a common cause and so is taking a big gulp of untreated lake water. While Dr. Thompson has a calm, happy exterior, he has been a fierce foe of Campylobacter jejuni for years, trying to figure out how best to stop this bacterium that is so skilled at getting into our intestinal cells and making us sick. The bacterium's natural anatomy is definitely on its side since it has these long, flexible but sticky arms called flagella that enable it to get where it wants to go, then literally grab onto and maneuver its way into our intestinal cells. As if that wasn't bad enough, the bacterium also can make a biofilm to protect itself if it gets in trouble, like if there is not enough food or oxygen for a period. And it's resourceful: Drs. Thompson and Cox have even seen the bacterium make a biofilm out of the starch in the culture medium it was sitting in.
Dr. Thompson and postdoc Dr. Claudia Cox want to clip the wings of this mobile virus
Dr. Thompson just received another grant from the National Institute of Allergy and Infectious Diseases, this one a two-year $423,500 grant, that is enabling their innovative studies of an enzyme, CbrR, that enables Campylobacter to be so skilled at assessing and adjusting to whatever is happening around it, as well as the cyclic-di-GMP which CbrR produces and uses to make those adjustments. Very interesting and gross at the same time. Often infected people will be miserable but recover without taking antibiotics but worldwide more than 30,000 people, primarily children under age five, die from this infection annually. Drs. Thompson and Cox are thinking a good solution might be a molecule that could be given at the first signs of infection that target this bacterium's remarkable mobility. More to come soon on our MCG home page and elsewhere and you can check out this snapshot of their work featured on a recent Medical Minute, starring MCG research as told with the melodic tone of Dr. Joseph Hobbs, 1974 MCG alum and chair emeritus of family medicine, every weekend on 18 public radio stations in Georgia. Stay tuned.
Student Eszter Toth selected for yearlong NIH Medical Research Scholars Program
Next month one of our students, third-year Eszter (Estie) Toth, will soon be immersing herself as well in infectious diseases as part of the National Institutes of Health's Medical Research Scholars Program. This is a neat program where medical, dental and veterinary medicine students who think they want to be physician scientists, spend a year in Bethesda focused on science. Estie, from Gainesville, Georgia, who spent her junior year living and learning at our Northwest Campus based in Rome, wants to be an infectious disease physician. She was inspired by her undergraduate studies at the University of Georgia with Dr. Balázs Rada, whose studies include our immune response to respiratory problems like influenza and pneumococcus. When she starts the NIH program next month, she will be studying with Dr. Steven M. Holland, an MD who is director of the Division of Intramural Research at the National Institute of Allergy and Infectious Diseases. Dr. Holland's research interests include chronic granulomatous disease, a genetic disorder which leaves people unable to fight off certain bacteria and fungi. What a great opportunity for Estie, and we are proud of her. I think these last couple of years have solidified for all of us the impact of infectious diseases. Estie will come back to us for one more year after she finishes up her scholars' program.
Dr. Gossage, and HHT Center of Excellence at MCG and AU Health honored
While all of us who are privileged to work at the Medical College of Georgia don't see patients, pretty much everything we do at Georgia's public medical school is ultimately to benefit patients and families. Those of us directly involved in helping take care of patients get so much back from them. It is truly an honor to have an individual and the people who love them trust you with their wellbeing. And sometimes, those patients and families also give back in very concrete ways. I have a patient who sweetly (pun intended) regularly brings me cakes and cookies. It's hard to put into words what that means to me. Dr. Jim Gossage, pulmonologist and director of Pulmonary Vascular Diseases and HHT, or hereditary hemorrhagic telangiectasia, has no doubt had many kinds of thank yous in his career that started here in 1994. HHT is a rare genetic condition that puts people at increased risk for arteriovenous malformations, or AVMs, where arteries feed directly into veins rather than into smaller and smaller blood vessels first. Dr. Gossage has served as medical director of the international foundation Cure HHT and currently serves as vice chair of its Center of Excellence Executive Committee. He has led studies to identify new treatments for HHT, including a study that started last year funded by the Department of Defense looking at a chemotherapy drug used to treat kidney cancer that may help inhibit the growth of these abnormal blood vessels that can cause a myriad of health problems from nosebleeds to stroke to heart failure. MCG and our Health System are one of 26 HHT Treatment Centers of Excellence in North America and we have some very distinguished colleagues in that small group. The subspecialized expertise of Dr. Gossage and at these other centers is another big part of what academic medical centers like us should do and I am very glad he is one of us.
Bradley and Anne Blevins establish fund to help ensure a healthy future for the center and families who need it
The Blevins Family knows too well about HHT and the expertise required to provide optimal care and find even better care. Bradley Blevins, his wife Anne and their daughter live in Marco Island in the Gulf of Mexico just off the beautiful tip of Florida's coast, and travel nearly 600 miles to Augusta and Dr. Gossage when needed. Our center presently is the closest one to the Blevins family and they want to help ensure its continuation for others who also need it. So they recently established the Blevins Fund for our HHT Center of Excellence to honor Dr. Gossage. This sort of amazing philanthropy also runs in the Blevins family. Brad's mother, the late Mary Jenkins Blevins, gave generously as well to the HHT Center at Yale University, and now her son has done the same for us. Again, patients and families putting their trust in us is a tremendous gift itself. For them to also choose to provide philanthropic support to our physicians, our medical school and Health System, as well as other patients and families, also leaves me, a man who usually loves to talk, again searching for words. Thank you Dr. Gossage for being the individual and physician that you are, and thank you Blevins family for your selfless support.
Dr. Leonard Reeves, associate dean for Northwest Campus, retires; Dr. Dixon Freeman is the campus' new assistant dean
Finally today, families can be defined in many different ways and MCG is losing one of its longtime family members at the end of this month. Dr. Leonard Reeves was our inaugural assistant dean when we started the Northwest Campus based in Rome back in 2010. The family medicine physician who hails from up that way was serving as assistant director of the Floyd Medical Center's Family Medicine Residency Program — Floyd, now Atrium Health Floyd, is also now one of our affiliated teaching hospitals. His deep, steady voice is a natural for the radio work he has done and he has also been a high school teacher. Dr. Reeves was named associate dean about six years ago, and the Northwest Campus he has led was the first to start the longitudinal integrated curriculum, which enables students like Estie to follow patients along the course of their care longer, more like they will do as practicing physicians and an approach now being adopted by the Southeast and Southwest campuses. And he does love our/his students. He and Vicki Wiles, clinical rotation coordinator, make sure that all the students get a nice black and white portrait taken which gets hung in campus hallways at Georgia Highlands College (where the campus is located), kind of like the hall of deans here in our dean's suite. And, they stay in close touch with the students even after they have completed their training. Dr. Reeves also helped initiate our educational growth in beautiful Dalton, Georgia area and he has served his specialty on the Board of Directors of the American Academy of Family Physicians. Dr. Elizabeth Gray, associate dean for curriculum at our Southeast Campus, is chairing a national search to find a new associate dean. And, we recently named Dr. Dixon Freeman, an OB/GYN in Rome, campus assistant dean responsible for academic oversight at the campus, including working to identify new clinical teaching sites up that way. Dr. Freeman has served as OB/GYN clerkship director since the campus opened. He is an honored medical educator who has served our country in the Air Force and has been on loan to the Navy, and has been honored multiple times for his service, including with the Meritorious Service Medal. Dr. Freeman also happens to be a founding member of the Atlanta Curling Club. Curling is an Olympic and Paralympic sport where teams take turns sliding granite stones toward a target and it is a lot of fun to watch. Thank you so much Dr. Reeves for your distinctive service to medicine and to MCG and welcome aboard Dr. Freeman.
All my very best to you,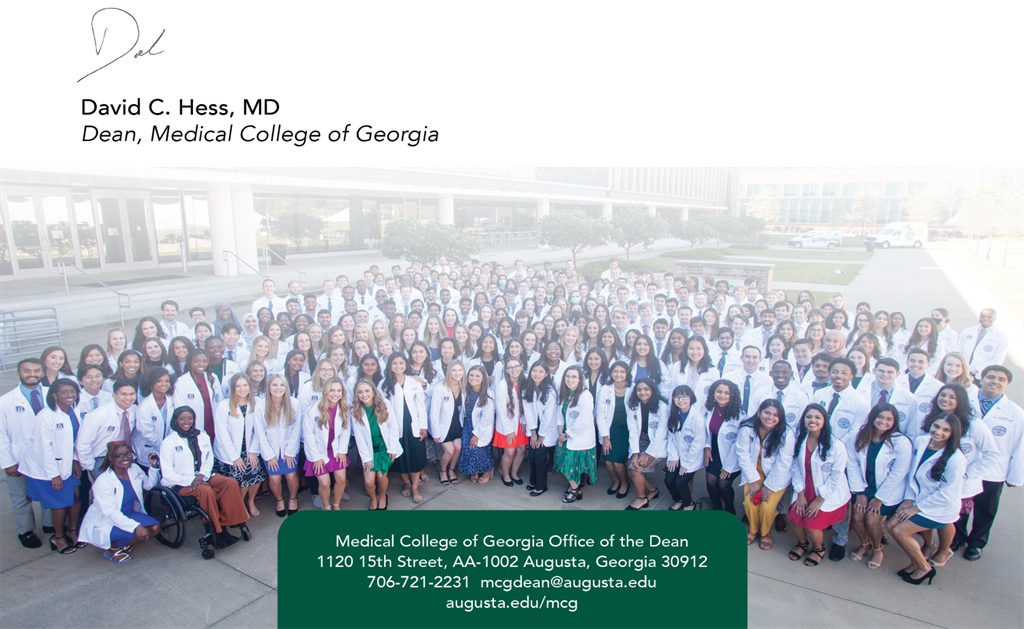 Upcoming Events
June 17 – MCG Faculty Senate Meeting, noon, Natalie and Lansing B. Lee Jr. Auditorium
Nov 11 – Annual Body Donor Memorial Service, 1 p.m., Natalie and Lansing B. Lee Jr. Auditorium