Dear Medical College of Georgia Friends,
How does America sleep
We talk a lot about how the Medical College of Georgia is taking on Georgia's (and our nation's) major health maladies like heart disease, cancer, stroke, hypertension, Alzheimer's, diabetes, depression and obesity. A common thread that runs through the risks for all these major maladies is inadequate sleep. The National Institutes of Health tells us that the drowsiness and irritability we feel from not sleeping are short-term effects. I know I feel them particularly late in the afternoon after thoughts about work or life generally have preempted even a single night of good rest. But the implications of long-term sleep problems are extensive and definitely need addressing. Dr. Vaughn McCall, our chair of psychiatry and health behavior and executive vice dean, who is also an expert in the trifecta of insomnia, depression and suicide, was on the thesis committee for Yanyan Xu, a graduate student in genomic medicine here, who had an interest in how poor sleep affects the cardiovascular system, particularly our natural circadian patterns. She was looking at a nationally representative sample from the National Health and Nutrition Examination Survey, or NHANES, which provides invaluable data on different health topics on broad numbers of people.
Dataset used for sleep studies was the first to also include measures of movement
The data they used, which was collected from 2011-14, was just released in 2020 and it was the first in which participants wore devices that measured their movement, which provided not perfect but more objective insight on how much and when people were really sleeping. Previous studies have mainly looked at self-reports of when we think we are asleep. Genetic epidemiologist Dr. Xiaoling Wang at the Georgia Prevention Institute is Yanyan's advisor, so they along with fellow GPI genetic epidemiologist Dr. Shaoyong Su and Dr. McCall decided to also use this more objective measure of sleep available on more than 11,000 individuals age 6 and older to look at sleep parameters across the lifespan. The headline on this study was that Americans tend to get the least sleep when they are 40. Forty-year-olds were at the bottom of the U-shape pattern our sleep time generated across our lifetime. Some other interesting findings were that females tend to get a little more sleep than males, a whole four minutes, and that Americans age 20 had the latest time for going to sleep, called "clock time for sleep onset." Also, 25% of children ages 6 to 13 had a clock time for sleep onset, or CTSO, close to 11 pm which seems late to this father. This study generated a lot of international interest and you can read more here and here. Congratulations all. Let's sleep on that.
Early discussion with FQHCs, Community Health Centers indicates promise of expanded service, educational opportunities
The sleep study is a great example of exceptional individual minds working together for a common goal by embracing the strengths of the individuals. That is really the crux of any strong partnership, and I am happy to share that MCG is working to forge such a partnership with our Federally Qualified Health Centers, or FQHCs, and Community Health Centers. The purpose and reality of FQHCs are something we can all agree on. We are still in early conversations with seven of our nearby FQHCs and three Community Health Centers but I am very excited about the potential and the insight these essential providers can share with us and the next generation of physicians. FQHCs and Community Health Centers provide access to primary care by eliminating barriers like cost and distance. They have deep roots where they live and work and typically provide team-based primary care. 1974 graduate Dr. Joseph Hobbs, who is now our senior associate dean for clinical programs, says they are "kind of like small health systems." The team often includes physicians, advanced practice nurses, pharmacists, social workers, dietitians and you name it practicing in most typically, modern and growing facilities. They serve a community that includes those whose access to great care has been limited and those who simply want to go there because of the kind of patient-centered care they provide. This type of critical mission work, I believe, is what we do here as well in educating physicians. We enable our students to learn in the myriad of practice options and Georgia communities so they can experience what their profession and Georgia have to offer.
Drs. Joseph Hobbs, Ashley Saucier leading this important partnership
It was the early 1980s when Dr. Hobbs, chair emeritus of our Department of Family Medicine (and star of GPB's Medical Minute), retired faculty member Dr. Ohlen Wilson, Dr. Joseph Tollison, who was family medicine department chair at the time, and Coordinator Libby Poteet started traveling the state looking for great partners in medical education to enable an incredible diversity of experience for our students. By then, Dr. Wilson had already helped lead establishment of MCG's first relationship with a FQHC, the old Tri-County Health System Inc., (now part of the larger Community Health Care Systems, Inc., based in Tennille) that served the counties of Warren, Glascock, Taliaferro and Hancock, which had no physician at that moment. In fact, Dr. Wilson would step up and become the longtime medical director for a place that would become a great learning and service site for our students and residents. It was mutually beneficial then, and I believe it will be now as our state grows, the health care needs of its population grow and our class size expands. We are having early conversations with these nearby FQHCs and Community Health Centers to let them know more about our expanded emphasis on primary care and they are sharing with us their ideas for what our state and communities need and how to best prepare our students to meet those needs. "We are asking them to be part of the process to help determine how best to prepare our students for the clinical service delivery challenges ahead for them," Dr. Hobbs says. This time, Dr. Hobbs' traveling companion is Dr. Ashley Saucier, 2011 MCG graduate who is director of medical student education for the Department of Family Medicine and who has a new title coming July 1 in Academic Affairs that reflects her additional, tremendous contributions to her alma mater, to medicine and to Georgia. We are starting this important process with our regional centers with the goal of eventually partnering across our expansive state. We hope to know by this fall who our first partners will be, but I am thankful that you can already feel the excitement moving between us. Stay tuned.
Sports medicine fellowship (re)starts July 1
Let's stay on expanding medical education opportunities and good partners a minute more to also share with you that the same day Dr. Saucier gets her new Academic Affairs title, Dr. Bruce "Palmer" Freshley Jr. becomes our first (in recent memory) sports medicine fellow. This is a reestablished initiative between the Department of Family Medicine and our also amazing Department of Orthopaedic Surgery. Our current family medicine chair (emphasis on current because we have mentioned two other family medicine chairs already today) Dr. Dean Seehusen tells us that these frontline at sporting events and in-the-clinic physicians will get training in both primary care and nonsurgical orthopaedics, fine-tuning skill sets like the noninvasive insight provided by ultrasound and thorough musculoskeletal exams. Dr. Freshley, a graduate of the Medical University of South Carolina College of Medicine who just completed his family medicine training at the University of South Carolina School of Medicine-Greenville, already comes to us with a lot of sports medicine experience like working as needed as a team physician for a college lacrosse team. Soon he will be on the sidelines here with area high school students to get more firsthand experience preventing and treating sports injuries. Dr. Chris Ledford, who served our country in the U.S. Air Force and went to medical school at the Uniformed Services University F. Edward Hèbert School of Medicine in Bethesda, is the director of the (newish) fellowship. Congratulations all and welcome Dr. Freshley.
Dr. Chunhong Yan receives $1.1 million grant from the Department of Defense
Finally today, we go back to the risks that come with too little sleep. Studies have associated sleep problems with an increased risk of prostate cancer. Another inevitable association is that prostate cancer, although often very responsive to treatment options like hormone deprivation therapy, when it does come back is very aggressive and there are not great treatment options. Dr. Chunhong Yan, molecular biologist in our Georgia Cancer Center and Department of Biochemistry and Molecular Biology, has an equally strong commitment to finding an answer. He is devising a strategy to kill the persistent and deadly version of this common cancer with iron. Death by iron is called ferroptosis and we know that excessive iron is deadly to body tissues even though, like so many things in our bodies, we need a certain amount of iron for essential functions like our hemoglobin carrying oxygen. But like prostate cancer can become treatment resistant, it's also resistant to death by iron. Dr. Yan just received a $1.1 million grant from the U.S. Department of Defense to develop and test his complex strategy for stripping that resistance that has worked in a cell culture and which he will now test in a mouse with human prostate cancer. Thank you for taking on this tough problem, Dr. Yan, particularly your use of existing drugs and drug regimens so that if your findings continue to hold, they can more quickly translate to clinical trials to help people.
All my very best to you,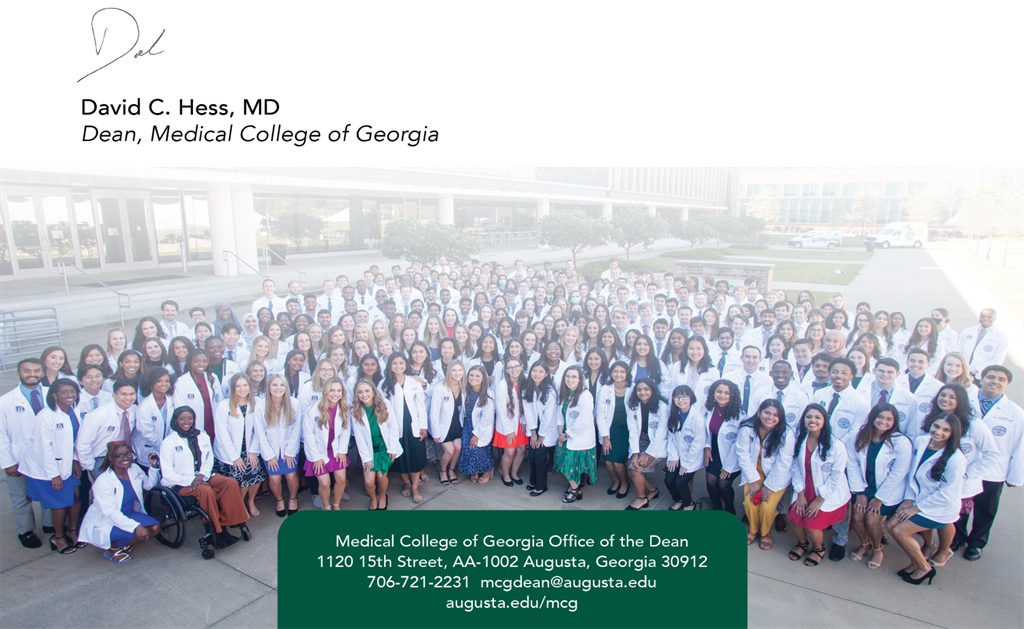 Upcoming Events
June 17 – MCG Faculty Senate Meeting, noon, Natalie and Lansing B. Lee Jr. Auditorium
Nov 11 – Annual Body Donor Memorial Service, 1 p.m., Natalie and Lansing B. Lee Jr. Auditorium