Dear Medical College of Georgia Friends,
The best way to learn is to do
Learning by doing is a good thing, and for many things there really is no good substitute. Like learning how to tie our shoes. Parenting.com tells us that most of us learn how by about age 6, and in serious retrospect, it's no easy task. See here if you need a reminder of how you need to lean over and give it a couple hundred tries until the sequence of the loops and knots become second nature. Because, if it's not done right, you can take a tumble. The late philosopher and educator John Dewey was a famed proponent of this learn by doing approach; and so is the Medical College of Georgia. Our Educational Simulation program, led by Dr. A.J. Kleinheksel, assistant dean for educational simulation, gives our students, residents and faculty incredible opportunities to learn until we can do well. From the first few weeks of medical school, for example, our students are learning from our "standardized patients," who like the best television stars can convince the students that their blood pressure is soaring and they don't know why and/or they are having these horrible headaches and our students have to do a thorough assessment and figure out the problem(s). They also are learning in realistic clinical settings from high-fidelity mannequins, both of which can amazingly mimic, for example, what happens when an ICU patient's blood pressure has instead dropped dangerously low. As Dr. Kleinheksel says so well: these are safe places to fail. As we speak, 190 new residents and fellows who joined us July 1 in 52 great training programs, just passed through these lifelike hospital environs to take a measure of how adept they are at sighting potential patient hazards before they start learning and treating in our actual clinical environs.
MCG Educational Simulation Program is first in Georgia to receive accreditation from the Society for Simulation in Healthcare
This week we got early word that our MCG Educational Simulation program, which enables learning by doing, is the first in Georgia to earn full accreditation from the Society for Simulation in Healthcare's (SSH) Accreditation Council. As Dr. Kleinheksel also states so well, our program earned full accreditation in the core standards required for all accredited programs, which include mission, resource management, program improvement and integrity. We also earned accreditation in two additional, optional standards of research and teaching/education. There are just over 230 SSH accredited programs globally, so this is a pretty select group.As the only professional in Georgia to have earned advanced certification from this society (and also one of a relatively small number in the world to be honored with such a distinction), Dr. Kleinheksel is pretty amazing as well. MCG Experiential Learning also includes point of care ultrasound, learning procedural techniques as well as telemedicine, which includes some of the strategic, needed educational and service programs we now offer rural and underserved areas of our state such as emergency care. Dr. Matt Lyon, 1999 MCG graduate and vice chair of our Department of Emergency Medicine, is our associate dean for experiential learning and also is pretty amazing in the scope of his work and the passion with which he approaches it all. Congratulations to all for your countless contributions to medical education, to MCG and to a healthier future. You can read more about MCG Experiential Learning in the next issue of MCG Medicine magazine, which we hope to have in hand sometime after Labor Day.
Postdoc Dr. John Henry Dasinger receives Pathway to Independence Award from the NIH
As physicians, scientists and educators, we are all committed to the lifelong pursuit of finding and sharing knowledge about how our bodies work and why sometimes they don't. Like continuing to tie our shoes, that heavy brain lifting helps keep our mind (and body) agile, and it is one of the things I love most about our profession. Being and having great mentors is key to the success of everyone in this perpetual cycle of moving knowledge and quality of life ever forward. Dr. Dave Mattson, chair of our Department of Physiology, and Dr. John Henry Dasinger, senior postdoctoral fellow who came to MCG from the Medical College of Wisconsin about this time of year in 2019 with Dr. Mattson, are a great example of synergy that works both in terms of professional productivity and personal peace. They came together in the colder climes of Wisconsin (where the day count above 90 degrees is maybe two weeks each summer, except in 1988 when it apparently was particularly hot) because Dr. Mattson was already a leader in the field of immunity in hypertension and Dr. Dasinger had his mind on that field of study. The fact that both these individuals had and have a smile on their faces, made it all the better match.
Dr. Dasinger's total award is nearly $1 million over the next five years
It puts a smile on my face to share that Dr. Dasinger has been awarded a K99/ROO program award from the National Heart, Lung and Blood Institute of the National Institutes of Health. It's called a Pathway to Independence Award, selectively awarded as postdocs begin their transition toward becoming a successful, independent faculty member. The ROO, while not a guarantee at the outset, will help ensure that success. Dr. Dasinger will receive a total of $205,088 over the next two years, then $253,073 each of the next three years as he secures his future as an independent scientist. If all continues to go great as we are sure it will, the award will total just this side of $1 million in federal funding over five years. That is so awesome. His work is in the increasingly common preeclampsia, which typically surfaces about halfway through pregnancy, and can put mother and baby at risk. Some of the first signs may be elevated blood pressure in the mother and protein in her urine as a sign that her kidneys are being damaged. Preeclampsia is a leading cause of maternal death, and can wreak havoc on baby as well, including a low birthweight and death, and can increase the risk of cardiovascular problems lifelong for mother and baby. Factors like the mother already having high blood pressure and/or obesity can increase the risk and developing preeclampsia during one pregnancy increases the risk in subsequent pregnancies.
He's exploring how T cells, which normally help protect, appear to contribute to the damage of preeclampsia
In keeping with Dr. Dasinger's interest in immunology and hypertension, he is working to connect important dots about the role of oxidative stress produced by T cells, immune cells which drive our prolonged immune response, in this potentially deadly scenario. The current thinking in the field is that the placenta, which starts to form very early in pregnancy to enable the mother to provide nutrition and oxygen to her baby, is improperly formed, primarily because the big vessels that should run through the placenta to provide a passageway for these essentials to get where needed are too small and too few. The mother's blood pressure appears to go up to try to push nutrients and oxygen through to baby. Dr. Dasinger has evidence the situation gets the attention of the T cells potentially to try to signal the placenta and other organs to work better and to clean up the resulting damage. But instead, as more T cells move in, it sometimes creates a vicious cycle of inflammation and damage, and the T cells start producing a lot of reactive oxygen species, which makes bad matters worse, including further damaging the kidneys which are so important to regulating blood pressure. Dr. Dasinger is further exploring his theory of T cells, all that ROS, and resulting kidney damage with the idea of painting a clearer picture of preeclampsia and more effective ways to intervene. We thank Drs. Dasinger and Mattson for their contributions to successful science and to healthier lives.
New published study, led by Dr. Jessica Faulkner, implicates the hormone leptin in preeclampsia
Dr. Jessica Faulkner is another great example of that Pathway to Success the NIH and great mentors here are helping support. The vascular physiologist was awarded a K99/ROO back in 2019 to better understand how obesity can lead to the loss of premenopausal protection from cardiovascular disease that younger women generally have while a postdoc with Dr. Eric Belin de Chantemele, physiologist in our Vascular Biology Center. She is now in the ROO phase of that award after joining our Department of Physiology faculty last summer. Please note that she had already gotten NHLBI and American Heart Association postdoctoral fellowship awards to pursue those studies. Now she; Dr. Belin de Chantemele; Derrian Wright, a recent AU biology graduate who worked in Dr. Faulkner's lab; Dr. Galina Antonova, research associate, and Simone Kennard, lab manager, both working with Dr. Belin de Chantemele; along with Dr. Iris Z. Jaffe, executive director of the Molecular Cardiology Research Institute at Tufts Medical Center in Boston, have published evidence in the journal Hypertension that a significant increase in the hormone leptin midway through pregnancy produces the blood vessel dysfunction and restriction of the baby's growth in preeclampsia. We already knew leptin levels steadily increase over the course of pregnancy, in fact, in addition to fat making leptin as it does in all of us, the temporary pregnancy organ, the placenta, does as well. But what leptin was doing was unknown, and in preeclampsia there is even more leptin produced. Like Dr. Dasinger, this group is working to better understand preeclampsia and better intervene to protect mother and baby. Not surprisingly their work has generated a lot of interest and, also not surprisingly, I am sure there is more to come. Congratulations again and thank you all for your tenacity and teamwork.
Welcome to the new MCG Class of 2026
Finally today, the largest class in the near 200-year history of MCG starts in Augusta July 27 and at our Athens campus August 1. 204 members of our new class will be right here, and 60 with our colleagues at our second four-year campus in partnership with the University of Georgia. Please join me in welcoming our new students to one of the nation's first medical schools.
All my very best to you,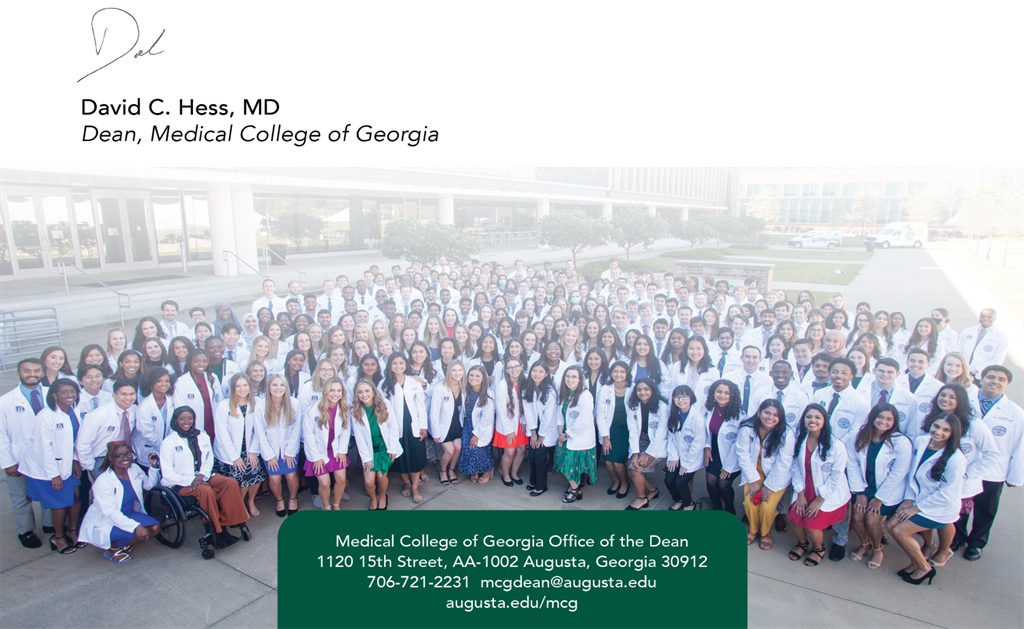 Upcoming Events
June 17 – MCG Faculty Senate Meeting, noon, Natalie and Lansing B. Lee Jr. Auditorium
Nov 11 – Annual Body Donor Memorial Service, 1 p.m., Natalie and Lansing B. Lee Jr. Auditorium