Dear Medical College of Georgia Friends,
On the road again
You know I love road trips to visit alumni and other partners of the Medical College of Georgia. It is truly invigorating to travel our beautiful state and meet with the individuals and institutions who enable us to educate the 9th largest medical school class in the nation. I never get tired of saying that we just could not do this without great partners like St. Joseph's/Candler Health System based in Savannah, who I visited with this week, because it is absolutely true. MCG and St. Joseph's/Candler are kindred spirits in that the people who define both work hard to serve their respective communities and understand that it is quite a privilege to do that.
Southeast Georgia physicians and hospitals are strong partners in medical education
Part of the reason for the visit this week was to welcome 20 of our newest students (they actually started in January but we are carrying on this fun summer tradition since they used to start in July) to the scenic Southeast Campus based at both St. Joseph's/Candler and the Southeast Georgia Health System in Brunswick. These students will be living and learning about taking care of patients alongside the great practitioners down that way for nearly the next two years (the recently revised curriculum means that the preclinical years and clinical months have each been tightened from two years to 18 months). The even better news is that we are on track to have 40 third-year students starting down there January 2023. Growing this partnership is an exciting opportunity any time, but the fact that we can strategically grow in a region of our state that has been so wildly successful for and supportive of our students at a time when we are incrementally growing our class size is truly phenomenal. There are so many fine individuals who have contributed mightily to the success of medical education down that way. People like Dr. Dan DeLoach, a 1974 MCG graduate, plastic surgeon, longtime active member and one-time president of our Alumni Association who also has served on our MCG Foundation board including serving as chairman. Dr. DeLoach, like so many graduates of MCG and countless other medical schools, has long welcomed our students into his practice to share his expertise and insight as a physician. This also former president of the Medical Association of Georgia technically retired in 2018, but he was there in full force with us and our students this week in Savannah. Like Dr. Elizabeth Gray, an internist who was named associate dean of curriculum at the Southeast Campus based in Savannah about two years ago now and hit the ground sprinting; and Dr. Wayne Rentz, 1972 MCG graduate and campus associate dean based in Brunswick who started as assistant dean in 2010. This stalwart also served his country as a Navy surgeon, and his father Dr. Turner W. Rentz, Sr., was a 1946 MCG graduate who served Colquitt, Georgia like his son serves beautiful Brunswick.
St. Joseph's/Candler CEO Paul Hinchey is a longtime medical education advocate
Individuals like Paul Hinchey, long-serving president and CEO of St. Joseph's/Candler, who helps set the dynamic, welcoming tone for our students. Paul has been there from the beginning, when students started consistently doing clinical rotations in Southeast Georgia in 2007, and in 2011 when a two-year campus was officially formalized there. Paul, who has become a good friend to me as well, recognized early on the mutual benefit of the synergy between MCG and his hospital. Now, all these years later his enthusiasm and commitment have only grown. It also speaks volumes that about the time our students started going down there, St. Joseph's/Candler in partnership with our Lady of Lourdes Catholic Church and a host of other community spirited people opened the Good Samaritan Clinic to serve the Hispanic/Latino Community and others who are uninsured by providing primary care at no cost. I was privileged to meet on my visit this week with Sister Pat Baber who for years has been an enthusiastic, hard-working advocate for those who need assistance and helped start and lead numerous community initiatives with St. Joseph's/Candler, including the Good Samaritan Clinic and St. Mary's Community Center and Health Center. The Good Samaritan Clinic is another great place in Savannah for our students to learn, both because of its mission and because they provide longitudinal care of patients, which is how primary care is best practiced, so physicians and other health care professionals don't just jump into and out of people's lives, rather become a consistent presence across years. As I was leaving Sister Pat exclaimed: "They need to copy our model (integrating medical students into clinics like Good Samaritan) everywhere." I second that emotion, Sister Pat. Some of our students already are legends there as well, like Dae Gun Chung Kim, who was born in Bolivia but most recently hails from Suwanee, Georgia. We just talked about continuity, which includes looking out for the whole patient. Well Dae Gun recently saw a patient at Good Samaritan who had a very bad case of dandruff, went and got him some dandruff shampoo then checked to make sure he would see this patient again to ensure he was better. Some of our former students are legends as well, like 1976 MCG graduate Dr. Julia Mikell, neurologist and vice president for medical affairs at this great, community minded hospital. This is what I mean by kindred spirits. My thanks to you all.
Dr. Xiaochun Long receives Established Investigator Award from American Heart Association
Did you know there are almost 60,000 square miles in Georgia, and I hope to cover as many of those as possible in the coming months because Georgia is our campus and our focus. You know what else is about 60,000 miles long? Our network of blood vessels, another MCG focus in our clinics and our research labs because blood vessel diseases like heart attack and stroke are a major problem in our state and nation. Molecular Biologist Dr. Xiaochun Long, who came to MCG in 2019 from Albany Medical College in New York, loves to explore the extensive network that continuously delivers oxygen- and nutrient-rich blood to our bodies and brains. I am happy to share that she recently was honored for her exploration with an Established Investigator Award from the American Heart Association, which supports investigators with "unusual promise and established records of accomplishments." She is looking at the clinical reality that many connections between veins and arteries made to enable a person to receive life-sustaining kidney dialysis, or to enable a bypass around a diseased coronary artery, fail despite the best work and intentions. Arteriovenous fistulas, or AVFs, for example, are created to provide long term access that will optimize the amount of blood cleansed during dialysis. But experience indicates that up to half of AVFs are never usable for dialysis. Cutting to the chase, while veins and arteries each have three layers, the middle muscle layer of the vein is much thinner and is just not made to hold up to the increased force experienced by arteries. Dr. Long is working to strengthen that vein wall so it will be up to the task, and maybe learn more about why some of these unions work for patients and others do not. Very translatable work, Dr. Long. Congratulations on your recent AHA honor and thank you for your enthusiasm.
Dr. Jennifer Sullivan honored with a top American Physiological Society Award Finally today, we congratulate another enthusiast: Dr. Jennifer Sullivan, pharmacologist and physiologist who completed her postdoc studies with us in 2003, and is already a full professor in our Department of Physiology and dean of The Graduate School at AU. This dynamo has also taken the international lead on studies to better understand sex differences in blood pressure control; a strong collaborator who, for example, is a project leader on a National Institutes of Health Program Project grant on hypertension, which is winding up this year. For that, she is exploring sex differences in how cells die in hypertension since those dying cells can trigger an immune response that worsens this common condition. She is a great editor who, for example, is an editorial board member for journals like Hypertension, the American Journal of Hypertension and Biology of Sex Differences. Dr. Sullivan co-chairs the National Heart, Lung and Blood Institute Integrative Vascular Physiology and Pathology Study Section. You get the idea. Now she is also the recipient of the 2023 Ernest H. Starling Distinguished Lecture award from the Water & Electrolyte Homeostasis Section of the American Physiological Society, that section's most prestigious award for someone who is considered "a representative of the best within the discipline." She will be honored at the American Physiology Summit in Long Beach, California, this coming April.  We absolutely agree on her selection. Like so many individuals we are privileged to cover in these biweekly writings and work with daily, Dr. Sullivan is one straight-talking, hard-working professional who understands how much what we do here at MCG and in medicine and science matters, and consequently always gives her best. Congratulations.
All my very best to you,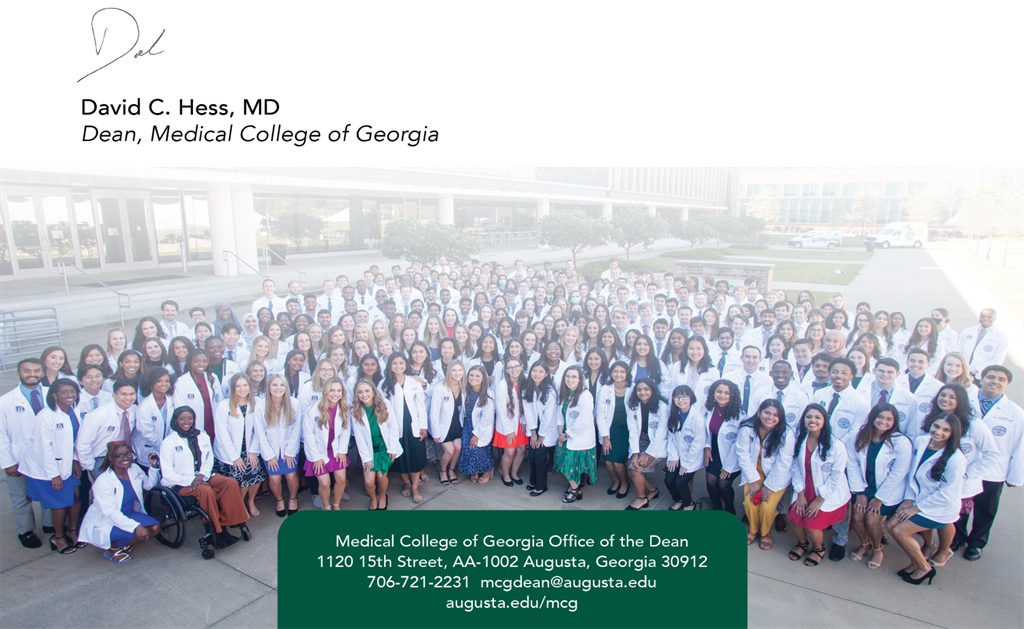 Upcoming Events
Aug 19 – MCG Faculty Senate Meeting, noon, Natalie and Lansing B. Lee Jr. Auditorium
Nov 11 – Annual Body Donor Memorial Service, 1 p.m., Natalie and Lansing B. Lee Jr. Auditorium